Top of Page
Raleigh North
Gideon Newsletter
March 2002
(Return to Index Page)
Click here to see the March Prayer Calendar for Churches & Pastors
<![if !supportEmptyParas]> <![endif]>
 "Therefore, my beloved brethren, be ye steadfast, unmovable, always abounding in the work of the Lord, forasmuch as ye know that your labour is not in vain in the Lord."
(1 Corinthians 15: 58—Gideon Scripture Memory Course no. 40)
<![if !supportEmptyParas]> <![endif]>
Ten Candidates Attend
One-on-One Camp Meeting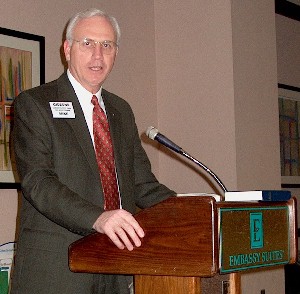 NC Gideon State Vice- president Mike Steiner speaks on "Number 1 Gideon."
Four prospective Gideons and six prospective Auxiliary members came to the One-on-One Camp Meeting on February 19. They were curious as to what God would have them do. Did God want them to join? Should they commit themselves to serve in this ministry? That's what they came to find out. They sat at tables "one-on-one" with members of our camp and took notes.
The turnout was good, as around 40 folks showed up for a time of food, fellowship and inspiration. North Carolina State Gideon Vice-president Mike Steiner gave a great presentation on what it means to be a "Number One Gideon." "Can any of us do all the things a number-one Gideon should do?" he asked. "No. Can any of us do one thing—like pray, or attend a monthly dinner, or place the Word of God in a hotel room, or speak in a church? Of course we can. God will provide the time for you to do His will. However, all a Gideon is required to do is to pray and pay his dues."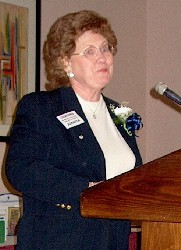 Area 8 Auxiliary Memorial Bible Program Assistant Juanita Vickers: "To me, the Auxiliary was an answer to prayer."
Then Mrs. Mack (Juanita) Vickers took the podium and told the ladies about the Auxiliary. "The main function of the Auxiliary is to pray," she said. "To me, the Auxiliary was an answer to prayer. There are four things you can do: wear the Auxiliary emblem, pray, pay dues and encourage your husband."
Near the close of the meeting, most questions in the minds of these candidates had been answered. But for some, there were a few more. So now was their opportunity to talk with the "old hands" already "in the know." Finally, there was a time to fill out application blanks and sign them.
As of this writing, there is still no news on the acceptance of these new members by Gideons International. Meanwhile, we should extend them the opportunities to be with us while their membership is confirmed. We need their involvement quickly to capture on their excitement for this ministry.
A big "THANK YOU!" to the Lord for inspiring Membership Chairman Cliff Merrill to do such a wonderful job in putting this dinner together!
Providence Baptist Church Hosts Gideon Booth
Bill Schone (l.) and Bill Swart man the Gideon Mission Expo booth at Providence.

For the fourth year in a row, Providence Baptist Church has allowed Bill Swart and Bill Schone to set up a Gideon Mission Expo booth at the church's annual Missions Festival (February 15-17). Our booth was set up alongside more than 50 other mission booths, all supported by the church. It was a special time for church members and the public to interact with missionaries and mission agencies (such as the Gideons).

<![if !supportEmptyParas]> <![endif]>

Bill Swart reports, "It was a blessed time for Bill Schone and I because there was a lot of interest in our booth; we gave away 25 Personal Workers Testaments. We even gave (from our personal funds) a Spanish-English Testament to a lady who was teaching English to a Spanish-speaking child living in her house. We also gave a Russian Testament to a person who 'just had to have it.'" The two Gideons also spoke as a team in one of the adult Sunday School classes. Bill Swart spoke on USA Gideon activities and Bill Schone spoke on International activities.

<![if !supportEmptyParas]> <![endif]>
Note: Providence Baptist church is one of our camp's major supporters, even though we don't get to speak at their church services. Bill Swart says, "We've tried to accommodate the church programs and truly try to be a missionary arm of the church. We believe that, in this way, we have found a way to support this church as Gideons that may be different than usual. It has taken us years to establish ourselves as an outreach of this church. Now, they enthusiastically support the Gideons with their prayers and donations.
<![if !supportEmptyParas]> <![endif]>
Camp Meeting March 19:
New Church Assignment Program
Our next camp dinner meeting will be held at Embassy Suites, 4700 Creedmoor Road, at 6:45 p.m. Tuesday, March 19. Don't miss this time of food, fellowship and inspiration. Fresh from the February 9th Regional Seminar, Doug Schmidt will present the exciting new Church Assignment Program. A Gideon speaker requalification message is planned and, time permitting, the new video promoting the 2002 State Convention in Raleigh will be shown.  
<![if !supportEmptyParas]> <![endif]>
For the Auxiliary meeting special feature, Auxiliary Area 8 Director Linda Cooksey will present the new Memorial Bible Program and video, with emphasis on new ways that the Auxiliary is now involved in this program. 
<![if !supportEmptyParas]> <![endif]>
If you made a commitment to be at our last meeting but couldn't attend we were still charged for the meal. Please consider offering your meal cost ($15 per person) to the camp fund c/o Gideons International, PO Box 33635, Raleigh, NC 27636.
<![if !supportEmptyParas]> <![endif]>
State Convention Planning Moves Forward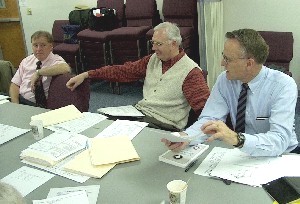 Church Assignment Committee Chairman Doug Schmidt (l.) looks on while NC Gideon State VP and Convention Local Chairman John Kay discuss fine points of plan.
As most of you know, the 2002 Gideon State Convention is in Raleigh from May 2-5. On March 2, the planning committee, chaired by John and Nadine Kay, met for the fourth time, again at the North Raleigh Church of the Nazarene.
Jim Loehman  reported that a total of 269 registrations including 132 Gideons and 121 Auxiliary had been received as of March 1. In addition, 8 youths and no infants have been registered. Doug Schmidt reported that 25-26 church services had been obtained—17 from Raleigh East. 
If you can spare a couple of hours, volunteers are needed to assist at the merchandising table during the convention. Contact Frank Rawley at 919-847-1366. Please pray for the Lord to bring little children to the convention and to send good nursery workers to take care of them. Also, pray for the living-plant centerpieces and for the favors (little pots of thyme) at the Auxiliary Luncheon, that they'll grow well and be beautiful in time for the convention.
The next (and last) planning meeting is scheduled from 10:00 a.m. to noon April 6 at the North Raleigh Church of the Nazarene on Strickland Road (just east of Six Forks Road).
<![if !supportEmptyParas]> <![endif]>
Complete your Registration Form
and Mail it Today.
By now you should have received a registration form for the Gideons State Convention, which takes place this year right here in Raleigh May 2-5. Even though you may not be staying at the Raleigh North Hilton, you still need to fill out the form and return it now. If you don't have one, call Jim Loehman at 919-847-3009 and he will gladly mail you one. Jim says, "Pastors Banquet and Fellowship Banquet seats are already filling up fast. Get a good seat and sign up now!"
<![if !supportEmptyParas]> <![endif]>
Local State Convention Chairman John Kay and Bob Bennett recently completed an excellent 9-minute promotional video about the convention. Lucky attendees of the January 26 Saturday morning prayer morning were the first to see it. All agreed it was very professional and very good. Copies have been sent to every camp president in the state for local viewing.
<![if !supportEmptyParas]> <![endif]>
Faith Fund Encouraged
Faith Fund Chairman Frank Rawley recently received this note of encouragement:
<![if !supportEmptyParas]> <![endif]>
"As you recall, the Gideons were a big asset for many of us chaplains. Here I have been fortunate enough to be able to contribute financially to their work and Becky and I attend their annual celebration for pastors' assistance. You all do good work. And I like your recruitment program."
Chaplain (Colonel) Floyd L. Heckard, US Army Retired
48 East 50th Street
Savannah, Georgia 31405
<![if !supportEmptyParas]> <![endif]>
Scripture Distribution News
Trinity Academy of Raleigh
On Wednesday, March 6, George Kissinger and John Kay visited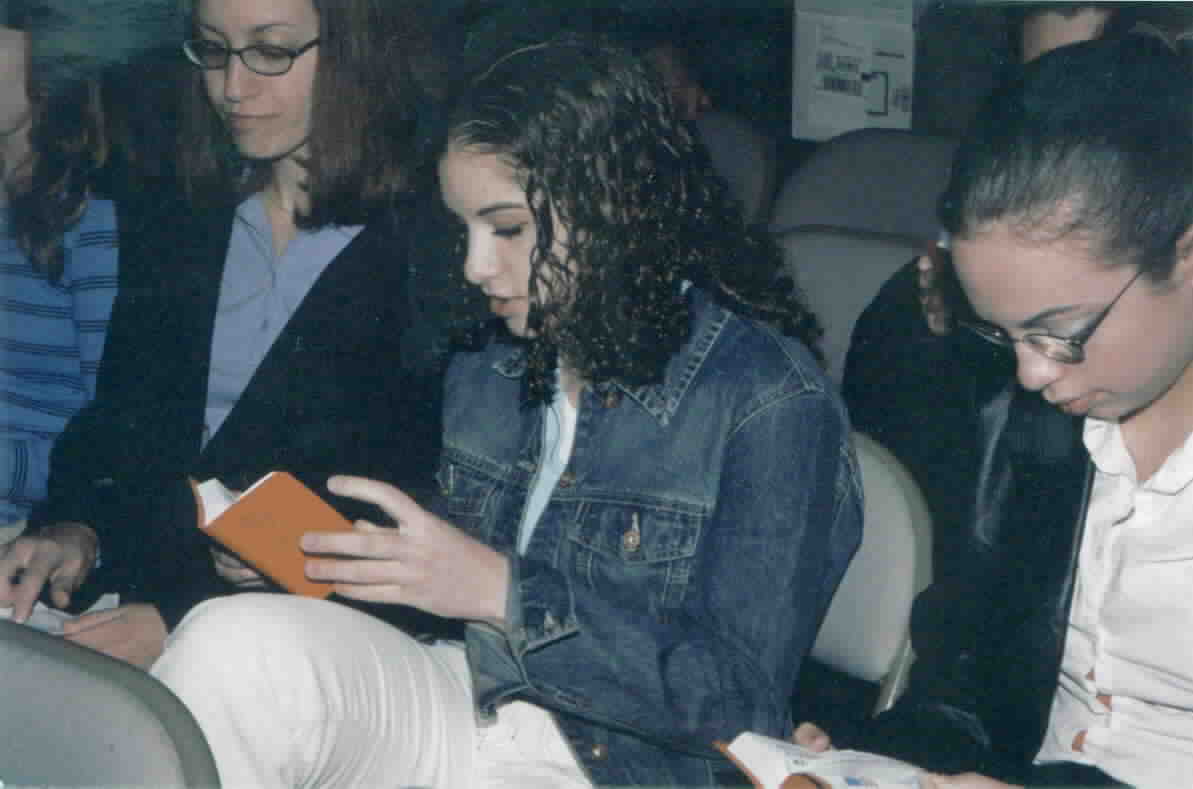 Trinity Academy of Raleigh's "Upper school" (grades 9 - 12), which meets at the Asbury Methodist church. They were invited by Upper school principal Rod Gilbert to tell the high school kids about the Gideons at their chapel service. George and John gave out 82 orange Youth testaments. They also gave 19 Bibles for the teachers to place at their desks. Then Mr. Gilbert said, "I forgot to tell you about our Lower school (grades K-8) campus on Ray Road. Can you go there today, too?"
<![if !supportEmptyParas]> <![endif]>
George and John arrived at Calvary Presbyterian Church, which houses the Lower school. They were just in time for their chapel service. Again, they told the students about the Gideons and gave out 54 more testaments, except for the 1st - 4th graders, which are too young to receive Bibles under Gideon guidelines. They also gave out 12 Bibles for the teachers' desks.
<![if !supportEmptyParas]> <![endif]>
Starting in July, Trinity Academy will begin its move to facilities at Providence Baptist Church. Trinity will eventually buy that church building and, in a swap deal, Providence will build a new church on land owned by Trinity Academy.
In a related note, North Raleigh Christian Academy students are anxiously awaiting the fall 2002 opening of their new campus on Perry Creek Road.
<![if !supportEmptyParas]> <![endif]>
Hospital Distributions
Last week, the chaplain of the psychiatric unit at Raleigh Community Hospital called Auxiliary Scripture Chairperson Dot Rawley and asked about getting Medical testaments. So Dot participated with Gideon Scripture Chairman John Kay and on Wednesday, March 6, 100 Medical testaments and 45 Hospital testaments were distributed at thse hospital. That same day, another 100 Medical testaments were distributed at Rex Hospital. Dot is very pleased that the Auxiliary is well on its way to meeting its goals by year-end.
<![if !supportEmptyParas]> <![endif]>
Thank you Auxiliary from Interact
Interact is a battered women's shelter in Raleigh that "provides safety and support for victims of domestic violence and survivors of sexual assault." Since 2000, our Auxiliary has been given the responsibility to distribute Ladies' PWTs to its residents. Recently, Auxiliary Scripture Chairperson Dot Rawley received this thank-you note:
<![if !supportEmptyParas]> <![endif]>
Dear Gideons International,
On behalf of the women, children and men who use services provided by Interact, I would like to thank you for your donation of Personal, Bedside, and Spanish New Testaments. We depend on the support and generosity of this community to be able to provide crucial services free of charge to thousands of victims and survivors of domestic violence and sexual assault in Wake County.
Sincerely,
Jaimee Murray, Office Manager
February 22, 2002
<![if !supportEmptyParas]> <![endif]>
Hey, new Gideons!
Raleigh Bible Blitz—March 24
It's Bible Blitz time again! Placing Bibles in hotels and motels is the oldest and most widely known aspect of the Gideon ministry. One of the greatest joys of being a Gideon is to place a fresh copy of God's Word where some needful soul will read it and be drawn to Christ. This is a good way to break into the Gideon ministry and learn what it's about—especially since we've received requests from at least two hotels to recheck their rooms. Seems that many Bibles have disappeared since September 11.
<![if !supportEmptyParas]> <![endif]>
Meet in the lobby of the Crabtree Marriott Hotel at 2:00 p.m. on Sunday, March 24. "General" John Kay will disburse his Gideon teams to several nearby hotels with boxes of Bibles. The teams will proceed with a room-by-room check with the object of replacing all worn out and missing Bibles. This should take only about one hour of your time. Call John Kay at 919-870-9266 and sign up. Or just come.
<![if !supportEmptyParas]> <![endif]>
Church Assignments
Click here to see the March Prayer Calendar for Churches & Pastors
Gideon speakers from all over the state will be attending the State Convention here in May. Pray that we select the right speakers for the right churches. Our convention goal is 100 local area church services on Rally Day, Sunday, May 5. If you would like to schedule a Gideon report, contact Church Assignment Chairman Doug Schmidt at home (782-5311) or work (781-0304). Pray for "inactive" churches to respond positively.
<![if !supportEmptyParas]> <![endif]>
Note: The Lee County camp need speakers for this coming Rally Day, Sunday, March 17. Contact Doug Schmidt for more information.
<![if !supportEmptyParas]> <![endif]>
Church Speaking Opportunities
<![if !supportEmptyParas]> <![endif]>
Praise for these churches and speakers:

Feb 24

Creedmoor Road Baptist

Ray Cooksey

Pray for these churches and speakers:

Mar 17

North Raleigh UMC

Cliff Merrill

Mar 24

Friendship Baptist

Roger Turner

Apr 7

Ridgecrest Baptist

TBA

Apr 28

St. Mark's UMC

TBA

Apr 28

St. Timothy's Episcopal

Garland Tucker

May 5

Emanuel Baptist

TBA

May 5

Calvary Presbyterian

TBA

May 5

Crabtree Valley Baptist

TBA

May 5

New Light Church of God

TBA

May 5

North Haven Church

TBA

May 12

Mt. Vernon Baptist

Tom Hopper

May 19

Wesley Memorial UMC

TBA

Jul 17

Victory Baptist

TBA
<![if !supportEmptyParas]> <![endif]>
Christ is Risen!
Say "I Love You" on Easter
With Living Memorial Bibles
What will you do for Jesus at Easter? By now, you should have received an envelope from Gideons International containing two "Christ is Risen" Living Memorial Bible cards. This is the latest addition to the Gideon Memorial Bible program. Send special Easter greetings to pastors, church staff, special friends or family this Easter time by dedicating Bibles in their name. Mail your donation in the handy gift envelope and don't forget to indicate our camp number (U32120) in the return address. If you have any questions, contact Memorial Bible Chairman Garland Tucker at 785-0404.
<![if !supportEmptyParas]> <![endif]>
Lloyd Stone

In Memory:  On February 28, 2000, our dear brother, Lloyd Stone (International President 1998-2001), passed peacefully into the presence of Jesus. His difficult journey of the past few months is over and today his body is new, his mind is renewed and his soul is in unity with our Saviour the Lord Jesus Christ. His passing leaves a tremendous void for his children, in his church and with the Gideon ministry. Pray today for Julie and Elizabeth (daughter and granddaughter), Van, Clay and Wesley. All of the cards provided through the following link will be presented to his family for you. Click on:
Place Bibles in Memory of Lloyd V. Stone, Jr.
<![if !supportEmptyParas]> <![endif]>
David Luikaart

In Memory:  Additionally, our former International President, W. David Luikaart (International President 1980-1983), also passed into the presence of the Lord on February 21, 2000. He had a massive heart attack while attending a ministry board meeting in Dalton, GA. His funeral was a glorious celebration held on Tuesday, February 26 in Grand Rapids. Some of you may remember that he was the speaker at our Pastors Banquet in 1999. It was our largest banquet ever, with 106 attendees. All of the cards provided through the following link will be presented to his family for you. Click on:
Place Bibles in Memory of W. David Luikaart
<![if !supportEmptyParas]> <![endif]>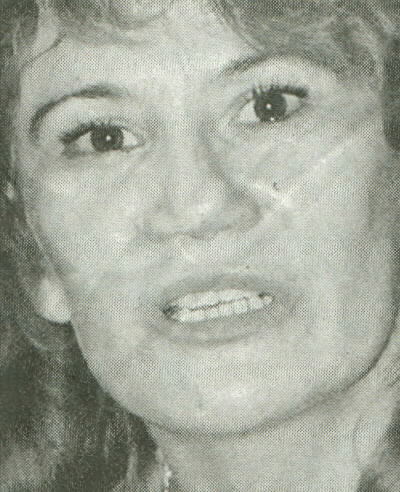 Svetlana
Kuleshova

In Memory:  Svetlana Kuleshova, 48, of Minsk, Belarus, died unexpectedly the weekend of February 16 in Minsk. She was a widow who devoted the last 4 years of her life to the children of Belarus who have been affected by the Chernobyl explosion in 1986. She served as an interpreter for these children while they visited Raleigh each summer for dental and medical care. Svetlana touched many lives as she allowed the love of God to shine through. For the past few years, Gideons in our camp, particularly Charlie Rabb, have given Russian-language New Testaments at Asbury United Methodist Church to these visiting Ukrainian children, who were always accompanied by the loving Svetlana. A memorial service was held at the church on Tuesday, February 26. Memorial gifts may be made to The Gideons International, Raleigh North Camp, P.O. Box 33635, Raleigh, NC 27636.
<![if !supportEmptyParas]> <![endif]>
In Memory:  Frances Louise Wood Williams went to be with the Lord on March 27, 2001 in Wilkesboro, NC, just three days before her 78th birthday. She was the wife of camp member Alan H. Williams, who moved to Raleigh recently and is now a member of our camp. Alan says Frances "was a grand woman." Memorial gifts may be sent to: Alan H. Williams, 3113 Charles B. Root Wynd, Raleigh, NC 27612.
<![if !supportEmptyParas]> <![endif]>
"I Was in Prison and You Came to Me."
(Matthew 25:36b)
On Sunday, February 24, Charlie Rabb, Garland Tucker, Gary Pendleton, J.P. Morris, Monty Daniels and Cliff Merrill visited the 480-bed downtown Wake County jail facility. The ladies could not be visited due to weekly laundry. (This is the second month in a row that this has happened—a bag of PWTs, Daily Breads and God's Promises were sent to the floor via the deputies.) Tom Wallace, Richard Justice, Ray Cooksey and Bill Swart visited the 424-bed newly revamped Hammond Road facility.
<![if !supportLineBreakNewLine]>
<![endif]>
Ray Cooksey reported very good cooperation from the new staff at Hammond Road. One prisoner came to him and said, "I don't want to be just a 'jailhouse Christian.' I want to know how to live properly when I get out and how to stay out. Could you give me any suggestions?" So Ray talked with him about how to find a good Bible-believing church with a congregation he could fellowship with and feel a part of. Ray also led a lost soul (Spanish speaking) to Christ through a fellow resident as an interpreter! Richard Justice led four men to the Lord, including two Hispanics. Pray for a Spanish-speaking Gideon to join our camp. This is an urgent need for one in our jail ministry.
<![if !supportEmptyParas]> <![endif]>
That evening 170 PWTs, 30 Auxiliary  PWTs and 54 Spanish New testaments were placed! Twenty-seven residents gave their hearts to the Lord! Lots of prayer was requested and accommodated. Bill Swart spotted a young man in one of the dormitories standing off in a corner, kind of watching the proceedings. Bill walked over to him and talked and prayed with him, after which the man seemed comforted. 
<![if !supportEmptyParas]> <![endif]>
Wake County Jail Chairman Cliff Merrill says, "Hammond Road is still yielding its fruit with more residents coming forth for salvation! The harvesting of these lost souls continues to be bountiful. Wake South camp (visits on second Sunday each month) continues to reap fruits also."
<![if !supportEmptyParas]> <![endif]>
Butner Prison Ministry
On Friday, March 8, thirty-six Butner inmates came to the weekly Bible class, which is now studying Matthew 14. The growth of this class has been extraordinary because of the grace of God and the dedicated Gideons who teach it each week. For example, Ron McAdams drives 45 minutes each week from Bunn just to meet the other Gideons in Raleigh. He then carpools with them to Butner. That's dedication! Please pray for our Gideons that regularly teach the class: Ray Cooksey, John Dillard, John Kay, Jim Loehman, Ron McAdams and Prison Chairman Tom Wallace. If you feel led to this ministry, call Tom Wallace at 919-782-0903. PRAY for this ministry and the prisoners.
<![if !supportEmptyParas]> <![endif]>
Renew Your Membership
Even if you can't attend meetings full-time, your dues are very important. Of the $40 you give, $2 helps pay the cost of the International Convention. In addition, $17 is returned to the NC State Association to pay for such things as the promotional costs of the State Convention and the Tar Heel Gideon. The rest pays for expenses and staff at Gideon International Headquarters in Nashville. The Auxiliary dues ($15) are allocated in much the same way. No money given for Scriptures is ever used for these expenses. 
If you haven't renewed your membership yet, please do it now and avoid the cost of sending a third notice to you on March 28. It is estimated that the total cost of this notice will be approximately $1.35, the cost of a New Testament placed in the hands of some soul destined to an eternity without Jesus.
<![if !supportEmptyParas]> <![endif]>
Be Part of the Gideon Online Community:
Logon to our Camp's Website
Did you know that already 84% of our camp members have e-mail addresses? And most, if not all, have access to the Internet. That is why this newsletter went online. Just think . . .
Color photos.

Easier to read.

You can't lose it.

It's accessible anywhere anytime, even when you are away!

Much cheaper for the camp (less postage, paper, copy work).
But there's more, much more! The Gideon USA Camp System was activated early last fall and Ray Cooksey, in his role as Camp Secretary, is by default our camp's Site Administrator. Pat Simpson has been assisting as newsletter implementer. Log on to www.gideons.org and sign in. Links to our camp's newsletter are already there. Our camp roster is also there, along with telephone numbers. Plans are in place to put our camp's Scripture placement listing  online as well as church listings and the current Memorial Bible status. There is also a message board and a picture board.
It is a first-class tool, and we encourage you to use it. Try it out today and make a conscious effort to check it out on a regular basis.
<![if !supportEmptyParas]> <![endif]>
Comrades in Christ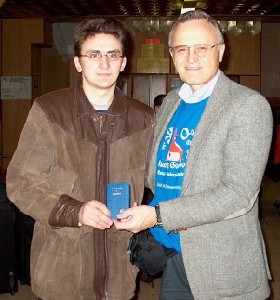 Sergei Elmanov (l.) receives
Russian PWT from John Kay.
John and Nadine Kay recently returned from Ryazan, Russia, where, as part of a Josh McDowell mission group, they participated in Operation Carelift 2002 Winter Project. (See February's newsletter). Everywhere they went, they were greeted by town mayors. Sometimes whole towns came out to see them!
Sergei Elmanov, a Russian from Ryazan, was one of the group's most supportive people. He seemed to be around all the time. When there were books and Bibles and literature to be loaded onto John and Nadine's bus each day, there was Sergei. It was always Sergei who made sure the group could deliver the supplies to yet another destination.
It turns out that Sergei was a Gideon from Ryazan. Not only that, he was a Scripture Chairman, just like John, and was a member of Ryazan's Central Baptist Church, which was attended by several other Russian Gideons.
On the Kays' last night in town, John gave Sergei a Russian New testament (shown here) to show his appreciation and friendship. It was one of 22 testaments John and Nadine had taken with them as special gifts for their interpreters, bus drivers and guides. To God be the Glory!
<![if !supportEmptyParas]> <![endif]>
MEPS Recruits Need You!
A need for backup volunteers exists at the MEPS (Military Entrance Processing Station). Gideons are needed to present Service Testaments to new recruits and to witness for Christ. Your mission is to offer free copies of God's Word to new recruits while expressing prayers and appreciation for their service to our country. (Read "U.S.A. Military Distribution Guidelines" in your Gideon Guide Book.) Working hours are terrific—7:30-8:00 a.m. on weekdays only. Call Carl Nanney at 876-1973.
<![if !supportEmptyParas]> <![endif]>
Saturday Morning Prayer:
 Same Place—New Name
Join the Gideons and Auxiliary at 7:30 Saturday morning for Scripture reading and prayer at the Crabtree Valley Clarion Hotel (formerly Sheraton Four Points Hotel). Stay for a great time of fellowship and breakfast! Ladies, please call Nadine Kay at 870-9266 if you plan to attend. Also, please come to the monthly meetings with your husband.
<![if !supportEmptyParas]> <![endif]>
The hotel changed its name in mid-February and is about to spend $1.25 million on renovations. (Pray that the Lord continues to provide a meeting place for us!) Similarly, the former Holiday Inn in downtown Raleigh became a Clarion last year. In addition, the Brownstone Hotel on Hillsborough Street is now a Holiday Inn.
Around the Town
The Maximum Man Conference deals with real-life issues by presenting a clear picture of Jesus Christ as Creator, Savior and Lord. His power in us is life changing. The conference is a non-denominational conference sponsored by the Ministry to Men Foundation, Inc. of Memphis, Tennessee and the local Raleigh Board of Council. The conference is scheduled for April 19-20, 2002, 6:00-9:15 p.m. on Friday and 8:00 a.m.-3:00 p.m. Saturday at Bay Leaf Baptist Church. For information, call 919-847-4477 or 888-604-7728.  
The daughter of Billy and Ruth Bell Graham, Raleigh's own Anne Graham Lotz launched Just Give Me Jesus in the year 2000, a series of life-changing revivals for women held in arenas throughout the USA. Now it's coming to Raleigh at the Raleigh Entertainment and Sports Arena. The program begins on Friday evening, April 26, at 7:00 p.m. The doors will open at 5:30 p.m. On Saturday morning, April 27, the doors open at 7:00 a.m., and the program begins at 8:30 a.m. For more information, call (919) 787-6634 or visit http://www.annegrahamlotz.com/ on the Internet.
<![if !supportEmptyParas]> <![endif]>
Heavenly Notes
<![if !supportLists]>1. <![endif]>Our annual camp elections for both Gideon and Auxiliary officers will be held at the camp dinner meeting on April 16.
<![if !supportEmptyParas]> <![endif]>
<![if !supportLists]>2. <![endif]>Counselors are needed on March 25 as the Burlington camp kicks off its New Member Plan with a dinner. As counselor, you will sit at a table with 1-3 prospects and lead them through a membership flip chart presentation. Prior to the dinner, you will receive all materials and training in what to say, what to do, and how to do it at the table during the meeting. Contact Ray at 919-847-0521.
<![if !supportEmptyParas]> <![endif]>
<![if !supportLists]>3. <![endif]>Pray for Richard Justice and Juanita Vickers, new member training leaders for the Roxboro camp. Richard is busy training the 11 new members.
<![if !supportEmptyParas]> <![endif]>
<![if !supportLists]>4. <![endif]>Continue to pray for a full recovery for Victor Goncharenko, Eastern Europe Field Representative, who was seriously injured in an auto accident in Belorussia while distributing Bibles to the lost. He is now back in Russia with his family, making progress in physical therapy.
<![if !supportEmptyParas]> <![endif]>
<![if !supportEmptyParas]> <![endif]>
Camp Calendar
Mar 19:

Camp meeting—New Church Assignment Program

Apr 6:

<![if !supportEmptyParas]> <![endif]>

State Convention planning meeting—10-12 noon, N. Ral. Church of the Nazarene

Apr 16:

Camp meeting—Camp elections

Apr 21-27

Bible Blitz—Chicago. Contact Ivan Dremann at 815-379-2380

May 2-5:

State Convention—North Raleigh Hilton, Raleigh

May 21:

Camp meeting—State Convention returns

Jul 23-28:

103rd Gideon International Convention, Louisville, Kentucky
Respectfully submitted,
Pat Simpson,
Newsletter Editor
(919-877-0434 or e-mail PatSimpsonBooks@cs.com)
---
March Prayer Calendar for Churches & Pastors