<![if !supportEmptyParas]> <![endif]>
"Therefore, my beloved brethren, be ye steadfast, unmovable, always abounding in the work of the Lord, forasmuch as ye know that your labour is not in vain in the Lord."
(1 Corinthians 15:58)
<![if !supportEmptyParas]> <![endif]>
The North Carolina State Fair is just around the corner.
NC State Campus Distribution:
Wednesday, September 11, 2002
The Raleigh West camp is having its annual NC State College
Testament distribution on Wednesday, September 11, at 7:30 a.m.-1:00 p.m. and again at 5:30-7:30 p.m. They need your help! With God's guidance we can accomplish much.
Gideons are asked to meet at Pam's Farmhouse Restaurant at 6:00 a.m. for breakfast, prayer time, maps of the campus, instructions and work team assignments. (No reservations are necessary.) Pam's is one mile west off I-440 Exit 2 on Western Boulevard near the corner of Powell Drive. Where needed, transportation will be arranged from the parking lot to the worksite. Weather permitting, the New Testaments will be pre-positioned at the various locations. You can join the caravan to the control gate at Riddick Stadium parking lot and pick up free parking permits. If you miss breakfast you can still join the group around 7:15 on the southwest side of Riddick Stadium parking lot by the sign reading "Campus Safety."
Gideons participating in the evening distribution will meet at the southwest side of Riddick Stadium at 5:30 p.m. The parking lot can be entered from Pullen Drive. (There are no parking restrictions after 5:00 p.m.) Someone will meet you there with the New Testaments for distribution.
Questions? Contact Clint Reese at 467-1193 or e-mail: clintreese1@aol.com. You can also contact Russ Davis at 467-1089 or e-mail: rdrd2@juno.com. Or contact Harlyn Van Sloten at 362-0385 or e-mail: vanslotens@ipass.net.
Isaiah 40:8. "The grass withereth, and the flowers fade away, but the word of the God endures forever." So as Gideons let us have a vision that God will work through us and accomplish much during our short time at NCSU on September 11, 2002. 
<![if !supportEmptyParas]> <![endif]>
Time to get "F.I.T."
Area 8 Training set for October 5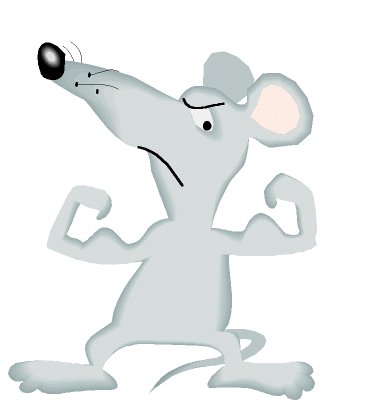 Plan now to strengthen your heart and mind with Fellowship, Inspiration and Training. Area 8 Training Sessions for Gideons, Auxiliary, and wives of Gideons have been scheduled for 9:30 a.m.-1:00 p.m. on Saturday, October 5 at the Ramada Inn in Burlington (I-40 exit 143). This first-rate training is less than one hour from Raleigh.
The Auxiliary session features special music, dramatic presentations, and main speaker Lisa Lewis, Auxiliary Vice President, on Guidebook Training. Nell Simmons, Area 8 Program Assistant, will give an inspirational message on personal witnessing. Mrs. Virginia Joyner will give a moving nurse testimony.
For the Gideons, Wade Childers, Area 2 Church Assignment Program Assistant, will present an update on the Comprehensive Church Relations Program such as proper relationships with churches and assigning the right speaker to the right church. Jerry Campbell, State Scripture Coordinator, will discuss scripture distributions. Gary Lewis, State Secretary, will talk about camp planning and camp reporting. There will also be a special witnessing training session on the new Gideon publication, "Share Jesus Without Fear."
Registration is 9:00-9:30 a.m. The joint luncheon at noon costs $12.50 per person. Please contact Area 8 Directors Ray or Linda Cooksey at 919-847-0521 (e-mail: esiofnc@ix.netcom.com) by September 25 if you plan to attend. You may pay at the door or mail your check to 1300 Shadyside Drive, Raleigh, NC 27612; indicate your name(s) and camp name.
There will be Faith Fund opportunities at both training sessions. You are in for a real blessing. If you are unable to attend, please pray that all will be done to the glory of God.
<![if !supportEmptyParas]> <![endif]>
Meet New Member Edward S. Wilkes
Right about the time Edward S. Wilkes joined the Gideons a short time ago, his wife Iris suffered an aneurysm and a stroke. She spent three months recovering in a hospital and is now a patient in the City of Oaks Health & Rehabilitation Center, located on Bond Street in Raleigh (behind the Tower Shopping Center). So Edward finds himself at the nursing home all day every day. He says, in the light of his wife's hospitalization, "I haven't been any good to the Gideons yet. I'm nobody special, but I appreciate any prayers for my wife."
Ed grew up in Rowland, North Carolina and worked for the CSX railroad for forty years. He was the railroad's last superintendent in Raleigh when he retired September 30, 1987. Iris is from Rocky Mount, North Carolina. The couple has lived in Raleigh since 1973. They had three children, but their daughter, Martha Gail, died last year. She was an FBI agent. Their son Charles lives in Apex with his wife and five children. Stepson Wayne Pearce lives in Wilmington, North Carolina.
Ed is a deacon at Mount Vernon Baptist church and says he has admired the Gideons for many years. He says, "I've traveled a lot and have seen Gideon Bibles in motels everywhere I went. Tom Hopper is my Sunday School teacher and one day he asked me if I'd like to be a Gideon. I told him that I truly would. Tom and I are also in a prison ministry at Polk Youth Center in Butner. But I haven't gone there since my wife got sick. If my health stays good and my wife gets so I can, I'd like to be an active member. More than anything else, I would like to have the prayers of your camp members for my wife Iris."
<![if !supportEmptyParas]> <![endif]>
Camp Meeting August 20:
"Son of Sam" is now "Son of Hope"
The theme this evening was International Convention Returns. During the Ladies' "Special Feature,"
Linda Cooksey and Glenda Justice, still excited about the convention, gave each lady present a 3½-inch-long ceramic high-heeled shoe bearing the convention slogan: "Walk Worthy…" (Ephesians 4:1).
Richard Justice brought back a new video from the convention that he wanted to share with everyone, especially people locked up in correctional institutions. It is the  testimony of David Berkowitz, a.k.a. the infamous 1970s "Son of Sam" serial killer, who is serving six consecutive life sentences for murder. Berkowitz was saved when someone gave him a Gideon PWT, where he read Psalm 18:6. He "cried out to the Lord," and was saved. Now he is able to call himself the "Son of Hope."
John Kay made a digital version of the video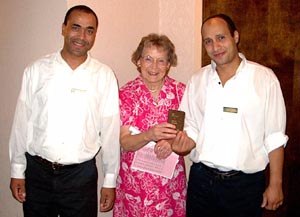 After camp dinner, Dot Rawley presents PWTs to waiters Nabil Ali (l), from Egypt and Lekbir (r), from Morocco.

and showed it during the camp program. It was the highlight of the evening. This is a special video, and may go a long ways in meeting the Gideons' goal, to win others for the Lord Jesus Christ. Thank you Richard, and thank you John!
John has made several copies since. Since the camp meeting, John has shown the video to the prisoners at the Butner Bible class and has left a copy with the chaplain to show to other prisoners. He also gave a copy to Charlie Rabb who gave it to Chaplain Poole at the Wake County jail. She was very excited because, until then, all she had was a written version of Berkowitz's testimony. John also gave a copy to Tom Hopper to take to the chaplain at Polk Youth Center. John has even shown it to his Sunday School class and to the Orange County jail! Pray for people in correctional institutions that they will recognize the hope that is in Christ.
<![if !supportEmptyParas]> <![endif]>
Camp Meeting September 17:
Soul Winning
Our next camp dinner meeting will be held at Embassy Suites, 4700 Creedmoor Road, at 6:45 p.m. Tuesday, September 17. Don't miss this time of food, fellowship, and inspiration. The training program will cover various aspects of soul winning. This will help us as we witness at the State Fair Gideon booth. It is anticipated that the Auxiliary Special Feature will highlight Scripture Distributions.
If you made a commitment to be at our last meeting but couldn't attend we were still charged for the meal. Please consider offering your meal cost ($16 per person) to the camp fund c/o Gideons International, PO Box 33635, Raleigh, NC 27636.
<![if !supportEmptyParas]> <![endif]>
Highway Patrol Receives God's Word
On Wednesday, July 31, John Kay and Charlie Rabb visited cadets at the Highway Patrol Training Center on 3318 Garner Road.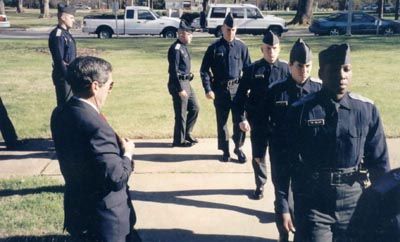 Charlie Rabb watches cadets march by.

Charlie reports, "We gave out Service Testaments to 50 cadets and several more to the staff people." While the cadets were seated for lunch, Charlie and John explained to them who they were and why they were there. "One of the reasons we're here," said Charlie, "is that we want you to take one of these Bibles with you in your car. At some point in time, you might personally need to read it. And there might be someone who is dying by the side of the road that you're trying to minister to. Even though you've given them first aid, you might be able to read the Bible to them, too."

Charlie had them open to Psalm 23 and read it to them. John Kay read to them from Romans 13 where God tells them that as authorities, they "are God's servants, who give their full time to governing."

Sheriff's Department cadets to be visited in September.

Charlie reports that Sheriff Baker has given us permission to do a similar presentation to 20-25 Deputy Sheriff cadets in September.

<![if !supportEmptyParas]> <![endif]>
Pray for Argentina
| | | |
| --- | --- | --- |
| | | |
| "Kuki" charms the crowd with her good humor. | The meeting opens with "Songs Gideons Sing." | Horacio Bombicini describes the nightmarish conditions now affecting his homeland. |
A more charming couple perhaps you'll never meet. Horacio Bombicini, National Field Officer

 

for Argentina, and his wife Maria Teresa (nicknamed "Kuki") were in town to tell us about what God is doing in Argentina through the Gideons. With their beaming smiles and strong Spanish accents, what was not to love? The occasion was a pre-convention report that Area 8 Directors Ray and Linda Cooksey had arranged on Saturday evening, July 20 at the Durham Hilton. The Bombicinis were heading for the Louisville International Convention the very next day and were raising money for the Faith Fund. Tonight's goal was $5,000.

  
Their confirmed room reservations at the Hilton had mysteriously disappeared that afternoon—so Ray had taken the Bombicinis from hotel to hotel in Durham. There was no room at Fairfield Inn—no room at Hampton Inn—and so it went. At last, they stopped at La Quinta Inn. The young lady behind the counter had a room!
"My Daddy is from Argentina," she said. "and I have an eight-year-old daughter." God had led them to the right place! Horacio knew that this was an appointment from God as he talked to her for 20 minutes while sharing God's Word from an open PWT (Personal Worker's Testament). Tears were coming from her eyes as she signed the back of the book and prayed to accept Christ as her Savior.
But that was just the beginning. As Kuki and Horacio shared the word of God that night to all fifty of us, you could tell they had a heart for the Lord and for the lost of Argentina. In charming broken English, Kuki gave a testimony and thanked Gideons for their support in her country. In even more broken English, Horacio described the nightmarish conditions now affecting his homeland.
"Our nation is in turmoil," he said. "Out of our 38 million population, 18.2 million people live in poverty, with over 2 million added to their rolls in the past three months. Banks keep the people's money, the Mafia drives the country and good people won't run for president. Children have no shoes, people have no homes and even the fish are contaminated."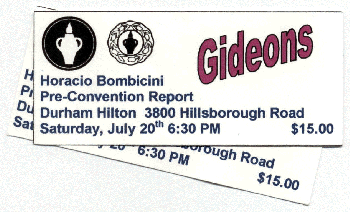 "Argentina suffers much but it is a good time to distribute the Word of God," he continued. "At anytime, a crazy man could begin to tax Bibles or to close the door on them. Right now, the doors are open to us and 960,000 Gideon Scriptures are coming here on July 29. More than 2 million Scriptures are coming next year and the Auxiliary will help in the hospitals. Recently, 31 people were saved through just one PWT. Think how many could be saved with a million! We look for souls like you look for a ring in darkness. Souls are looking for Jesus. God has blessed you to help someone else. The time is short!"
O.E. Simmons, Jr. gave us the Faith Fund challenge: "It's hard to challenge the faithful," he said. "We need your Walmart money, your golf money, money for gadgets you can do without. Think about this—have you ever missed any Faith Fund money you have ever given?" The $5,000 goal was nearly tripled—the offering that night was $13,968! Praise the Lord!
<![if !supportEmptyParas]> <![endif]>
Returns from the 103rd International Convention
<![if !supportEmptyParas]> <![endif]>
This year four members from our camp attended the 103rd Gideons International Convention which was held in Louisville, Kentucky July 23-28. They were Ray and Linda Cooksey, and Richard and Glenda Justice. Ray says, "Lot's of things were introduced and we elected a new chaplain, Derwood Sobek. The testimonies were absolutely wonderful. And Linda received superb Auxiliary training."
"One of the things that really struck me was that while we think we are in recession, things could be far worse. There is an old saying that goes, 'When the USA catches a cold, the whole world sneezes.' We took a brother from Kenya to breakfast who said, 'A year ago, 20% to 25% of the people in Kenya were at the poverty level or below. Now we are at 65%!' We took out another couple from Argentina who reported much the same thing. This same story was repeated by a Gideon from Myamar (formerly Burma) at the Zone breakfast."
At the Saturday night Fellowship dinner, Far East Representative Josue Gayares gave a similar report, yet far more uplifting and gratifying. He reported that more and more people are coming to faith in Christ in Indonesia. And good news—the Republic of China (Taiwan) has become the 11th self-supporting National Association!
There were delegates from 80 countries and 49 registered delegates from North Carolina. Total registration was 3,651. Ray said, "Linda and I stayed at the roomy Galt House in Louisville. We heard the testimony of Mike "Tank" Kersey from Winston-Salem and on Thursday, the videotaped testimony of David Berkowitz, who was saved with a Gideon Testament. David is serving six life sentences as the "Son of Sam" killer. Ray reports that the Pastors Banquet was very well attended and the food was even better than last year's convention at Charlotte!
Hosting Opportunities
The Cookseys and Justices were blessings to other lands delegates by hosting them to breakfast or dinner. This gave them a rare opportunity to learn of open doors for their area of ministry as well as the challenges they face.
(No photos available from the Justices.)
| | | |
| --- | --- | --- |
| | | |
| Ray Cooksey and Samuel Menyongar, from Freetown, Sierra Leone, Africa—breakfast Friday, 7/26 | Ray Cooksey and Gabriel Kago, from Nairobi, Kenya, Africa—breakfast Sat., 7/27 | Ray & Linda Cooksey (rt.) and Angela & Roberto Dalle Nogare, from Buenos Aires, Argentina—dinner Wed., 7/24 |
We'll see you in Birmingham, Alabama next July!
<![if !supportEmptyParas]> <![endif]>
Youth Testament Distributions
So far, sidewalk Youth Testament distributions have been scheduled for four public schools this fall. They will be held October 1 (Tuesday), 3 (Thursday), 8 (Tuesday) and 10 (Thursday). Please pray now for the Lord to open the doors of these schools and the hearts of these young people. Contact Scripture Chairman John Kay at 919-870-9266 for details (e-mail: jnkay@bellsouth.net).
<![if !supportEmptyParas]> <![endif]>
Kenya Bound
Charlie Rabb and Larry Crowder, both members of Bayleaf Baptist Church, are leaving on a church team missionary trip to Kenya on September 1. They will travel two hours by boat across Lake Victoria to the island of Mfangano where they will spread the Gospel to the Suba tribe, people that have never before been reached for Christ. Charlie will stay from September 1-13, and Larry will stay for a month. Pray for Charlie and Larry and all the other people involved in this mission trip.
<![if !supportEmptyParas]> <![endif]>
Scripture Distributions
Lord willing, we will be checking our "silent missionaries" (a.k.a. Bibles) in the hotel/motel rooms of our camp area during three months this fall. We plan to do it on the second Sundays of September, October, and November. We will do as last year and try to cover approximately seven hotels each Sunday. When we get a team of 21-24 Gideons, we can split up between these hotels and do the job in 30-45 minutes. We meet at 2 p.m. at one of the hotels, get instructions, have prayer, and split to the hotels. We have told the hotels that we will be onsite about 2:30 p.m. and be finished in 30-45 minutes.
The first blitz is planned for Sunday, September 8. We will meet at 2 p.m. at the AmeriSuites Hotel at 3301 Old Wake Forest Road (right beside the North Raleigh Hilton). If you are able to come, would you please call me at 870-9266 or e-mail me at jnkay@bellsouth.net. Some of you are gracious enough to just show up without letting me know you are coming, but it makes it difficult to assign you to a team and facilitate the blitz. So please let me know as soon as possible that you will be helping us.
Please pray for this opportunity to honor our Lord this way.
Yours in Him,
John Kay
<![if !supportEmptyParas]> <![endif]>
You Want Bible Blitzes?
We've Got Bible Blitzes!
Going somewhere? Depending on where and when, you may want to join one of these Bible Blitzes. You can join forces for one hour or all week.
| | | | | |
| --- | --- | --- | --- | --- |
| Date | Place | Contact | Phone | E-mail |
| Sep 21-27 | New York City | Jim Emmons | 607-243-3654 | jimemmons@eznet.net |
| Sep 22-26 | Florida Panhandle | Dan Bodiford | 850-892-5479 | lorab@gdsys.net |
| Sep 29-Oct 3 | Tidewater, Virginia | George Weissinger | 757-479-4123 | N/a |
| March 2-7 | San Jose, CA | Jerry Schrimsher | 510-881-0243 | GideonJerry@hotmail.com |
| March 9-12 | Mobile, Alabama | Jim Blanton | PO Box 794 | Grove Hill, AL 36451 |
| April 7-9 | Albuquerque, NM | R.E. Stinebaugh | 505-275-3170 | RCStine@MSN.com |
Jail Ministry
Sunday night, July 28:
Wake County Jail chairman Charlie Rabb reports that 122 PWTs and 32 Spanish PWTs were given out at the jail. No ladies Auxiliary PWTs were given out as, unfortunately, it was laundry night in the ladies' ward and the Auxiliary wasn't allowed in. There were three men who accepted Jesus Christ as their Lord and Savior. One other prisoner asked to be baptized so Chaplain Poole has been asked to baptize all four. Willing missionaries were Tom Wallace, Frank Rawley, Charlie and Karen Rabb, Cliff and Liz Merrill, Monte and Jeannette Daniels, John Dillard, Steve Blackmon and Bill Hudson.
Concerned about the women prisoners, Charlie later contacted Chaplain Poole and Sheriff Baker and expressed his disappointment about the laundry situation. Sheriff Baker promised to look into the situation to see if there was a remedy.
Sunday night, August 11:
Members of our camp volunteered to help the Wake County South camp. Ray Cooksey reported that 10 prisoners were saved at the jail; Richard Justice said 5 were saved at the Hammond Road Annex.
<![if !supportEmptyParas]> <![endif]>
Sunday night, August 25:
Charlie Rabb reported one man at Hammond Road was saved that 18 women prisoners signed the back of their PWTs. 199 PWTs (including ladies' PWTs) and 20 Spanish PWTs were given out. Willing missionaries were John and Nadine Kay, Charlie and Karen Rabb, Monty and Jeannette Daniels, Bill Flythe, Richard Justice, Ray Cooksey, Frank Rawley and Malcolm Hawkins.  
Karen Rabb, Nadine Kay and Jeannette Daniels visited the lady prisoners. It was Jeannette's first time in the cell area. At first, it looked like they might not get in because (Alas!) it was laundry night again. But the guards for the pod on the left side lined up the lady prisoners military-style and shoved them through as fast as they could so they could receive their PWTs and go right back to doing laundry. When it was time to serve the pod on the right side, the guards let them right in! Karen explained the Gospel to them and Nadine prayed with them. All three talked to a whole group of ladies one-on-one and passed out scriptures. No less than 18 ladies signed the backs of their New Testaments!
As for the men, Frank Rawley and Malcolm visited the 6th and 5th floor and had good results. Charlie had a long heart-to-heart talk with the juveniles and then prayed with them.
Hammond Road Tales
Since the Hammond Road Annex was revamped back in January, the 424-bed jail is now already half full. Part of the reason is that the old downtown jail has been permanently closed. When Ray Cooksey and Richard Justice visited the annex this evening (August 25), some heartbroken parents were already in the waiting area. The mother said her dad was a Gideon and asked Ray and Richard to take a Bible in to their son.
There was also a young man locked up named Scott who asked for prayer. Ray and Richard asked if had received the Lord in his life and he replied that he had not. One thing led to another and Scott prayed to receive the Lord Jesus as his Savior.
Pray for a man named Samuel, who is an older man with three children. After explaining God's plan of salvation to him for some time, Ray asked him, "Would you like to receive the Lord?" He said, "I cannot tell you honestly that I'm ready at the moment." So Ray told him that we would pray for him anyhow.
<![if !supportEmptyParas]> <![endif]>
Rickie's Story
Richard gave Rickie a PWT and asked him to share how he had come to faith in Christ.
Rickie said, "My family has always been involved in drugs and alcohol. At the age of 12 I also got started on this, and stayed on it for 24 years. I always thought that was the way people lived—getting high all the time, either on drugs or alcohol. Later on I got married and had a family but everything I did was to get drunk and to get high. Eventually, the law had a warrant out for me for drug charges. I spent six months on the street just sleeping anywhere I could find. Finally, at the point of desperation, I decided I was either gonna make a change or I was gonna die. I found myself in Durham around Roxboro Road, where I stumbled on a Presbyterian church. I tried to get inside the church, but everything was locked up. They had an alarm system, but I found my way around to the back door. I pulled on the door—nothing happened. I pulled on it again, and the bottom part of the door came open. I pulled on it again, and the whole door came open—but no alarm went off. I found my way into the sanctuary at the altar. There, I poured out my heart to the Lord. For the longest time I prayed and I asked for forgiveness, I even cursed. I begged the Lord, 'Either change my life or let me die, one or the other!' At last He saved me, right then and there!
"I finally went to sleep, right on the floor. Much later, the pastor found me. At first he was going to call the police, but I shared what had happened to me. So he advised me to go turn myself in. So that's what I did. I was expecting to get seven years but I only got eight months! Now I'm so thankful. I've been drug-free for about a year now. I'm trying to reconcile with my wife and family. When I get out, I'm looking forward to just seeing my children play."
After six months in jail, Rickie is involved in a Bible study class and already knows a lot of Scripture. This miracle in Rickie's life can only be described as amazing.
<![if !supportEmptyParas]> <![endif]>
Note: According to the News & Observer (page 3A, August 26, 2002), North Carolina has the 11th highest number of adults under correctional supervision in the USA. For the record, there are 46,500 on parole and 113,600 either incarcerated or on probation for a grand total of 160,100! Gideons and Auxiliary in our camp have ministered to many of these.        
<![if !supportEmptyParas]> <![endif]>
Butner Prison Ministry:
Prison Chairman Tom Wallace reports that the Gideon-taught Friday night Bible study class is now studying the book of Mark—with great enthusiasm. That night, John Kay delivered 50 Spanish/English New Testaments to the prison chaplain, which were well received.
Volunteer Training Schedule
September 7 is the deadline for signing up as a volunteer at Butner prison. This is mandatory training for new and current volunteers. Current volunteers, without this training your badge will be pulled in October and you will NOT be allowed access into Butner. To sign up for training call Ms Ollie Harris, the Volunteer Coordinator, at 919-575-5000 ext. 1408. If you feel led to this ministry, call Tom Wallace at 919-782-0903. PRAY for this ministry and the prisoners. Training times:
Sept 10 Tuesday 5-9 p.m.
Sept 12, Thursday 12-4 p.m.
Sept 14, Saturday 8-12 noon.
Sept 17, Tuesday 5-9 p.m.
Sept 19, Thursday 8-12 noon.
<![if !supportEmptyParas]> <![endif]>
Polk Youth Center Ministered to by Gideons
Many of you may remember when the old Polk Youth Center on Blue Ridge Road in Raleigh was closed in November 1997. The inmates, aged 18-21, were moved to a new $43 million, 166-acre, 1,076-bed site in Butner, NC. Welcome to the new Polk Youth Center, a maximum security facility.
Tom Hopper, from our camp, has been involved in a prison ministry there for the last 4-5 years. "It began," he says, "with a couple of guys from Providence Baptist Church and a couple of guys from Mt. Vernon Baptist Church. Today, there are about four guys from each church a two more from 'out of the blue.' The Lord has just continued to build it. The teams runs anywhere from 8 to 11 men."
Tom explained that the team meets for prayer in the parking lot at 6:45 on Monday nights and then visits the inmates. They meet with 35-50 young men in the chapel around 7:00 p.m. and try to hold some semblance of church, starting with prayer and a couple of hymns. The inmates are given used soft-cover Gideon Bibles to keep, if available. Otherwise they are given very used hard-cover Bibles which have to be returned at the end of class. The volunteer team may show a video such as the "Jesus" film or, more typically, video reenactments of Biblical series such as the book of Acts, Matthew, John, etc. The prisoners get to usually see one or two chapters an evening and really seem to like it.
Then the team will have a brief segment where Tom or another team member will get up and make a very brief Gospel presentation. He will typically ask the young men, "Is there anyone here for the first time?" or "Is there anybody here who, if they died tonight, are not sure if they would go to heaven?" Those that raise their hands are told that a member of the team would like to meet with them and share how they can go to heaven.
The rest of the men are typically put into three Disciple classes (Bible study groups) and two evangelizing teams. Each Disciple class is led by one of the visiting volunteers. Tom shares the Gospel with one evangelizing team and another volunteer named Mike leads the other team. The point is to share the Gospel enough so they can make a decision for Christ. Those that pray to receive Christ are invited to join one of the Disciple classes the following week. Although the youths are young, the volunteers range from 24-80 years old.
Tom says the team hopes to eventually send their evangelizing teams into the lockup section to share the gospel one-on-one with prisoners confined to individual cells. Please pray for the chaplain to allow the class to move to a much larger room, perhaps the cafeteria. Also please pray that even more Bibles become available.
The new Polk--Quick Facts
It cost $43 million to build.

The prison includes the administration building, four dormitories and three single-cell housing units.

There are 166 acres at the site and 43 fenced acres make up the prison compound.

The prison has 538 employees.

Polk can house 948 to 1,076 inmates. The prison has a standard operating capacity of 900. Its three housing units have 88,856 square feet. There can be a total of 1,076 beds including all housing and segregation areas.

Inmates are ages 18-21.

The prison serves as a diagnostic processing center, can assign 324 inmates to work and programs, can provide education programs and provides Drug Alcohol Recovery Treatment.
Heard Around the Camp:
Roanoke Rapids New Member Plan Dinner is August 27th.

Orange County New Member Plan Dinner is September 30th.

There will be an Auxiliary Cabinet meeting at 4-5 p.m. Thursday, September 12, at Nadine Kay's home, 5628 North Hawthorne Way. For directions, call Nadine at 919-870-9266.

As we go to press, plans are not finalized yet for the annual UNC Chapel Hill Campus Distribution, but Orange County camp president Ernest Bass says it will be sometime during the week of October 3rd. Call Ernest for details at 919-644-6212.
1,920 USA camps (65%) are presently online. Find out why. Logon

www.gideons.org

.
On July 12, Ray Cooksey presented a Korean-English Bible to Christina Rawley Taylor. Christina is Frank and Dot Rawley's granddaughter. She is returning to Seoul, Korea to teach English to grade school children.
<![if !supportEmptyParas]> <![endif]>
MEPS Recruits Need You!
A need for backup volunteers exists at the MEPS (Military Entrance Processing Station). Gideons are needed to present Service Testaments to new recruits and to witness for Christ. Your mission is to offer free copies of God's Word to new recruits while expressing prayers and appreciation for their service to our country. (Read "USA Military Distribution Guidelines" in your Gideon Guide Book.) Working hours are terrific—7:30-8:00 a.m. on weekdays only. Call Carl Nanney at 876-1973.
<![if !supportEmptyParas]> <![endif]>
Ladies, Join us for Prayer!
Gideons and Auxiliary meet at 7:30 Saturday morning for Scripture reading and prayer at the Crabtree Clarion Hotel (formerly Sheraton Four Points Hotel). Stay for a great time of fellowship and breakfast! Ladies, please call Nadine Kay at 870-9266 if you plan to attend. Also, bring your husband to the next monthly meeting!
<![if !supportEmptyParas]> <![endif]>
Camp Calendar
| | |
| --- | --- |
| Aug 30-Sep 2 | 45th Annual Labor Day Retreat at Bonclarken, Flat Rock, NC. Contact Jon Schweigert 864-458-7989 or jonREschweigert@aol.com |
| Sep 12 | Auxiliary Cabinet Meeting, 4-5 p.m., Nadine Kay's home. |
| Sep 17 | Camp Meeting: Soul Winning |
| Sep 21-27 | New York City Bible Blitz. Contact Jim Emmons 607-243-3654 or Jim.Emmons@mt.com |
| Oct 1-10 | Youth Testament Distributions |
| Oct 5 | Area 8 Auxiliary/Gideon Training Luncheon, Burlington Ramada Inn |
| Oct 15 | Camp Meeting: Scripture Distribution |
| Oct 18-27 | Gideon Booth: North Carolina State Fair |
| Nov 19 | Camp Meeting: Memorial Bible Plan |
| Dec 17 | Camp Meeting: Christmas Fellowship |
| Jan 21 | Camp Meeting: Spiritual Objectives |
| Feb 18 | Camp Meeting: One-on-One |
| Mar 11 | Camp Meeting: Church Assignments |
| Mar 17 | Pastors Appreciation Banquet, North Raleigh Hilton |
| Apr 15 | Camp Meeting: Camp Elections |
| May 1-4 | 56th Gideon State Convention—Winston-Salem |
| May 20 | Camp Meeting: State Convention Reports |
TO SCHEDULE YOUR TIME TO WORK