"I must work the works of him that sent me, while it is day:
the night cometh, when no man can work."
(John 9:4)
<![if !supportEmptyParas]> <![endif]>
State Fair October 18-27
Still Time to Sign up!
Can You Help?
Reminder: There are still a lot of opportunities to sign up at the Gideon State Fair booth. Please note that we need someone for 10/19, 10/20, 10/24, 10/26 and 10/27. We have 19 shifts to fill. Please check the current signup sheet at http://ncgideons.netfirms.com and see if you can take one of these shifts. Our goal is to have at least 3 men in the booth at all times. Scheduling will be on a first called, first choice basis. You can also help by praying for those who will receive the testaments and for the Gideons who will be working at our booth.
<![if !supportEmptyParas]> <![endif]>
CALL (919) 846-8100 DURING BUSINESS HOURS (8 a.m.-4 p.m. M-F)
OR E-MAIL KBRASWELL@PLANWORX.COM
Be prepared to leave your name, camp, address, phone number
and a time slot that you would be able to work.
You will be mailed complete instructions and a ticket for the fair if you are under 65 years old. You must register no later than October 6th.
Admission is free for anyone 65 or older.
<![if !supportEmptyParas]> <![endif]>
Youth Testament Distributions Completed
October is "Flood the World with Scriptures" month. Scripture Distribution Chairman John Kay planned four Sidewalk Youth Testament distributions during the first two weeks. But the number of orange Youth Testaments we distributed this year dropped steeply because of two new rulings by Gideons International:
<![if !supportEmptyParas]> <![endif]>
<![if !supportLists]>1. <![endif]>"Sidewalk distributions can be made only at those schools where the students cross a public sidewalk leaving the school property at the close of the school day (Guidebook 2/2002 p. 146, item #3)."
<![if !supportLists]>2. <![endif]>"Gideons must not stop school buses and/or other vehicles to give out Sidewalk Youth Testaments (Guidebook 2/2002 p. 147, item #16)." On August 22nd our State Scripture Coordinator, Jerry Campbell, confirmed with headquarters that: "Orange Sidewalk Testaments are to be distributed on public sidewalks to walking pedestrians. They are never to be distributed to anyone in any type of vehicle. It is a primarily a safety issue."
This pretty much rules out the senior high schools because they all leave school in buses and cars. So now we are restricted to middle school students that leave on foot. That rules out Leesville Middle and Wakefield Middle schools. So we were left with but four middle schools:
<![if !supportLists]>· <![endif]>Martin Middle School, Tuesday October 1: Captain Ray Cooksey and his team of Jim Singer, Frank Rawley, Lee Warner and John Kay distributed 101 testaments.
<![if !supportLists]>· <![endif]>Daniels Middle School, Thursday October 3: Captain Doug Schmidt, Jim Singer, Frank Rawley, Ray Cooksey and John Kay gave out  251 testaments.
<![if !supportLists]>· <![endif]>Carroll Middle School, Tuesday October 8: Captain Frank Rawley, Don Anderson, Bobby Hall, Ray Cooksey and John Kay gave out 59 testaments.  
<![if !supportLists]>· <![endif]>West Millbrook Middle School, Thursday October 10: Captain John Kay and Frank Rawley gave out 55 testaments. 
<![if !supportEmptyParas]> <![endif]>
Total orange testaments given out were 466, way down from last fall's 2,881. That does not seem like many, but the Lord knows the students and families that will be affected. Let's pray that the Holy Spirit will work in these families, and let's also pray that there will be other ways to reach the students in these schools with the Word of God. Please pray now for the Lord to open the doors of these schools and the hearts of these young people. Contact Scripture Chairman John Kay at 919-870-9266 for details (e-mail: jnkay@bellsouth.net).
| | |
| --- | --- |
| | |
| Martin Middle School girls check out their new Testaments. | Jim Singer and student at Daniels Middle School. |
| | |
| Teenagers and Testaments at Carroll Middle School. | Lee Warner passes out Youth Testaments at Martin Middle School. |
<![if !supportEmptyParas]> <![endif]>
Camp Meeting October 15:
Scripture Distributions
Our next camp dinner meeting will be held at Embassy Suites, 4700 Creedmoor Road, at 6:45 p.m. Tuesday, October 15. Don't miss this time of food, fellowship, and inspiration. For the training program, John Kay will cover the various aspects of Scripture Distribution. The Auxiliary Special Feature comprise returns from the Area 8 Luncheon, held October 5. 
If you made a commitment to be at our last meeting but couldn't attend we were still charged for the meal. Please consider offering your meal cost ($16 per person) to the camp fund c/o Gideons International, PO Box 33635, Raleigh, NC 27636.
<![if !supportEmptyParas]> <![endif]>
Hotel Blitzes Sweep Area
There were lots of used Bibles taken from these hotels that will be recovered and "given a life sentence" as they are provided to the jails and prisons. Please pray that the Holy Spirit will convict many in these hotel rooms of their need to trust Jesus as their Lord and Savior. Please pray that these silent missionaries will be used by the Holy Spirit to attract people to put their trust in the Lord Jesus for eternal life. And pray for the many housekeepers that were so thankful to receive testaments that they will come to Him. . . John Kay
September Blitz Team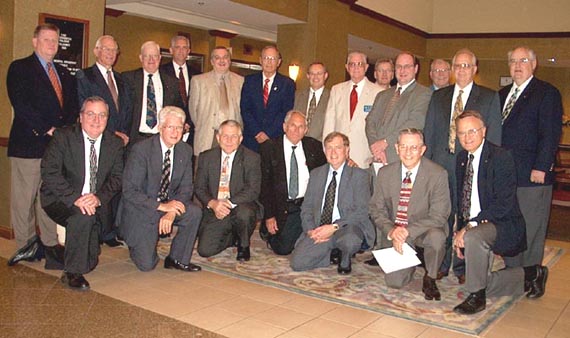 | | | |
| --- | --- | --- |
| | | |
| "Housekeeping. We'd like to check your room for a Bible." | Gideons rededicate Econolodge after major remodeling. | Gideon-trainee John Gaydos (r.) assists Tom Hopper (l.) and Malcolm Hawkins at Marriott Courtyard. |
Date

Hotel

Team

#Rooms

#Bi-

bles

#Pwts

#Spa-

nish

Sep 8

AmeriSuites Hotel

Captain Lee Warner,  Garland Tucker, Ruffin Hicks

125

37

5

4

″ ″

Comfort Inn Motel

Captain Doug Schmidt, Tom Wallace

84

53

4

2

″ ″

Hampton Inn Raleigh North

Captain Gene Mesley, Bill Schone

139

45

7

3

″ ″

Marriott Courtyard Hotel

Captain Malcolm Hawkins, Frank Rawley, Tom Hopper, John Gaydos

153

49

4

8

″ ″

Red Roof Inn

Captain Richard Justice, Eddie Sarvis, J.P. Morris, Tim Whiteside

150

95

4

5

″ ″

Extended Stay America

Captain Ray Cooksey, Tom Moore, Bill Swart

115

47

4

2

″ ″

Residence Inn

Captain John Kay, Steve Wilson, Jim Doherty

144

50

2

13

Sep 15

Econolodge

Captain Frank Rawley, John Kay

41

10

3

0

Oct 6

Clarion Inn (Crabtree)

Captain Ray Cooksey, Bill Schone, J.P. Morris

326

49

5

9

″ ″

Embassy Suites

(Glenwood)

Captain Lee Warner, David Auler, James McDowell, John Dillard, Bob
Grandinetti

237

54

8

12

″ ″

Hampton Inn

(Glenwood)

Captain Doug Schmidt, Bill Flythe

143

19

1

0

″ ″

Days Inn (Glenwood)

Captain Gene Mesley, Steve Coffey, Tom Moore

122

25

1

0

″ ″

Best Western of Crabtree

Captain John Kay, Larry Davenport, Bobby Hall

90

30

4

0

<![if !supportEmptyParas]> <![endif]>

<![if !supportEmptyParas]> <![endif]>

Totals

1869

563

52

58
| | | |
| --- | --- | --- |
| | | |
| John Kay explains Gospel message to Tim the hotel manager. | Special delivery from Larry Davenport. | Bobby Hall checks room for Bible. |
| | | |
| John Kay, Larry Davenport & Bobby Hall give Testament to hotel clerk at Best Western. | Gideons three (l-r): Steve Coffey, Tom Moore and Gene Mesley at Days Inn. | Bill Flythe (l), Hampton Inn hotel manager, Doug Schmidt. |
<![if !supportEmptyParas]> <![endif]>
Bible Blitzes Around the USA
<![if !supportEmptyParas]> <![endif]>
| | | | | |
| --- | --- | --- | --- | --- |
| Date | Place | Contact | Phone | E-mail |
| March 2-7 | San Jose, CA | Jerry Schrimsher | 510-881-0243 | GideonJerry@hotmail.com |
| March 9-12 | Mobile, Alabama | Jim Blanton | PO Box 794 | Grove Hill, AL 36451 |
| March 24-27 | Charlotte, NC | <![if !supportEmptyParas]> <![endif]> | <![if !supportEmptyParas]> <![endif]> | <![if !supportEmptyParas]> <![endif]> |
| April 7-9 | Albuquerque, NM | R.E. Stinebaugh | 505-275-3170 | RCStine@MSN.com |
Note: The New York City Bible Blitz, held September 21-27, exceeded every goal. Even 9 folks from North Carolina traveled there to help!
Read Jim Emmons's Thank You letter to NC Gideons.
<![if !supportEmptyParas]> <![endif]>
Auxiliary News
Auxiliary to Serve at Nurses Convention October 15. Raleigh-area Auxiliary members will set up a booth from which to distribute Medical Testaments at the annual convention of the North Carolina Nurses Association (NCNA) (www.ncnurses.org). The NCNA is the professional association for all registered nurses in North Carolina. The booth will be at the North Raleigh Hilton from 7:30am—3:00pm Tuesday, October 15.
The Auxiliary Cabinet met at President Nadine Kay's home from 4-5 p.m. Thursday, September 12. They planned their schedule all the way through next April's elections.
Bag O' Bibles: In a new idea started at the last camp meeting, some of the ladies volunteered to take a bag containing 10-20 testaments and a couple of Bibles. Scripture Chairperson Karen Rabb included in each bag a list of 3-4 offices (doctor, dentist, lawyer, etc.) for the volunteer to visit in hopes of distributing God's word there. 
<![if !supportEmptyParas]> <![endif]>
Fall Area Training Luncheon:
F.I.T. for Service!
There's a new confidence in the Lord on the faces of some Area 8 Gideons and Auxiliary today. The reason? The training they received on Saturday, October 5 in Burlington. Several dozen of them met at the Ramada Inn for an unforgettable day of fellowship, Inspiration, training (F.I.T.) and praising God. 
Thirty-four ladies attended the Auxiliary session, which featured special music, dramatic presentations (with Liz Merrill), and main speaker Lisa Lewis, Auxiliary Vice President, on "How to be a Guidebook Camp." Nell Simmons, Area 8 Program Assistant, gave an inspirational message on personal witnessing. Virginia Joyner, from Kenly, N.C., gave a moving nurse testimony. Glenda Loehman ran the questionnaire portion.
For the 24 Gideon attendees, Wade Childers, Area 2 Church Assignment Program Assistant, presented much practical advice on the Comprehensive Church Relations Program such as proper relationships with churches and assigning the right speaker to the right church. He also spoke on increasing the involvement of an already participating church. His camp is involved in virtually all its 68 churches and received more than $60,000 in offerings last year!
Jerry Campbell, State Scripture Coordinator, discussed doing scripture placements by the Guidebook. Our camp's Lee Warner gave a presentation on personal witnessing. Gary Lewis, State Secretary, talked about camp planning and camp reporting. There was a special witnessing training session based on the new Gideon publication, "Share Jesus Without Fear."
The David Berkowitz video was shown at lunchtime. The Faith Fund offering goal of $2,500 was exceeded by about $8. Attending from our camp were: Jim and Glenda Loehman, Cliff and Liz Merrill, Lee Warner, and Ray and Linda Cooksey.
<![if !supportEmptyParas]> <![endif]>
Meet New Member John Gaydos
Meet John and Amy Gaydos. John joined the Gideons on September 11, 2002. They have lived in Raleigh for 18 years and have three daughters. Two of them are married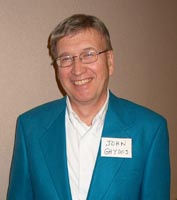 and live in Raleigh. The other daughter lives in Florida, where she attends graduate school in Marine Biology. John is a computer scientist for GlaxoSmithKline Inc. (formerly Glaxo Wellcome Inc.) in Research Triangle Park. Amy stays at home and "works harder than I do!" They have been members of North Ridge Church of CMA where John was deacon for 5 years and an elder for 2 years. He also goes to Bible Study Fellowship on Monday nights. Amy has been a deaconess for 12 years, a co-chair of the deaconate and has been on the Leadership Council. She also works with the Pregnancy Life Care Center and recently went to Honduras on a Mercy Ship as an occupational therapist.
John has been involved in a movie ministry and introduced a good Christian movie  called "The Basket" a couple of years ago. He is now trying to promote "The Climb" (www.TheClimbMovie.org) to local theaters and churches. Several have shown it already.
But John says that at this point in his life he has been asking himself, "What kind of missionary work can I do?" Recently, during a weekend at their place on the Intracoastal Waterway in Little River, S.C., an idea came to him. His family had—in lieu of going to church—evangelized on the beach by giving out Bibles and "Jesus" movies. Somehow, the inspiration came to him (the Holy Spirit?) that he might be similarly suited to do Gideon work. Later, he ran into Doug Schmidt who invited him to a Gideon prayer meeting, where he checked us out. Then John came to a camp meeting and "The rest is history."
He enjoys giving out Bibles in hotels and has signed up to work at the Gideon State Fair booth. He plans to check out the other Gideon activities to see where the Lord wants him. Welcome to the Gideons, John!
<![if !supportEmptyParas]> <![endif]>
UNC Chapel Hill Campus Distribution:
A Good Day!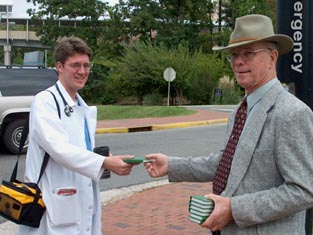 On Tuesday, October 8, 19 Gideons from 5 or 6 camps, including Ray Cooksey and John Kay from our camp, joined Orange County members for their annual College Testament distribution at UNC Chapel Hill. They met at 6:15 am at Bob Evans Restaurant on 5419 Chapel Hill Blvd. in Durham. After breakfast, prayer and instructions, they left for various spots on the campus where they distributed 2,520 College Testaments from 7:30—11:00 am. Curtis G. Sikes, Orange County camp treasurer, reports that they had a good day with no opposition. Praise God!
Photo: John Goodwin from Raleigh East came prepared for the sun but it was a cloudy day!
<![if !supportEmptyParas]> <![endif]>
6,462 New Testaments Given out
on NC State Campus
| | |
| --- | --- |
| | |
| Zone 10 Trustee Gary Deese (l) and unidentified Gideon share a light moment with a passing student. | Student studies Word of God during a quiet moment. |
God gave the Raleigh West camp beautiful weather as they held their annual NC State College Testament distribution on Wednesday, September 11, at 7:30 a.m.-1:00 p.m. and again at 5:30-7:30 p.m. At 6:00 a.m. 28 Gideons from several camps showed up at Pam's Farmhouse Restaurant in Cary for breakfast, prayer time, maps of the campus, instructions and work team assignments. Bill Swart, John Kay and Ray Cooksey represented our camp. Even Gary Deese, Zone 10 Trustee, was there! All told that day, 6,462 College Testaments were distributed on campus, including 300 at the evening distribution. The receptivity by the students and staff and security personnel was very good, and for that we praise the Lord. Pray that those receiving God's Word will be attracted to it by the Holy Spirit so that they will come to place their faith in the Lord Jesus.
<![if !supportEmptyParas]> <![endif]>
Bonclarken Weekend
The gang's all here! Whooping it up at Bonclarken.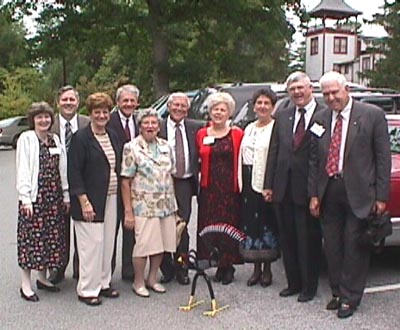 The 45th Annual Labor Day Retreat for Gideons was held at Bonclarken in Flat Rock, N.C. from August 30-September 2. The main speakers this year were Dr. Wayne Brown, pastor of the First Baptist Church in Myrtle Beach, S.C., and Ken Speakman, division director of Support Services for Gideons International. Praise God, the Faith Fund goal of $15,000 was exceeded. There were 250-300 attendees; Ray and Linda Cooksey represented our camp.
| | |
| --- | --- |
| | |
| Raleigh West Camp's Russ Davis (l) and friend enjoy the good life. | Three ladies fellowship at Bonclarken. |
<![if !supportEmptyParas]> <![endif]>
Jail Ministry
Sunday night, September 22:
God's willing missionaries that night were: Charlie and Karen Rabb, Cliff and Liz Merrill, Ray Cooksey, John and Nadine Kay, Bill Hudson, Monty and Jeannette Daniels, Tom Wallace, Bill Flythe, and Gary Pendleton. Wake County Jail chairman Charlie Rabb reports that the ladies gave out 37 PWTs and 10 Spanish Testaments; Gideons gave out 142 PWTs and 30 Spanish Testaments.
Karen, Jeannette, Liz and Nadine were able to go up to the lady prisoners' floor. They couldn't visit them because they were doing laundry but they left Scriptures anyhow. Gary Pendleton and Ray Cooksey were on one floor where three inmates received the Lord as their Savior. Gary had 25-30 men gathered around at one time to pray with him. Please pray for Chaplain Poole, who has been so supportive of this effort.
<![if !supportEmptyParas]> <![endif]>
Butner Prison Ministry:
Prison Chairman Tom Wallace reports that the Gideon-taught Friday night Bible study class is now studying the book of Mark—with great enthusiasm. He said that Sam, one of their 3 "famous front row singers," will be leaving on October 18, having completed his sentence. Sad for the class but happy for Sam! Please pray for this ministry. If you want to be part of it call Tom at 782-0903.
<![if !supportEmptyParas]> <![endif]>
Kenya Bound:
Jesus Found
As some of you know, Charlie Rabb and Larry Crowder, Gideons from our camp and members of Bayleaf Baptist Church, recently went on a missionary trip to Kenya, Africa. Charlie says "We left the USA September 1. It was 1 ½ hours to Detroit, 8 hours to Amsterdam and 8 hours to Nairobi, Kenya." The next morning they left their hotel for a 6 ½-hour bone-jarring ride on "absolutely awful" pothole roads to another hotel in Rongo, Kenya. The water was so contaminated there, they had to plug up their ears in the shower to prevent infection.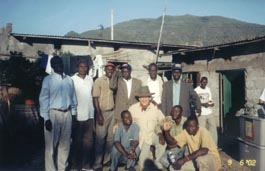 Charlie meets the Suba people of Mfangano Island.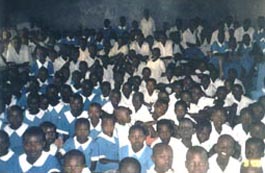 300 children came to hear about Jesus.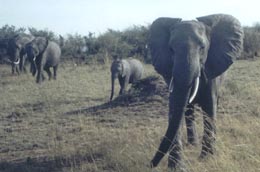 One really peeved elephant gave them a farewell they won't forget.
The next morning, they left for their final destination, Mfangano Island, a volcanic mountain out on vast Lake Victoria. They left on a 25-foot wooden boat run by a 25 horsepower Yamaha motor. The boat "looked like a war canoe." Twelve people rode in the boat, including Charlie and Larry's group of 7 missionaries. They wore life preservers but Charlie noticed there were no paddles, no radios, no Coast Guard, just the Lord for protection during the 1 ½ ride to the mountainous 10-square-mile island.
In the village (one of the two on the island) they moved into their 8 x 10 two-bed rooms and put up mosquito netting. Charlie went out into the village first thing and gave a Swahili Bible to a young lady of the Suba tribe, who said she would read it. These people had never before been reached for Christ. Next morning, Charlie and Larry visited the local school with an interpreter, who was also a minister. The grateful school principal called an assembly of all 300 kids. Charlie strode out in front of them and soon had them mesmerized with his "famous" tricks with a yo-yo. Then Charlie told them about Jesus and why he had come to them all the way from the USA. Larry joined in and asked how many would "like to accept Jesus as their Savior today." Thirty-three raised their hands! They said the sinner's prayer and then joined the rest in learning the song, "Jesus Loves Me."
Charlie had brought 39 Swahili Bibles with him and had set a goal of reaching 39 people for the Lord. After leaving the school, Charlie and Larry went hut-to-hut around the mountainside telling people about Jesus. They brought five more people to the Lord. Charlie even prayed over the grave of one man's wife, who had died only 3-4 days before. Eventually they found their way to the marketplace, where they bumped again into the same young Suba lady. Charlie asked her again, "Are you ready to accept Jesus as your Lord and Savior?" She said, "Yes, I am." She prayed the prayer and became Charlie's number 39!
Later, the group put on a rally in the marketplace. That night, Charlie was so tired he went to bed without supper. The next morning he felt good but Larry and others had food poisoning! They returned to the mainland through very choppy 3-foot swells. After several more incidents—too many to tell here—Charlie and Larry's group went out to Masai Mar for a camera safari. A bull elephant became enraged by their presence and charged their truck. This is where Charlie earned the nickname "The elephant go-go man," for hollering "Go Go Go" because the truck driver didn't drive off until the elephant was less than 50 feet away! (Note: I still couldn't contact Larry for his version of what happened as this newsletter went to press!)
Welcome back alive, Charlie and Larry!
<![if !supportEmptyParas]> <![endif]>
A Wonderful way to Say "I Love You"
With Living Memorial Bibles
Memorial Bible Chairman Doug Schmidt encourages you to continue to use the Memorial Bible Plan and to check the Memorial Bible rack in your own church to be sure it's up to snuff on prices. For only $1.50 you can get a package of Memorial Bible Cards for your personal use. Each package contains two "In Memory," two "In Recognition," and two "Thinking of You" cards. Contact Assistant Memorial Bible Chairman Frank Rawley at 847-1366.  
New this year: Send a Christmas card that can change a life. For the first time in Gideon  history, Christmas cards are being offered by the Gideons. There is no donation envelope but $1.30 from each card will be credited to our camp's Memorial Bible program to help purchase Scriptures around the world. These cards are available in packages of 12 for $18 (4 cards of each style). You may order them through the web page (www.gideons.org), from a special order form enclosed with the September Information Bulletin, or by calling headquarters at 615-883-8533. Questions? Contact Frank Rawley at 847-1366.
In Honor: George and Gloria Kissinger announce the arrival of grandson #2. Joseph Allen Kissinger arrived in Winston-Salem on Sunday, July 28, to parents Curt and Stephany Kissinger. Joseph was 20 inches long and weighed 8 lb. 6oz. All are doing well. Praise the Lord and send cards to George and Gloria at 200 Lee Street, Knightdale, NC 27545.
MEPS Recruits Need You!
A need for backup volunteers exists at the MEPS (Military Entrance Processing Station). Gideons are needed to present Service Testaments to new recruits and to witness for Christ. Your mission is to offer free copies of God's Word to new recruits while expressing prayers and appreciation for their service to our country. (Read "USA Military Distribution Guidelines" in your Gideon Guide Book.) Working hours are terrific—7:30-8:00 a.m. on weekdays only. Call Carl Nanney at 876-1973.
<![if !supportEmptyParas]> <![endif]>
Ladies, Join us for Prayer!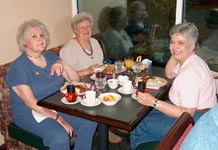 Gideons and Auxiliary meet at 7:30 Saturday morning for Scripture reading and prayer at the Crabtree Clarion Hotel (formerly Sheraton Four Points Hotel). Stay for a great time of fellowship and breakfast! Ladies, please call Nadine Kay at 870-9266 if you plan to attend. Also, bring your husband to the next monthly meeting!
(Photo: Anne Simpson (l), Nadine Kay, Jeannette Daniels.)
<![if !supportEmptyParas]> <![endif]>
Camp Calendar
| | |
| --- | --- |
| Oct 15 | Camp Meeting: Scripture Distribution |
| Oct 18-27 | Gideon Booth: North Carolina State Fair |
| Nov 19 | Camp Meeting: Memorial Bible Plan |
| Dec 12 | Faith Fund Rally, 6:30 pm, N. Raleigh Hilton. Speaker: Area 3 IEC Representative Bruce Benskin.  |
| Dec 17 | Camp Meeting: Christmas Fellowship |
| Jan 21 | Camp Meeting: Spiritual Objectives |
| Feb 18 | Camp Meeting: One-on-One |
| Mar 11 | Camp Meeting: Church Assignments |
| Mar 17 | Pastors Appreciation Banquet, 6:30pm, Salon ABC, North Raleigh Hilton; Tank Kersey, testimony speaker. |
| Apr 15 | Camp Meeting: Camp Elections |
| May 1-4 | 56th State Convention—Adams Mark Hotel, Winston-Salem |
| May 20 | Camp Meeting: State Convention Reports |
| Jul 22-27 | 104th International Convention, Birmingham, Alabama |
<![if !supportEmptyParas]> <![endif]>
Respectfully submitted,
Pat Simpson, Newsletter Editor
(919-877-0434 or e-mail PatSimpsonBooks@cs.com)
Return to Top of Page