Raleigh North Gideon Newsletter
May-June 2003
"…serve Him without fear…" (Luke 1:74)
(International Convention Theme)
---
<![if !supportEmptyParas]> <![endif]>
8 Raleigh Hotels Blitzed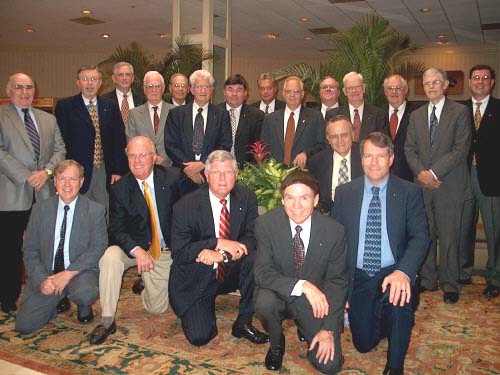 It was the middle of the afternoon on Sunday, June 8, 2003. The rain outside the North Raleigh Hilton was frightful. Inside, 20 Gideons met to get instructions and to pray. Then they scattered to eight hotels. They would be busy—there were 1,187 rooms to check.
When the teams got to the Red Roof Inn and Residence Inn (the two with outdoor room entrances), the Lord tapered the rain back to a drizzle and then stopped it.
They placed a total of 164 Bibles. They also provided PWTs to 75 people and shared the plan of salvation with some. Fifty-nine used Bibles are to be given a "life" sentence in Wake County jails. Ray Cooksey said one of the employees at AmeriSuites was extremely excited to receive his New Testament.
Pray that the Holy Spirit will have great liberty to use these Bibles to convict people to put their faith in the Lord Jesus. And pray for the many housekeepers that were so thankful to receive testaments that they will come to Him.
Note: Last year we distributed 1,315 Bibles, 634 Hospital Testaments, 1,707 Auxiliary Testaments, 825 Youth Testaments, 2,383 jail/prison testaments, and 6,567 Service Testaments for a total of 13,431 Scriptures. This beats last year's goal of 4,800 Scriptures by 8,361! Also 10,895 PWTs were placed at the State Fair. In addition, Bill Swart has been distributing Service Testaments to Fire stations and EMTs all over Raleigh.
Our next blitz is scheduled for 2:00 pm Sunday, July 20. Contact John Kay at 870-9266.
| | |
| --- | --- |
| | |
| Gideons praying for these Bibles aftor our Saturday morning prayer time June 7. | Gideons gather at North Raleigh Hilton |
| | |
| Richard Justice (l) with North Raleigh Hilton manager Joe Johnson. | Lee Warner, Jim Doherty and John Kay finish up at the Residence Inn. |
| | | | | | | |
| --- | --- | --- | --- | --- | --- | --- |
| Hotel | Team | Rooms | Bibles | PWTs | Span. | Used Bibles |
| AmeriSuites Raleigh | Captain Ray Cooksey, Don Anderson | 125 | 23 | 7 | 1 | 17 |
| Comfort Inn North Hills  | Captain Doug Schmidt, Tom Wallace | 84 | 13 | 1 | 0 | 5 |
| Extended Stay America | Captain Jim Singer, David Auler | 115 | 20 | 0 | 1 | 5 |
| Hampton Inn Raleigh North | Captain Tom Moore, Bill Swart | 139 | 10 | 3 | 0 | 0 |
| Marriott Courtyard | Captain Larry Davenport, John Dillard | 153 | 10 | 1 | 1 | 9 |
| North Raleigh Hilton Hotel  | Captain Richard Justice, Steve Blackmon, Bill Eaton, John Massey | 277 | 20 | 6 | 15 | 6 |
| Red Roof Inn | Captain Lee Warner, Bobby Hall, Bill Hudson, Cliff Merrill | 150 | 33 | 10 | 13 | 8 |
| Marriott Residence Inn | Captain Jim Doherty, John Kay | 144 | 35 | 5 | 11 | 9 |
| <![if !supportEmptyParas]> <![endif]> | Totals | 1187 | 164 | 33 | 42 | 59 |
<![if !supportEmptyParas]> <![endif]>
Nurses Receive Medical Testaments
Ladies of the Auxiliary recently placed 189 Medical testaments, 18 Spanish testaments, and 10 PWTs at the annual state nurses' convention of the AHHC (Association for Home and Hospice Care of North Carolina). AHHC (www.homeandhospicecare.org) is the oldest and largest organization in North Carolina, representing all types of in-home service professionals dedicated to providing quality care to patients in their home and community.
| | |
| --- | --- |
| | |
| From left: B.J. Smith, Linda Cooksey, Jeannette Daniels, Lynn Dixon | B.J. Smith (rt.) shows God's plan of salvation to nurse. |
The convention was held on May 19-20 (Monday and Tuesday) at the Sheraton Imperial Hotel and Convention Center in RTP. Organizer Linda Cooksey reports that the Auxiliary was allowed to set up a booth right next to the hotel entrance where it couldn't be missed! Auxiliary members worked in three shifts of at least two members each, covering Monday evening (5:00-7:30 p.m.) and Tuesday (7:30 a.m.-1:30p.m.). The Auxiliary was represented by Wyonne Goodwin (Raleigh East), Sandra Hicks (Durham North), B.J. Smith (Roxboro), Lynn Dixon (Wake County South), and Jeannette Daniels and Linda Cooksey (Raleigh North).
<![if !supportEmptyParas]> <![endif]>
Auxiliary members even witnessed to the exhibitors surrounding them. And, after they gave a couple of Spanish testaments to hotel staff workers, they prayed that somehow more workers would come to them because they couldn't leave the booth. God sent their supervisor, who asked if she could bring the rest of her half-dozen staff members out so they could also receive copies of God's word. In spite of the language hurdle, ladies of the Auxiliary explained God's plan of salvation to each worker individually. The supervisor smiled and said, "I'll work with them later."
<![if !supportEmptyParas]> <![endif]>
Camp Meeting July 15:
Speaker Development
Our next camp dinner meeting is scheduled for 6:45 p.m. Tuesday, July 15, 2003 at Embassy Suites (across from Crabtree Valley Mall), 4700 Creedmoor Road. Don't miss this time of food, fellowship, and inspiration. The program will focus on speaker development. We need more speakers!
Note: We try to be good stewards of our resources, therefore if you have confirmed and can not attend we ask that you cover the cost of your meal ($17 per person) with camp treasurer Richard Justice (570-0145).  
<![if !supportEmptyParas]> <![endif]>
Cabinet Sets 2003-2004 Goals, Calendar
The annual camp planning meeting for the new Gideon year (June 1, 2003-May 31, 2004) was held at President Lee Warner's house on Monday evening, June 17, 2003. Present were: Ray Cooksey, Monty Daniels, Malcolm Hawkins, Richard Justice, Frank Rawley, Doug Schmidt, Pat Simpson, Jim Singer, and Lee Warner.    
After much discussion and prayer, our camp's goals were set (see below chart) and our monthly camp meeting program was carefully planned (see "Camp Calendar"). Motion was made and carried to increase the cost of a campmeeting dinner by $1.00 to $17.00 (to cover increased expenses). All cabinet officers, both elected and appointed, are now in place (see below). After the meeting, Lee's wife Janet set out some wonderful refreshments. Thanks Janet! Please pray for God's help in our efforts to win others for the Lord Jesus Christ.
Following are the goals and actuals for the Gideon year just ended (June 1, 2001-May 31, 2002). These goals were reached with God's help, much prayer and the hard work of our members. Please pray for even greater results in the forthcoming year. Our camp now has 104 members—73 Gideons and 31 Auxiliary—a net gain of two over last year.  
<![if !supportEmptyParas]> <![endif]>

2002-2003

Goal

Actual

% of goal

2003-2004

Goal

New Members

3

7

233

3

Church Service Receipts

$16,000

$7,822.12

49

$8,300

— 

Church Services

45

16

36

19

Memorial Bible Receipts

$27,600

$23,943.85

87

$27,200

— 

MB Slide/Video Presentations

6

6

100

12

Faith Fund Receipts

$75,000

$69,405.61

93

$75,000

PWTs purchased by Gideons

        

1,000

1,022

102

1,000

Scripture Distributions 

(

*

includes 
6,567 Service Testaments, far
above the 500 projected. In 
addition, 10,895 PWTs were 
placed at the NC State Fair.)

4,800

*

13,431

280

5,300

Auxiliary Scripture Receipts

$1,514.75

$1,514.75

100

N/A

Auxiliary Medical Testaments

675

688

102

N/A
<![if !supportEmptyParas]> <![endif]>
Meet Your 2003-2004 Camp Officers!
Gideons

Auxiliary

President—Lee Warner

President—Jeannette Daniels

Vice Pres.—Malcolm Hawkins

Vice Pres.—Nancy Davenport

Secretary—Pat Simpson

Sec./Treasurer—Emily Dillard

Treasurer—Richard Justice

Chaplain—Dot Rawley

Chaplain—Garland Tucker

Scripture Secretary—Liz Merrill

Scripture Chair—John Kay

Memorial Bible Liaison—Linda Cooksey

Church Assignment Chair—Ray Cooksey

—Co-chair: Charlie Rabb

<![if !supportEmptyParas]> <![endif]>

Memorial Bible Chair—Doug Schmidt          —Co-chair: Frank Rawley

<![if !supportEmptyParas]> <![endif]>

Membership Chair—Bill Swart

<![if !supportEmptyParas]> <![endif]>

Faith Fund Chair—Jim Singer

<![if !supportEmptyParas]> <![endif]>

Jail Chaplain—Monty Daniels

—Co-chaplain: John Gaydos

<![if !supportEmptyParas]> <![endif]>

Butner Coordinator—Tom Wallace

<![if !supportEmptyParas]> <![endif]>

State Fair Coordinator—Jim Loehman

<![if !supportEmptyParas]> <![endif]>
<![if !supportEmptyParas]> <![endif]>
Jail Ministry
Wake County Jail Chairman Monty Daniels reports that 2,383 testaments were given out last year. He said, "We meet at the jail the 4th Sunday of the month at 6:00 p.m. and go up to see the prisoners at 6:10 p.m. We'll train you on the job!" One prisoner at Hammond Road recently greeted Gideons with, "I want a Bible of my own. I'll put my own name in it!" Wake County has authorized many more security guards, which means many more prisoners will be moved to Hammond Road. Consequently, we may need more Gideons there. Monty took 13 used Bibles to Debbie Jones, our contact at the jail, for prisoners who had requested them. Richard said there have also been requests for large print Bibles.
<![if !supportEmptyParas]> <![endif]>
Butner Prison: John Dillard reported that a Muslim named Sam recently showed up in the Friday night Gideon Bible study. He probably represented the Nation of Islam (Louis Farrakhan) and seemed to be genuinely under conviction.
<![if !supportEmptyParas]> <![endif]>
Children of Chernobyl
Ray Cooksey said that, because of Charlie Rabb's ill health, Bill Flythe would replace him this year as Bible distribution coordinator to the Russian Children of Chernobyl. Ray said the cost was covered but John Kay moved that the camp spend $108 for Russian PWTs and it was carried. For time & place of the distribution, contact Ray at 847-0521. 
<![if !supportEmptyParas]> <![endif]>
A Wonderful way to Say "I Love You"
With Living Memorial Bibles
In Memory Card: Sarah Mitchiner, age 91, mother of Liz Merrill, died June 13, 2003. Please send card to: Cliff & Liz Merrill, 7709 Wilderness Road, Raleigh, NC 27613.
In Memory Card: Alma Ready, age 95, mother of Pat Simpson, died May 29, 2003. Please send card to: Pat & Anne Simpson, 5205 Eagles Landing Drive, Raleigh, NC 27616.
Thinking of You Card:
 

Jean Tucker, who is nursing a broken arm. Please send card to:
Garland & Jean Tucker, 901 Marlowe Road, Raleigh, NC 27609.
Thinking of You Card:
 

Charlie Rabb—Pray for God's physical healing. Please send card to:
Charles & Karen Rabb, 7608 Eason Circle, Raleigh, NC 27613
<![if !supportEmptyParas]> <![endif]>
Join us for Prayer and Breakfast!
We would love to have you join us on Saturday mornings for Prayer and Breakfast. We meet at the Clarion Hotel (formerly Fourpoints) across from Crabtree Valley Mall at 7:30 a.m. Breakfast (optional) is at 8:00 a.m. We typically meet in the executive meeting room on the 10th floor. Gideons and Auxiliary are always welcome! For more information, call Lee Warner (846-7726) or Nadine Kay (870-9266). 
Camp Calendar
| | |
| --- | --- |
| Jul 15 (6:45pm) | Camp Meeting: Speaker Development |
| Jul 22-27 | 104th International Gideon Convention, Birmingham, Alabama |
| Aug 19 (6:45pm) | Camp Meeting: Convention Reports |
| Aug 29-Sep 1 | Bonclarken Zone 10 Annual Labor Day Retreat; Paige Patterson, main speaker. (Contact Jon Schweigert at 864-458-7989 or e-mail: jonREschweigert@aol.com) |
| Sep 16 (6:45pm) | Camp Meeting: Soul Winning |
| Oct 17-26 | 150th North Carolina State Fair |
| Oct 21 (6:45pm) | Camp Meeting: Scripture Distribution |
| Nov 18 (6:45pm) | Camp Meeting: Memorial Bible Program |
| Dec 16 (6:45pm) | Camp Meeting: Fellowship |
| Jan 20 (6:45pm) | Camp Meeting: Spiritual Objectives |
| Feb 17 (7:00pm) | Camp Meeting: One-on-One New Member Meeting |
| Mar 16 (6:45pm) | Camp Meeting: Church Assignments |
| Apr 20 (6:45pm) | Camp Meeting: Camp Elections |
| Apr 30 | Pastors Banquet (at State Convention) |
| Apr 30—May 2 | 57th NC State Convention, Sheraton Imperial Hotel, RTP, NC |
| May 18 (6:45pm) | Camp Meeting: Convention Reports |
<![if !supportEmptyParas]> <![endif]>
<![if !supportEmptyParas]> <![endif]>
Respectfully submitted,
Pat Simpson, Newsletter Editor
(919-877-0434 or e-mail PatSimpsonBooks@cs.com)
<![if !supportEmptyParas]> <![endif]>
This newsletter is published by the Raleigh North Camp of
The Gideons International
P.O. Box 33635
Raleigh NC  27636
Phone: 919:781-0305
WEB: http://members.tripod.com/patsnews
May 2003 Status:
<![if !supportEmptyParas]> <![endif]>
Camp Annual Planner 2003-2004
---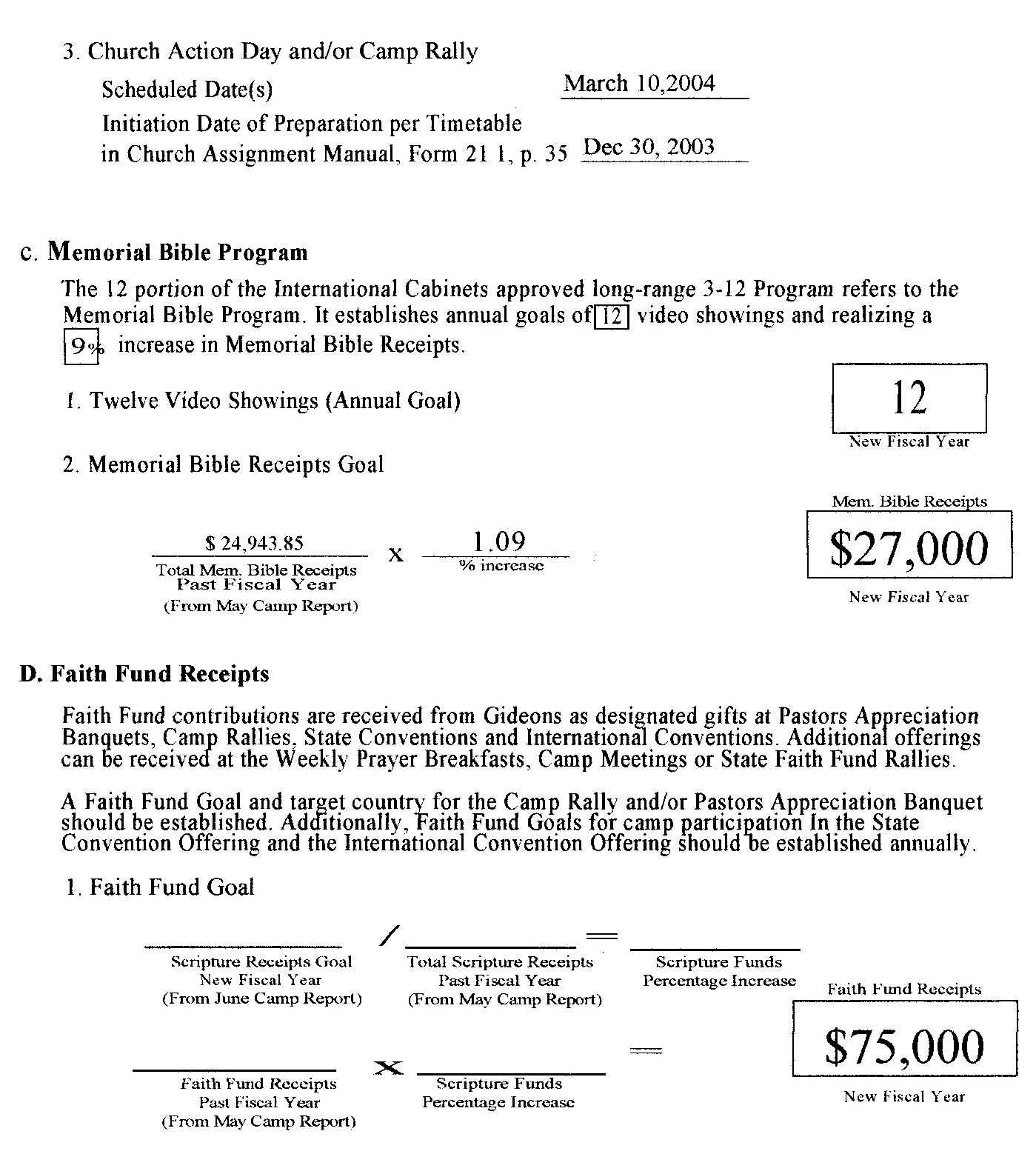 ---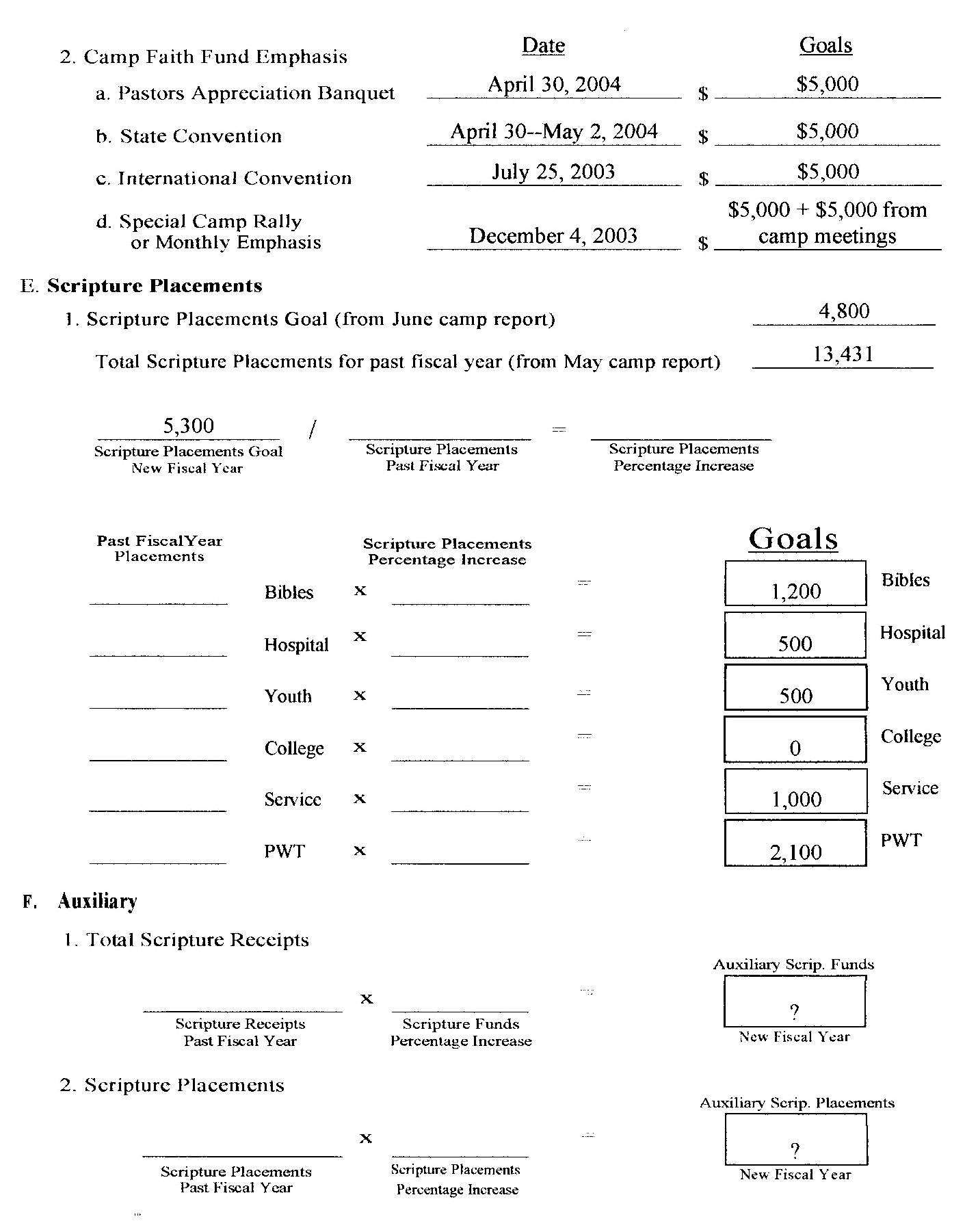 ---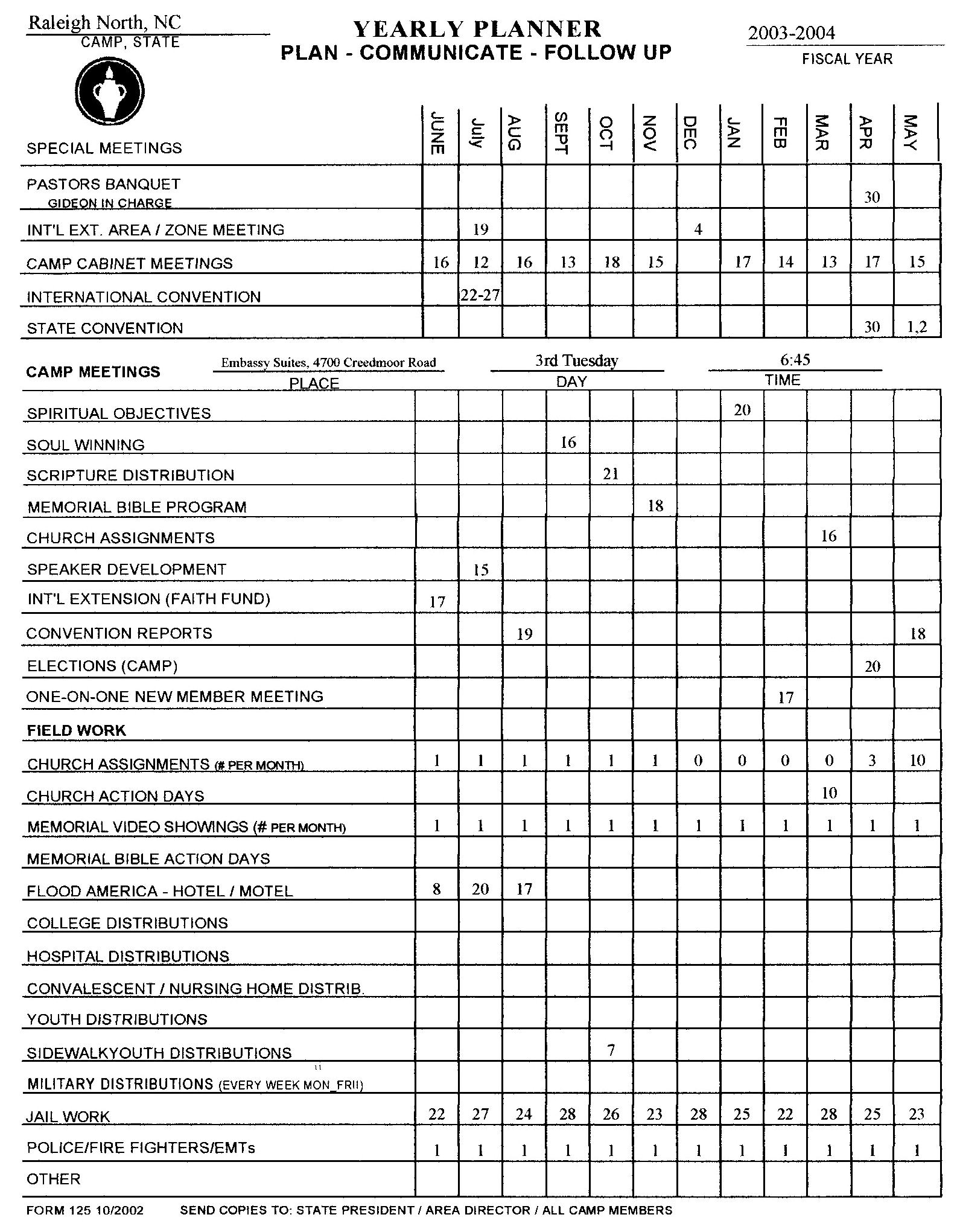 ---
Return to Top of Page