Raleigh North Gideon Newsletter
March 2003
"When Jesus heard it, he saith unto them, They that are whole have no need of the physician, but they that are sick: I came not to call the righteous, but sinners to repentance."
(Mark 2:17)
<![if !vml]>
<![endif]> 
Pastors Appreciation Banquet:
Monday, March 17
Don't miss this year's dynamite Pastors Appreciation Banquet! It will be held at 6:30 p.m. Monday, March 17,  at the North Raleigh Hilton (Salon ABC). Tickets are $20 each. Our speaker is Kyle Compton, former Gideon State President of Virginia. The testimony speaker is Mike "Tank" Kersey, who was featured in the Aug/Sept 2002 issue of The Gideon (p. 32). Some of you may remember his testimony from the Louisville Convention last summer.
Brother Compton has been a Gideon for 40 years and is past Gideon State President of Virginia. He has also served on two EAPs (Extension Action Programs) to Africa and Spain. He has held various positions on the Virginia State Cabinet and is currently serving as camp Membership Program Assistant. A retired Division Manager with Robertshaw Controls Company in Independence, Virginia, brother Compton and wife Hazel make their home in Galax, Virginia. They have four children, all grown with families.
Tank Kersey bought his first motorcycle at the age of 16 and began a life of liquor, drugs, and crime. Learn what happened one night in a motel room as he held a pistol in one hand and a Gideon Bible in the other.
<![if !supportEmptyParas]> <![endif]>
Clockwise from left:

Special music: Kenyon Clark
Main Speaker: Kyle Compton
Testimony Speaker: Mike "Tank" Kersey (and wife Pat)
Auxiliary Report: Kathy Gross
Special Music: Jeremy Funk
<![if !supportEmptyParas]> <![endif]>
Raleigh East Camp's Kathy Gross will share about the important role the Auxiliary plays in this ministry.

 

Kathy joined the Auxiliary in 1996 with her husband Bud. She served as Area 8 (that's us!) CPPA from 1998 to 2001. She is employed at North Raleigh Christian Academy on Perry Creek Road where she is the administrative assistant to three principals. A member of Raleigh East camp, Kathy

 

currently serves as Secretary/Treasurer. Kathy and Bud have been married for 38 years in May, They have three married children and one grandchild is on the way.
Special
music will be provided by Kenyon Clark and Jeremy Funk, a duet from Forest Hills Baptist Church. Kenyon is originally from Asheville, N.C. and attends Forest Hills Baptist Church in Raleigh. From 1982-1992, he was part of the Kingsboys/Chronicle.
Originally from Baltimore, Maryland,
Jeremy is an
R&D Chemist for The Dow Chemical Company and a member FHBC. He likes woodworking and running.
Faith Fund Offering
The Faith Fund Offering goal for the banquet is $5,000. Remember that 100% of all funds given to the Faith Fund are used to buy Scriptures for the lost. If you are not able to attend the banquet, you can still help us meet this important goal. Please mail your designated check to:
Richard Justice (camp treasurer)
112 Shenandoah Farm Road
Wake Forest, NC 27587
<![if !supportEmptyParas]> <![endif]>
Jerry Campbell on EAP
Speaking of Scriptures for the lost, State Scripture Secretary and Tar Heel Gideon editor Jerry Campbell leaves Saturday, March 29th for two weeks to help distribute scriptures with 31 other Gideons in Columbia, South America. Please pray for Jerry as he travels to Bogota and Barranquilla and for his wife Martha as she guards the home place. Pray for our Colombia brethren who are making the final arrangements. Pray that there will be enough scriptures available to place into all of the hands that will be reaching out. Pray for the team's safety, for open doors, and that souls will be reached for the Lord. Their reward will be in heaven for the souls that will come to know Jesus through these efforts.
Gideon Booth at Providence
| | |
| --- | --- |
| | |
| Bill Swart (left) & Bill Schone check over Gideon Bibles. | Parade of nations in Providence Baptist Church. |
Bill Schone and Bill Swart represented the Gideon ministry at the annual Missions Festival, sponsored by Providence Baptist Church. At the festival, people saw

firsthand what God is doing around the world and across the street. Approximately 30 local ministries and 50 international missionaries took part, including Gideons International (which Providence helps support). Bill and Bill

set up a Gideon booth and manned it for parts of 3 days, February 13-16. They also gave a Gideon report to a Sunday School class.

Bill Schone's wife,

Sunny, talked about the Gideons to another Sunday School class of over 60 children. By Sunday afternoon, very bad winter weather moved in, but the conference was only minimally affected. Praise the Lord for the faithfulness of Bill and Bill and Sunny!
Camp Meeting April 15:
Camp Elections
Our next camp dinner meeting is scheduled for 6:45 p.m. Tuesday, April 15, 2003 at Embassy Suites (across from Crabtree Valley Mall), 4700 Creedmoor Road. Our annual camp elections will be held. Pray that the Lord will call the right men and women to the right offices. And pray if God would have you serve in one of these offices below. Let God answer how much time and effort you can put in, because none of us "really have the time."
Elected Officers:
Gideons: President, Vice President, Secretary, Treasurer, Chaplain.
Auxiliary: President, Vice President, Secretary/Treasurer, Chaplain.
Appointed Officers:
Gideons: Scripture Chairman, Church Assignment Chairman (and Committee member), Memorial Bible Chairman (and Committee member), Membership Chairman, Faith Fund Chairman, Wake County Jail Chairman, Butner Prison Chairman, State Fair Chairman.
Auxiliary: Scripture Secretary, Memorial Bible Liaison.
<![if !supportEmptyParas]> <![endif]>
Note: We try to be good stewards of our resources, so if you have confirmed and cannot attend we ask that you cover the cost of your meal ($16 per person) with camp treasurer Richard Justice (570-0145).
<![if !supportEmptyParas]> <![endif]>
One-On-One Canceled: Bad Weather
Due to bad weather, our One-On-One meeting, scheduled for February 18, was canceled.
<![if !supportEmptyParas]> <![endif]>
March 11 Camp Meeting Update:
Camp President Lee Warner officially welcomed three new members to the camp and led us in prayer that the Lord would use them mightily in the Gideon ministry. Vice-president Malcolm Hawkins utilized the program time for last-minute planning for the March 17 Pastors Appreciation Banquet. The Auxiliary Special Feature was on the Jail Ministry. Several Auxiliary members shared the experiences they had while distributing copies of God's Word at the jail. (Photo from left: John Massey, William Eaton, John Gaydos, Lee Warner)



P.S. It was revealed that another new Gideon, Jonathan E. Koch, became a member just today!
It's not too Late to Sign up!
Charlotte Scripture Blitz is March 23-27
Make your plans now to attend the Scripture Blitz in Charlotte March 23-27. Over 200 Gideons and Auxiliary are needed to distribute more than 50,000 Scriptures to open hands. There is a handy registration form in both the January and February Tar Heel Gideon. For hotel reservations and other details, see the contact chart below.
<![if !supportEmptyParas]> <![endif]>
Bible Blitzes Around the USA
| | | | | |
| --- | --- | --- | --- | --- |
| Date | Place | Contact | Phone | E-mail/"Snail-mail" |
| March 2-7 | San Jose, CA | Jerry Schrimsher | 510-881-0243 | GideonJerry@hotmail.com |
| March 9-12 | Mobile, Alabama | Jim Blanton | 205-455-2426 | PO Box 794, Grove Hill, AL 36451 |
| March 23-26 | Kansas City, MO/KS | Durward K. Sobek | <![if !supportEmptyParas]> <![endif]> | <![if !supportEmptyParas]> <![endif]> |
| March 23-27 | Charlotte, NC | Don Rhodes | 704-394-4811 | CharlotteScriptureBlitz@hotmail.com |
| April 7-9 | Albuquerque, NM | R.E. Stinebaugh | 505-275-3170 | RCStine@MSN.com |
<![if !supportEmptyParas]> <![endif]>
Auxiliary News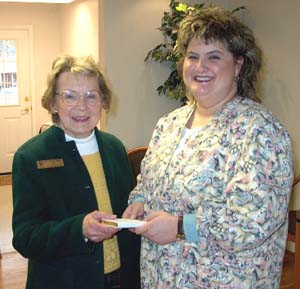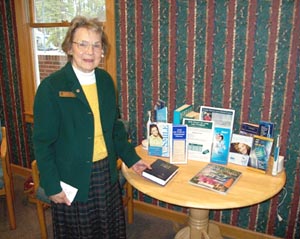 On Wednesday afternoon, February 26,

 

Dot Rawley (with the help of husband Frank and John Kay), distributed 3 Bibles and 17 medical testaments to a dentist's office (right) and a doctor's office (left, with receptionist).
The Association for Home and Hospice Care of North Carolina will hold a nurse's convention at the Sheraton Imperial on May 19-20, 2003. Auxiliary members will be contacted to help set up and operate a booth from which to distribute nurse's Testaments.

Ladies, don't forget that our Auxiliary camp elections
will be held at the April 15th camp meeting.
Bibles я Us:
A busy Scripture month!
Scripture Chairman John Kay reports a very busy month of placing Scriptures wherever God leads him. We praise God for all his efforts. Pray that the Lord continue to lead him as he searches out locations to place God's Word.
Tuesday, February 25—Raleigh Community Hospital
On of the most amazing things is the way that the Lord has answered prayer about getting scriptures into Raleigh Community Hospital. They now have a part-time Chaplain, Adrian Dixon, who contacted International about getting Bibles for the hospital. What an answer to prayer! Adrian determined what they needed and talked to the VP there about what they want to do. He and John Kay discussed the situation; John ordered 200 Bibles and 150 Medical testaments to meet their needs. The Lord just keeps doing these things to surprise us as to how He can bring down the barriers to people being exposed to His Word. Let's pray for Chaplain Dixon as he develops the ministry at Raleigh Community Hospital.
<![if !supportEmptyParas]> <![endif]>
Wednesday, February 26—MEPS (Military Entrance Processing Station)
Frank Rawley and John Kay distributed Service Testaments to raw recruits on their way to perhaps eternity. Please pray for the recruits and for those Gideons who have the responsibility to offer testaments to them. It is clear that the Holy Spirit is using His Word to convict those on their way to war as to the need to get spiritual life in Christ. As reported recently on network news and in the N&O, many soldiers are already being baptized in Kuwait.
For many years, many of you remember that our camp's Clarence Jeffreys
(photo, left)
was the one responsible for the MEPS ministry. So he was very grateful when John dropped in to update him on what the Lord is doing today with the military testament distributions.
<![if !supportEmptyParas]> <![endif]>
Wednesday, February 26—North Carolina State Highway Patrol
Charlie Rabb and John Kay had an opportunity to offer testaments to the new SHP cadets. They sat at a lunch table with some instructors and rejoiced at their faith. They read Romans 13:1-5 to them and told them they are working for God on our behalf. When a tough defense-training instructor shares his life experience of knowing about God and then getting saved by Jesus and his life changes, that is something to rejoice about! Praise God for the number of believers involved with the SHP. Please be sure to daily commit these law enforcement and fire and EMS folks to the Lord . . . when you pray for the military.
(Photo: NCSHP cadets ready for action!)
Friday, March 7—Rex Hospital
John Kay delivered 7 Bibles to Andrea Funk, volunteer coordinator at Rex Hospital. She will place them in the ICU waiting room. She was very appreciative and says she will try to help us place Bibles in the other waiting rooms. 
<![if !supportEmptyParas]> <![endif]>
Sunday, March 9—Residence Inn, Navajo Road
Frank and Dot Rawley delivered 25 Bibles to the Residence Inn and distributed 15 PWTs (mostly Spanish) for hotel personnel.
<![if !supportEmptyParas]> <![endif]>
Monday, March 10—NC National Guard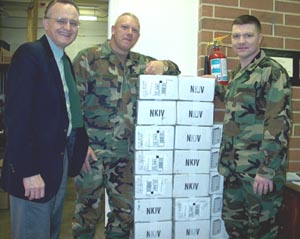 Most of you know what the Lord has been doing in our Gideon camp recently in providing military testaments for the NC troops being deployed. On Sunday afternoon, March 2, John Kay's military chaplain friend called him with a "head's up" that there may be an imminent need for more of the new
camouflage
PWTs. On Monday, John verified with General Ingram's office that 4,500 would be needed. John ordered them by Internet and they arrived Friday! That Sunday, John loaded up his Jeepster with the PWTs and the members of his church bathed them in prayer
(see photo left)
. On Monday, March 10, John delivered all 4,500 to the NC National Guard Headquarters. Lt. Col. Chris Greene helped John to get them into a secure area so they will be available when it comes time to get them to the troops. Those folks are very glad to have them in place for the next deployments. (Photo l to r: John Kay, unidentified Guardsman, Lt. Col. Chris Greene)
Monday, March 10—Attorney's office
An historic occasion for our camp as Gideon Gary Pendleton made our first attorney's office distribution. Here, Gary presents Attorney Robin Pipkin (photo, left) a Bible for his office. By the way, Robin is preparing for us a list of other Christian attorneys that are members of the Christian Lawyers Association so we can get going in these areas.  Thank the Lord!
Church Speaking Opportunities  
Praise for these churches and speakers:

Feb 2

Bayleaf Baptist Church North Campus

Charlie Rabb

Pray for these churches and speakers:

Mar 16

North Raleigh Church of the Nazarene

Kyle Compton

Mar 16

Six Forks Baptist

Richard Justice

Mar 23

Creedmoor Road Baptist (25-min.)

Charlie Rabb

May 18

St. Mark's United Methodist Church

TBA

Apr 9

North Ridge Bible Church

TBA

Jul 27

Westminster Presbyterian

TBA
<![if !supportEmptyParas]> <![endif]>
Church Assignment Chairman Larry Davenport continues to make contacts and attempts to arrange services as his schedule allows. Keep praying for his success! 
<![if !supportEmptyParas]> <![endif]>
Church News: Six Forks Baptist's Pastor Brian Barndt may send one of his associate pastors to the Pastors Appreciation Banquet to give him additional exposure to the Gideons. Creedmoor Road Baptist's Pastor Mike Carter has replaced Reverend Millard Crumpler as Pastor. He is still in Southeastern Baptist Seminary and will graduate in May. Check out http://northview-raleigh.org, website of the Northview Community Church.They meet at The Exchange Park, 1905 Spring Forest Road. Contact Larry at 841-4610 or e-mail larrydvnprt@aol.com if you want to schedule a Gideon report or want to learn to be a speaker.
<![if !supportEmptyParas]> <![endif]>
A Wonderful way to Say "I Love You"
With Living Memorial Bibles
Memorial Bible Plan Chairman Doug Schmidt (782-5311) encourages us to "use the Memorial Bible Plan, exchange outdated church racks for ones with current prices, and show the video."
With Easter Sunday just around the corner on April 20, what better way to celebrate the resurrection of our Lord Jesus Christ than by making His Word available to those who need to know Him. As a part of the Memorial Bible Program, special Easter cards are available from headquarters in packs of 5 cards with envelopes for $1.00. You can provide one or more Bibles to express your love and appreciation for pastors and church staff, Christian friends and relatives, Sunday school teachers, or others. They will be especially blessed to know of your love both for them and for the Word of God, and you will surely receive a blessing knowing that somebody will have a chance to read His Word. To receive your Easter cards in plenty of time for mailing, simply go to www.Gideons.org or cut out the form below and return it to:
- - - - - - - - - - - - - - - - - - - - - - - - - - - - - - - - - - - - - - - - - - - - - - - - - - - - - - - - - - - - - - - - - - - - -
EASTER CARD ORDER FORM
Number of                                Amount                                    Method of
Packs ($1/pk of 5)                      Enclosed                                  Payment
__________                                         $_______________                          ______ Check _____ Credit Card
Send to:                                                                                  Credit Card Expiration Date______________________
________________________________________
________________________________________   Credit Card Number_________________________________________
________________________________________
________________________________________    Cardholder's Signature_______________________________________
MAIL TO: The Gideons International, 2900 Lebanon Road, Nashville, TN 37214
- - - - - - - - - - - - - - - - - - - - - - - - - - - - - - - - - - - - - - - - - - - - - - - - - - - - - - - - - - - - - - - - - - - - -
<![if !supportEmptyParas]> <![endif]>
Jail Ministry
On Sunday, February 23, 8 Gideons and 1 Auxiliary member from our camp visited prisoners at Wake County Jail. Serving the Lord that night were: Cliff & Liz Merrill, Charlie Rabb, Gary Pendleton, Malcolm Hawkins, Frank Rawley and John Kay. Ray Cooksey and Richard Justice went to the Hammond Road Annex. Wake County Jail Chairman Charlie Rabb reports that four prisoners were led to the Lord! The Gideons gave out 183 PWTs and 65 Spanish PWTs. For the Auxiliary, Liz gave out 34 PWTs and 8 Spanish PWTs.
Charlie also tells us that he, John Kay and State Gideon Prison Chaplain Tom Trochum have met with our new sheriff, Donnie Harrison, and staff. They found the sheriff to be very helpful and supportive of the Gideon ministry, even though Bettye Poole, who has acted as jail chaplain for several years, had to be let go (February 28), primarily due to budget cuts. Sadly, there is no Chaplain position in the Wake County Jail system now. They promised we could distribute Service Testaments in the future to graduating cadets.
Gary Pendleton says his approach to the prisoners is to say, "Would anyone like me to pray for their family?" He says that's the key--when you get 'em down on their knees and pray with them. "Usually, each cell block I go to, I'll get somewhere between 5 to 15. They'll come over and pray and then I may lead a few of them to Christ and give them the handouts and the PWTs. Then, if you just sit there on your knees, some of them will come over as individuals. They'll say, 'Would you pray for my family?' For most of them, you pray for the family, then you talk to them individually."
He says that's it's hard to tell how many are saved on any given night. He's sure that many more come to Christ as a result of Gideon visits because they all don't get reported to Charlie Rabb. And only God Himself knows how many more pray to receive Christ after the last Gideon has gone, leaving them to read God's Word on their own.
"Not long ago," said Gary, "a guy came up to me individually. He was only about 18 years old and all his hair was combed into dreadlocks. He said, 'Do you have any anointing oil?' I said, 'No, I don't.' But then God must have gotten hold of me, because I said, 'But this'll do.' I put my hand (I have big hands) over his forehead and then over his whole head. I just held his head with my whole big hand wide open and prayed with him. He was just beaming when I got through. It was a real highlight for me, too."  
<![if !supportEmptyParas]> <![endif]>
Butner Prison Ministry
Our Gideon-led Bible study continues to meet Friday nights from 6:30—8:30. John Kay has been doing an excellent job of teaching the prisoners AND the teachers. They are still in the book of Mark 10 (and beyond). The cold weather has shrunk class size recently but it should grow back when spring returns. If you want to be part of this ministry, call Tom Wallace at 782-0903.
<![if !supportEmptyParas]> <![endif]>
MEMBERSHIP DUES CAN NOW BE PAID ONLINE!
New enhancements to the on-line community now make it possible to pay your dues on line via your member profile. Just log onto www.gideons.org, go to the Online Community and select your name under "Membership Listing." A "Pay Dues" button displays a template to pay your dues online.
Third and final dues notices will be sent to all unpaid members on April 1, 2003. You can also use your renewal slip or send your check marked "Dues Renewal" for $40 ($55 for Gideon and Auxiliary) to: The Gideons International Headquarters, PO Box 140800, Nashville, TN 37214-0800.
<![if !supportEmptyParas]> <![endif]>
Conventions are just Around the Corner!
It's not too late to sign up for the 56th Annual Gideon State Convention. This year it will be held
May 1-4, 2003
at the
Adams Mark

 

Hotel in Winston-Salem, N.C. The theme is
"Walk Worthy," (
Ephesians 4:2). To get the guaranteed hotel rate, you must register prior to March 28, 2003. Look in your February Tar Heel Gideon for the registration form, fill it out and send it in today!
Countdown 100
Reminder: In your February Tar Heel Gideon you will find a blue envelope and flyer marked "Countdown 100." The flyer explains that if you had deposited $1.30 per day in the envelope beginning January 26, in 100 days there will be enough to purchase 100 Scriptures! These Scriptures will be supplied to outreached hands in over 160 countries. Please read the flyer for details and return the filled-up envelope to Camp President Lee Warner no later than our April 15 camp meeting. The camp will write a check for the total amount from all the envelopes and Lee will take it to the State Convention to rally round the Faith Fund Goal of $230,000.
<![if !supportEmptyParas]> <![endif]>
While you are at it, look in next month's (April's) Gideon magazine for a registration form for the 104th Gideons International Convention. This year it will be held July 22-27 at the Sheraton Hotel in Birmingham, Alabama. Take your family. Take your grandchildren. And it's a shorter drive than last year's convention in Louisville, Kentucky!
Join us for Prayer and Breakfast!
We would love to have you join us on Saturday mornings for Prayer and Breakfast. We meet at the Clarion Hotel (formerly Fourpoints) across from Crabtree Valley Mall at 7:30 a.m. Breakfast (optional) is at 8:00 a.m. We typically meet in the executive meeting room on the 10th floor. Gideons and Auxiliary are always welcome! For more information, call Lee Warner (846-7726) or Nadine Kay (870-9266). 
Camp Calendar
Mar 17

(6:30pm)

Pastors Appreciation Banquet, 6:30 p.m., Salon ABC, North Raleigh Hilton; Kyle Compton, speaker; Tank Kersey, testimony speaker.

Mar 21-22

NC Camp Presidents Conference, Charlotte, NC

Apr 15

(6:45pm)

Camp Meeting: Camp Elections

May 1-4

56th State Gideon Convention—Adams Mark Hotel, Winston-Salem

May 20

(6:45pm)

Camp Meeting: State Convention Reports

Jul 22-27

104th International Gideon Convention, Birmingham, Alabama

Aug 29-
Sep 1

Bonclarken Zone 10 Annual Labor Day Retreat; Paige Patterson, main speaker. (Registration form in February Tar Heel Gideon.)
<![if !supportEmptyParas]> <![endif]>
Respectfully submitted,
Pat Simpson, Newsletter Editor
(919-877-0434 or e-mail PatSimpsonBooks@cs.com)
<![if !supportEmptyParas]> <![endif]>
This newsletter is published by the Raleigh North Camp of
The Gideons International
P.O. Box 33635
Raleigh NC  27636
Phone: 919:781-0305
WEB: http://members.tripod.com/patsnews
February 2003 Status:
<![if !supportEmptyParas]> <![endif]>
Return to Top of Page