<![if !supportEmptyParas]> <![endif]>
 "For we are His workmanship, created in Christ Jesus unto good works, which God hath before ordained that we should walk in them."
(Ephesians 2:10)
<![if !supportEmptyParas]> <![endif]>
God's Word to Nurses

Even before the dust had settled on the NC State Convention, the ladies of our Auxiliary were busily working on their next mission, the annual nurse convention of the AHHC (the Association for Home and Hospice Care of North Carolina). AHHC (www.homeandhospicecare.org) is the oldest and largest organization in North Carolina representing all types of in-home service professionals dedicated to providing quality care to patients in their home and community.
The convention was held May 13-14 at the Sheraton Imperial Hotel and Convention Center in RTP. The Auxiliary was represented by three local camps: Raleigh East, Raleigh North and Durham South. Liz Merrill, Karen Rabb, Nadine Kay, Dot Rawley, Linda Cooksey, Emily Dillard, Wyonne Goodwin (Raleigh East), Juanita Vickers (Durham South). The Auxiliary had their own booth from which they offered testaments as conventioneers came by. All told, 153 Medical testaments, 6 Spanish testaments, and 3 PWTs were given to many of the 420 visiting nurses and medical personnel. "It was a very positive and pleasant experience," reports Linda Cooksey, Area 8 Auxiliary Director. "Nobody turned us down, but many nurses indicated they had previously received one. They had them in their car or at work and a lot of them said they used them."
The Lord watched over their booth: On one side was a booth run by a Gideon president from Davie County and on the other side was a booth set up by a man who had been saved through a Gideon New Testament! Turns out he is currently president of Carolina Bible College in Fayetteville, the same college once headed by Dr. Ralph Richardson, Bible Hour speaker in the recent Gideon State Convention!
There were also opportunities to witness to the hotel personnel around them. One man couldn't read English but Linda gave him a Spanish Testament and pointed out the plan of salvation in the back of the book. Later, he was seen reading his newfound prize along with another man who had also received a  PWT.
Nurse Testimony from the June Information Bulletin: "I received my first copy of God's Word in 1989 while working at the Bridgeton Nursing Center in New Jersey. Shortly after this, my son was diagnosed with a malignant brain tumor, and I kept that Scripture with me through his surgery and recovery in the I.C.U. I read it often, and received so much comfort and encouragement from it as I sat at my son's bedside through years of chemotherapy. God eventually healed my son of his cancer, and I believe that through that tattered Scripture, I became a born-again, Spirit-filled child of God. Thank you for the wonderful gift of God's Word.
In Christ's love, Gloria Starkey"
Faith Fund Rally July 20
Kicks off 103rd International Convention
There will be a special Faith Fund Rally 6:30 p.m. Saturday, July 20, at the Durham Hilton—meal cost is $15.00. The speaker will be Horacio Bombicini, National Field officer for Argentina. This will be a special kickoff time of praise and prayer as many of you prepare to leave for the 103rd Gideons International Convention in Louisville, Kentucky, July 23-28. To sign up for the rally, please contact Ray Cooksey at 919-847-0521 or e-mail: esiofnc@ix.netcom.com.
<![if !supportEmptyParas]> <![endif]>
If it is not possible for you to attend the convention, please be sure to come to this Faith Fund rally. Whether or not you can come to either, you can still participate by writing a generous check toward the International Faith Fund goal of $2,300,000 to provide 1,769,200 Scriptures for Extension countries. Your sacrificial giving will enable us to provide more Scriptures for the world. Please be in prayer about how much God would have you give.
<![if !supportEmptyParas]> <![endif]>
Send your check by camp members who attend the convention, or mail checks to our camp treasurer: Richard Justice, c/o Gideons International, PO Box 33635, Raleigh, NC. Please put our camp's name on your check to ensure that our camp receives credit for your offering.
<![if !supportEmptyParas]> <![endif]>
Directions to the Durham Hilton (3800 Hillsborough Road—phone: 919-383-8033)
From Raleigh on I-40 West: Take exit 279-B (Highway 147/Durham Freeway). Remain on Durham Freeway for approximately 11 miles. Take exit 16-A. At the end of the ramp remain in the right lane and take exit 108-D. At top of ramp, turn left. The Hilton Durham is one mile ahead on the right.
<![if !supportEmptyParas]> <![endif]>
From Raleigh on Highway 70 West: In Durham merge onto I-85 South to exit 173 (Cole Mill Rd). Turn left onto Cole Mill Rd. Turn right at the first traffic light onto Hillsborough Rd. The Hilton Durham is a half mile ahead on the right.
<![if !supportEmptyParas]> <![endif]>
Come to Louisville, Kentucky July-23-28
The 103rd International Convention in Louisville, Kentucky will be a wonderful time of Christian fellowship with programs for all ages—in both spiritual and recreational areas. Pray that God will work in your heart and schedule so that you and your family can be present to receive the blessings He has waiting for you at the beautiful Galt House Hotel in Louisville. We encourage you  to participate in this 103rd annual convention through prayers and/or financial gifts. Reservation forms are in the April and May issues of The Gideon and must be received prior to June 21, 2002.
<![if !supportEmptyParas]> <![endif]>
If you cannot attend, please consider supporting the Faith Fund goal with an offering equal to at least the cost of one night at the convention hotel. Whether or not you are able to attend this year, please be in prayer for the convention, for all who will be traveling to and from the convention, and for the offering goal to be met. For more highlights, see the May Information Bulletin on www.gideons.org.
<![if !supportEmptyParas]> <![endif]>
The Results are In!
Following are the goals and actuals for the Gideon year just ended (June 1, 2001-May 31, 2002). These goals were reached with God's help, much prayer and the hard work of our members. Our camp now has 102 members—70 Gideons and 32 Auxiliary—a net gain of one over last year.
| | | | |
| --- | --- | --- | --- |
| <![if !supportEmptyParas]> <![endif]> | 2001-2002 Goal | Actual | % of goal |
| New Members | 3 | 3 (+4 Aux) | 233.3% |
| Church Service Receipts | $14,000 | $12,848 | 91.8% |
| Memorial Bible Receipts | $24,000 | $25,554 | 106.5% |
| Faith Fund Receipts | $23,500 | $30,591 | 130.2% |
| PWTs purchased by Gideons | 1,000 | 1,400 | 140.0% |
| Scripture Distributions | 7,500 | 9,072 | 121.0% |
| Auxiliary Scripture Receipts | $1,247 | $1,275 | 102.2% |
| Auxiliary Medical Testaments | 625 | 682 | 109.1% |
*  The North Carolina Auxiliary cut off its reporting on April 30 for the State Convention. But from now on, reports Camp Auxiliary President Nadine Kay, the fiscal year for the North Carolina Auxiliary has been adjusted to be the same as the Gideons.


<![if !supportEmptyParas]> <![endif]>
Camp Meeting June 18:
New Church Assignment Program
Our next camp dinner meeting will be held at Embassy Suites, 4700 Creedmoor Road, at 6:45 p.m. Tuesday, June 18. Don't miss this time of F. I. T. (Fellowship, Inspiration and Training). Church Assignment Chairman Cliff Merrill will give a presentation on the new Church Relations Emphasis. For the Auxiliary special feature, Area 8 Auxiliary Director Linda Cooksey will show a new training video on assisting Gideons with the Memorial Bible Plan.
If you made a commitment to be at our last meeting but couldn't attend we were still charged for the meal. Please consider offering your meal cost ($15 per person) to the camp fund c/o Gideons International, PO Box 33635,  Raleigh, NC 27636.
<![if !supportEmptyParas]> <![endif]>
Say "I Love You"
With Living Memorial Bibles
Interim Memorial Bible Chairman Garland Tucker (785-0404) says the new Gideon year (which started June 1) has already gotten off to a good start with several donations to buy Memorial Bibles. Remember to send a Memorial Bible card for Father's Day, coming up on June 16. You can also order them online (www.gideons.org) or  from a merchandise order blank.
<![if !supportEmptyParas]> <![endif]>
In Memory:  Seby Brown Jones, former N.C. Gideon State President, 1949-1952, died at Springmoor Retirement Community on June 7, 2002. He was 86. According to a lengthy N&O article on June 8 (p. 1B & 7B):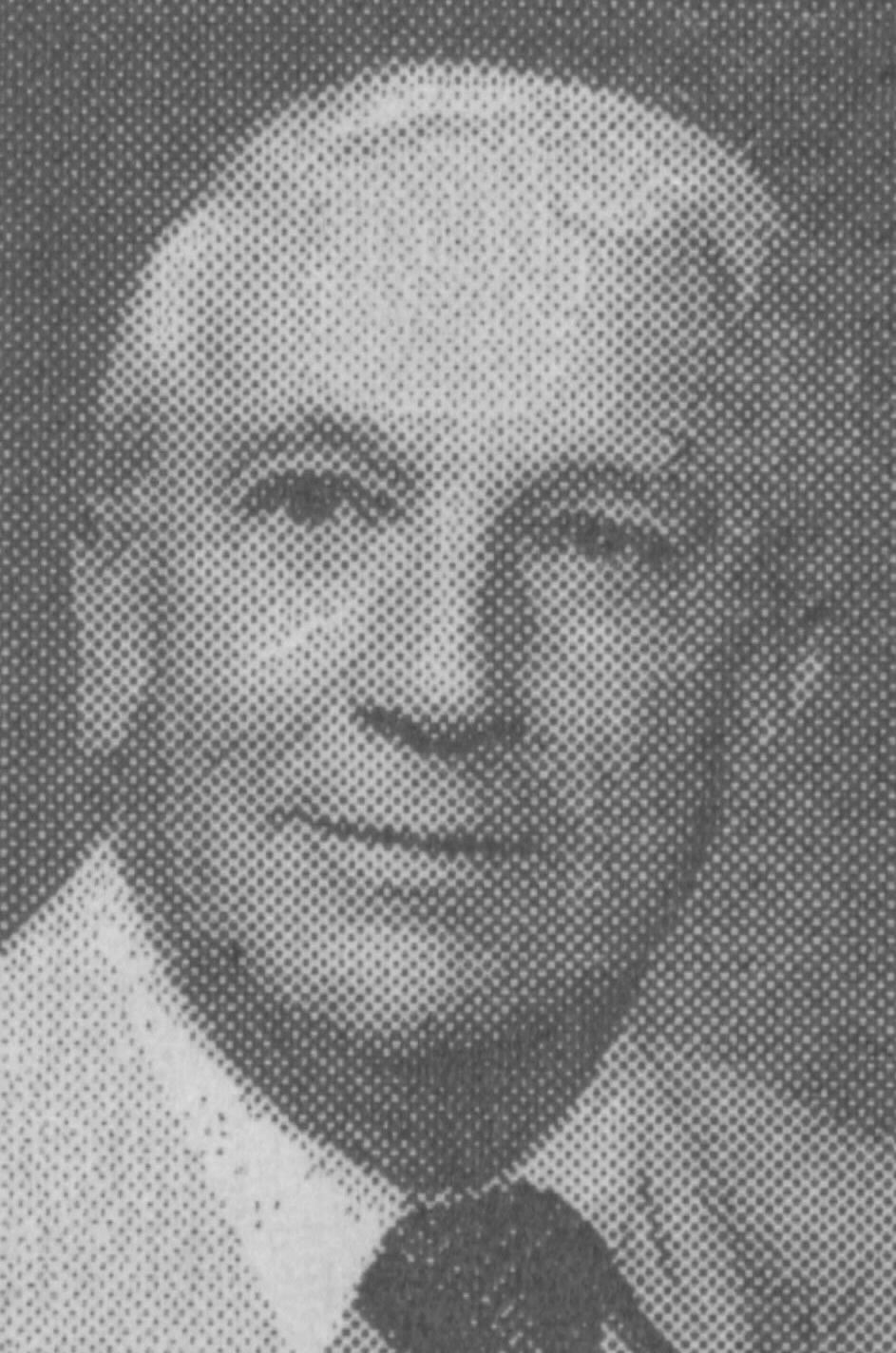 "Seby turned himself from dirt-poor Depression farmboy into one of the Triangle's largest developers. He was a self-made millionaire and former Raleigh mayor (1969-1971) whose construction legacy includes Crabtree Valley Mall and the Imperial Center. . . a pioneer in Raleigh's emergence from a sleepy, little city to a progressive city." An editorial on June 11 called him "a man of vision, and a man of generosity."
He was known in Raleigh as one of the "Big Three" developers, along with Willie York, developer of Cameron village, and Ed Richards, who built North Hills Mall, in developing and transforming the momentum of Raleigh's growth. He was involved in developing properties from North Carolina to Florida, including 130 churches, IBM in Research Triangle Park and the Raleigh Civic Center to mention just a few. Only words like "extraordinary," "prodigious," "founder," "hard-worker," "high flier," and "go-getter" can describe this man.
However, according to his obituary on page 8B, "Seby Jones loved his God, his family and his friends. He will be missed, but he will be remembered." He will indeed be remembered as one of the early founders of Gideons in North Carolina, back when the only Gideon camp was in Greensboro. Even as he dedicated himself to expanding the ministry in this state, he shared in the vision that the ministry was needed overseas and had a strong influence on getting a Gideon to Japan. He was also a member of Ridge Road Baptist Church where he served as chairman of the Board of Deacons.
Seby and his wife, the late Christina Brown Jones, lived in an 11th-floor penthouse suite that he had built atop the Crabtree Sheraton, now a Clarion Hotel. His son, Roddy, never understood the decision: "I'd kid him, I'd say, 'You've got 400 or 500 of your closest friends spending the night with you tonight.'" Just underneath the penthouse is the VIP room where, thanks to Seby, we Gideons of the Raleigh North Camp have met for Saturday-morning prayer since the late 1980s. Thank you Seby, and thank you God. Send In Memory cards to: Roddy and Eve Jones, 439 Van Thomas Drive, Raleigh, NC 27615.
<![if !supportEmptyParas]> <![endif]>
Dot Rawley Presents Memorial Bible Plan
Dot Rawley, as Memorial Bible Auxiliary Liaison, has made herself available to visit churches, if invited, and to talk to the women of the church about the Memorial Bible Plan. On Tuesday night, June 11, at Christ Covenant Church, she had this very honor and privilege. After a very short introduction telling who we Gideons and Auxiliary are and what we do, she showed them a Gideon Bible as well as a New Testament. She also showed the new video, which was well received. It has been updated and is very good.
Afterwards, she asked them to take as many Memorial Bible cards as they liked and they did! They took 46 In Memory, In Recognition and Thinking of You cards. Praise God! Dot gives all the glory to God because the Auxiliary and some Gideons knew about the presentation ahead of time and prayed for its success. She said, "The success was there and the glory all goes to God."
Dot said that since women are the usual ones to send cards, they recognize the fact that the cards are free! She says, "When we buy a card at Hallmark or wherever, it costs $2.99 upwards and for a little more they can send a Bible. I trust other women will be willing to show the video."
Two days after giving the presentation, Dot received an In Honor card for four Gideon Bibles from a couple in their church with this note:

"We have always valued the Gideons and their work. After hearing the presentation Sunday (given by John Kay) and Tuesday night, we love the ministry even more. Nothing compares to the Word of God. Thank you for working so tirelessly to get His Word to people." . . . . (signed) Florence.
State Convention Post-convention Meeting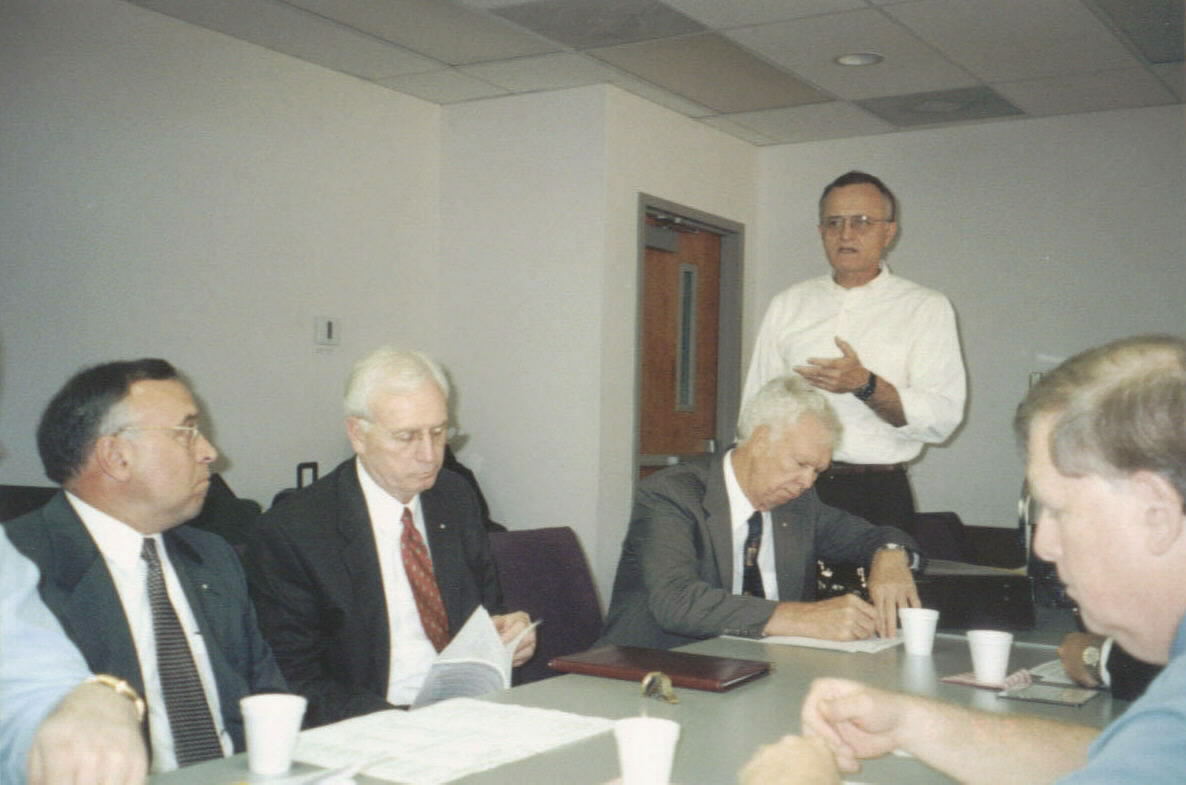 Local convention chairman John Kay advises next year's state convention hosts. (l-r) State Secretary Gary Lewis, State President Mike Steiner, Raleigh registration chairman Jim Loehman, Raleigh church assignment chairman Doug Schmidt.

Saturday, June 8, proved to be the last meeting of the Raleigh Gideon State Convention local committee, which took place in the North Raleigh Church of the Nazarene from 10:00 a.m.-12:00 noon. It was also the first meeting of next year's Winston-Salem local committee. This was a very important joint meeting, because it served as the transition to the planning process for next year's convention in Winston-Salem. Convention chairpersons Mike Steiner (N.C. Gideon State President) and Lois Harward (N.C. Auxiliary State President) hosted the meeting, along with local chairpersons John Kay and Nadine Kay.
This was the "passing of the baton," as it were. Chairpersons on  our committee gave post-convention summary reports so that members on their committee would know what to expect. The reports included execution of their responsibilities and suggestions for next year. All agreed that with God's help, nothing is too big for Him to handle, not even a state convention! Our prayers go with the Winston-Salem people as they set out on this journey. We gave them the map—the Lord will lead the way. Our thanks to all who were and are willing to serve in this important Gideon function, and to the North Raleigh Church of the Nazarene for providing a meeting place these many months.
<![if !supportEmptyParas]> <![endif]>
Church Assignments
Church Speaking Opportunities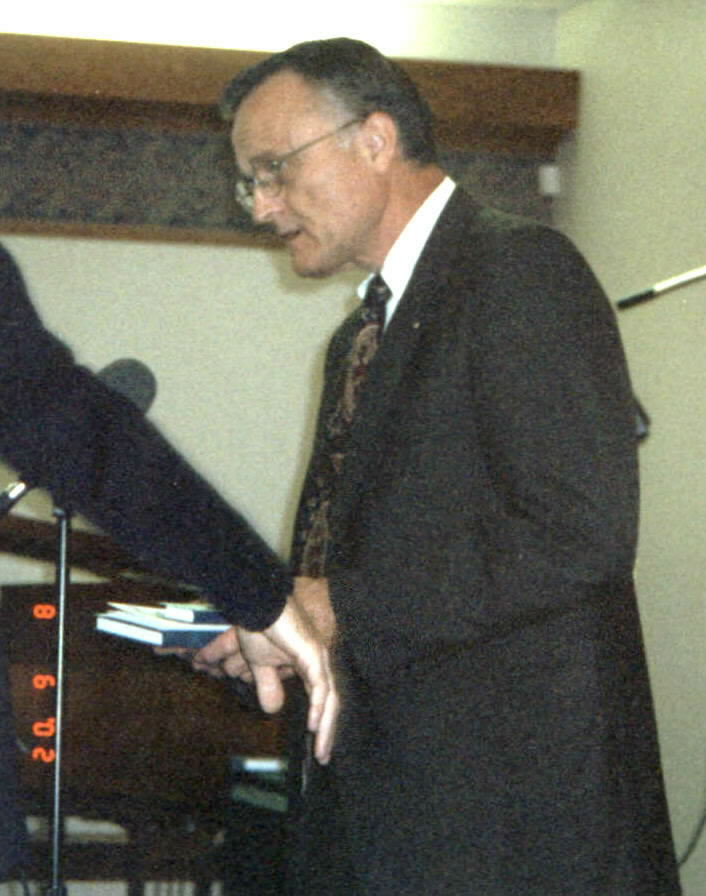 John Kay gives Gideon report at Christ Covenant Church. He spoke 10 minutes each at two services. Want to be a speaker? Contact Cliff Merrill at 844-1418.

New CAC (Church Assignment Chairman) Cliff Merrill (844-1418) seeks your prayers and support as he carries the baton passed to him from outgoing CAC Doug Schmidt. With God's help, he will continue to build on the solid base of churches Doug has provided. Cliff already has a very able assistant to help him, Larry Davenport. Thank you, Larry, for volunteering, and thank you, Doug, for your three years of super effort in lining up dozens and dozens of church reports and for getting so many of us to participate in your "Top Ten" program. 
<![if !supportEmptyParas]> <![endif]>
Praise for these churches and speakers:

May 12

May 12

May 26

Jun 9

Jun 9

Asbury UMC

Mt. Vernon Baptist

Wesley Memorial UMC

Crabtree Valley Baptist

Christ Covenant

Cliff Merrill

Tom Hopper

Ray Cooksey

Cliff Merrill

John Kay

Pray for these churches and speakers:

Jun 23

July 7

Bayleaf Baptist

Victory Baptist

Garland Tucker

TBA
<![if !supportEmptyParas]> <![endif]>
<![if !supportEmptyParas]> <![endif]>
Jail Ministry
Outgoing Jail Chairman Cliff Merrill reports that on Sunday evening, May 26, The Lord blessed the inmates of Wake County Jail with our camp's monthly visit of Gideons and Auxiliary, who themselves were doubly blessed! The deputy was ready for them at 6:15, earlier than usual. That was great news except that half the group was not on-site yet. He requested that they get started but declined to have later arrivals follow. So, with the opportunity at hand, Liz Merrill and Karen Rabb went boldly on their own to the ladies' area—truly "grace under fire" because this was their first time without the company of Nadine Kay or Dot Rawley. Charlie Rabb and Monty Daniels went to visit the juveniles and Richard Justice and Bill Hudson went to the 5th and 6th floors.
Tom Wallace and Steve Blackmon drove to the Hammond Road Annex and distributed many New Testaments along with copies of "Daily Bread." One deputy went with them and put Tom in one dorm and Steve in another dorm. (There are about 8-10 large dorm rooms.) When they finished a dorm, they pressed a button signaling the deputy they were ready to move on to the next dorm. At least one man accepted Christ!
Meanwhile, Cliff Merrill waited in the lobby for the others to arrive. Shortly thereafter, Ray Cooksey and John and Nadine Kay appeared. The four remained downstairs offering up prayers in support of those who were  witnessing.
And prayer was answered—Ray and Richard were on the receiving end of leading 13 lost souls to Christ. Liz and Karen led at least 6 lost souls to a saving knowledge of our Lord Jesus Christ. These residents all requested baptism! Karen reported that one lady wanted to sign the plan of salvation and asked her to witness (sign) it also with her! Praise and glorify God that we have such opportunities to reach others for His Son Jesus. Altogether that night, 20 souls were saved! Our camp members placed 80 PWTs,  24 Spanish New Testaments and 26 Auxiliary PWTs.
For the fiscal year just ended (June 2001-May 2002), 199 lost souls were saved at the jail. Our total placements were 1,642 PWTs and 438 Spanish New Testaments. From June 2001 through April 2002, the ladies placed 373 New Testaments.
<![if !supportEmptyParas]> <![endif]>
 "Bring my soul out of prison, that I may praise thy name . . ." (Psalm 142:7a).
<![if !supportEmptyParas]> <![endif]>
Homeless Bob
On a sad note, Chaplain Poole reported that a young man died in the jail Sunday evening late on the 5th floor after we had visited. She did not give a name or specifics.  Please pray for his family. Also pray for the residents and staff since events like this always create tension and unrest among the residents. Pray for Chaplain Poole too.
The man that died was one of those nameless people we see on the roadside with their tattered signs offering to work for food—one of those people from whom we try to avoid making eye contact. Only this man was different, he had a name—"Homeless Bob." Or maybe it was George Henrichs—no one really knows for sure.
N&O columnist Dennis Rogers wrote a moving article about him on June 1 (page 1B) in which he said that a few people saw him for what he really was, a man who did the best he could with the weaknesses he had. But the heroin, the booze, the beatings, the homelessness, the loneliness, had taken their inevitable toll. Dennis writes: "Maybe his best epitaph is what [his friend] David Taylor said: 'He was the most kindhearted person I've ever met in my life.' Wonder how many folks would say that about us?"
For Homeless Bob, the best he could do wasn't good enough. Only Jesus is good enough. Our weaknesses are His strength. Who knows, that night, some Gideon may have passed him a copy of God's Word. Who knows, maybe he DIDN'T pass into oblivion. Maybe he whispered a final prayer, like the third man on the cross who said, "Lord, remember me when you come into your kingdom."
<![if !supportEmptyParas]> <![endif]>
Butner Prison Ministry
"Dead Without Christ"
Prison Chairman Tom Wallace reports that there is a lot of interest among the prisoners in the Bible study (now studying Matthew). As new men are admitted to the prison, word gets around and some of them show up in this class. Members tend to be anything from just curious, new believers, or longtime Christians.
Two weeks ago, a man during prayer time stood up and said he thanked God he was in prison. He had been caught up in drugs and was stealing. His life was miserable and he was on the way to self-destruction. He showed the class a mark on his left arm where he had sliced it in an attempt to commit suicide. He said that without being in prison and without coming to faith in Christ and coming to that Bible study, he knew he'd be dead. If you feel led to this ministry, call Tom Wallace at 919-782-0903. PRAY for this ministry and the prisoners.  
<![if !supportEmptyParas]> <![endif]>
Scripture Distributions
Hotel Bibles Dedicated at AmeriSuites
| | | |
| --- | --- | --- |
| | | |
| The brand-new AmeriSuites Hotel, 200 Airgate Drive in Research Triangle Park. | Ready for action. Hotel staff (foreground) receives their New Testaments during dedication service just before the doors open. | Tom Hopper places Bible in hotel nightstand. All 94 rooms were still empty! |
If you ever want to take a ride just to relax, drive west on I-40 (not, of course, during rush hour), take exit 284 onto Airport Boulevard and turn left at Thrifty Car Rental. Right across the road, on 200 Airgate Drive, you'll find the spanking-new AmeriSuites Hotel. It is so new, in fact, that we had to reschedule our Hotel Bible dedication there three times before they were "really open."
But it was they who called us. General Manager Mark Latu asked Scripture Chairman John Kay to stock their 94 rooms with brand-new Gideon Bibles. We were happy to oblige. On the morning of Wednesday, May 29, five Gideons came. I suspect there were more, but a least one or two got lost in the Triangle's tangled highways!
Mark Latu, front desk manager Robert Burns and their charming staff were very receptive and helpful to us; we had a moving dedication in which all were blessed. All the rooms were vacant and available for Bibles. Praise the Lord for Steve Blackman, Tom Hopper, Pat Simpson, Ray Cooksey, and John Kay who were able to participate. We pray that the God will use his Word to reach many for Christ in this hotel. 
 
Liz Merrill speaks at Sunrise Assisted Living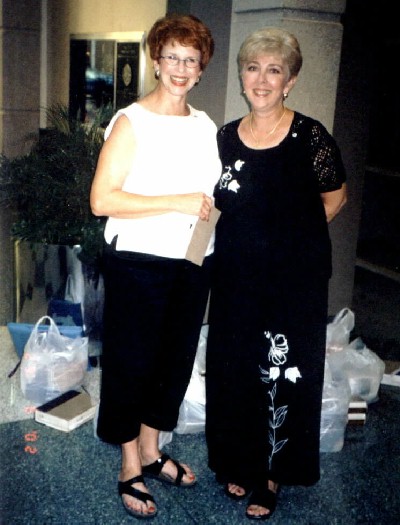 Liz Merrill presents a Nurses's Testament to her own mother at Sunrise Assisted Living Home.



On May 9, Liz Merrill visited the staff and residents of the Sunrise Assisted Living Home at 4801 Edwards Mill Road. Most of the residents are retired nurses who now live in the home. As part of Sunrise's special program that day, Liz gave a PWT presentation honoring the nurses and staff and gave PWTs to all nurses, former nurses and staff. One of these retired nurses—now a resident—was her own mother, Sarah Mitchiner, age 90.
<![if !supportEmptyParas]> <![endif]>
John Kay Challenges Seniors at Baccalaureate Breakfast
| | |
| --- | --- |
| | |
| Twelve of the fourteen graduates and the Word of God. | Principal Rod Gilbert and Mrs. Melinda Delahoyde organized the event. |

On the morning of June 7, John Kay spoke to the graduates of Trinity Academy of Raleigh at their Baccalaureate Breakfast. He had been invited to give them a challenge by school principal Rod Gilbert. John and George Kissinger had met Mr. Gilbert last March during a Youth Testament distribution there.
John gave each of the graduates an orange testament and challenged them to make Jesus Christ their Messiah and choose to become His disciples (Luke 9:18-26). He urged them to daily get into the yoke He has customized for each of us (Matthew 11:28-30) and walk with Him as they leave their high school environment. Praise God for the opportunity to encourage them.
<![if !supportEmptyParas]> <![endif]>
Rabbs Bible Outpatient Facility
Charlie and Karen Rabb recently placed a Bible on the waiting room desk at the Radiation Oncology Department in Duke University Hospital. Karen also passed out 28 Medical Testaments to the medical personnel there.
<![if !supportEmptyParas]> <![endif]>
MEPS Recruits Need You!
A need for backup volunteers exists at the MEPS (Military Entrance Processing Station). Gideons are needed to present Service Testaments to new recruits and to witness for Christ. Your mission is to offer free copies of God's Word to new recruits while expressing prayers and appreciation for their service to our country. (Read "USA Military Distribution Guidelines" in your Gideon Guide Book.) Working hours are terrific—7:30-8:00 a.m. on weekdays only. Call Carl Nanney at 876-1973.
<![if !supportEmptyParas]> <![endif]>
Join us for Prayer
Join the Gideons and Auxiliary at 7:30 Saturday morning for Scripture reading and prayer at the Crabtree Clarion Hotel (formerly Sheraton Four Points Hotel). Stay for a great time of fellowship and breakfast! Ladies, please call Nadine Kay at 870-9266 if you plan to attend. Also, please come to the monthly meetings with your husband.
<![if !supportEmptyParas]> <![endif]>
Camp Calendar
| | |
| --- | --- |
| Jun 14-15 | Program Assistant training, Camp Carraway, near Asheboro |
| Jun 18 | Camp meeting—New Church Relations Emphasis |
| Jun 29 | Area 8 meeting for camp presidents & PAs, Best Food, Siler City |
| Jul 20 | Area Faith Fund Rally, 6:30 p.m., Durham Hilton, $15.00 |
| Jul 23-28 | 103rd Gideon International Convention, Louisville, Kentucky |
| Aug 30-Sep 2 | 45th Annual Labor Day Retreat at Bonclarken, Flat Rock, NC. Contact Jon Schweigert 864-458-7989 or jonREschweigert@aol.com |
| Sep 21-27 | New York City Bible Blitz. Contact Jim Emmons 607-243-3654 or Jim.Emmons@mt.com |
| Oct 5 | Area 8 Auxiliary Luncheon, Burlington Ramada Inn |
Respectfully submitted,
Pat Simpson, Newsletter Editor
(919-877-0434 or e-mail PatSimpsonBooks@cs.com)

CountZ.com