<![if !supportEmptyParas]> <![endif]>
"Behold, I say unto you, Lift up your eyes, and look on the fields;
for they are white already to harvest."
(John 4:35b)
<![if !supportEmptyParas]> <![endif]>
Gideons International Pre-Convention Report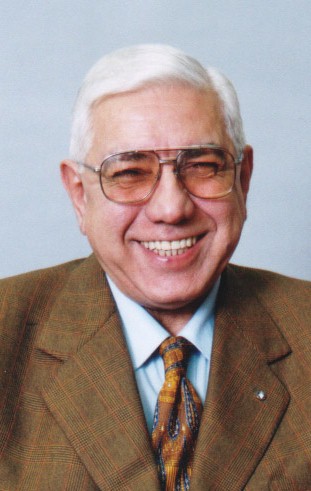 Horacio Bombicini
National Field Officer
Argentina
What: Buffet Dinner (Beef and Chicken)—Pre-International Convention Report from Brother Horacio Bombicini in NC on the way to Louisville.
Wonderful Fellowship!
<![if !supportEmptyParas]> <![endif]>
When: Saturday, July 20, 2002 from 6:30 PM until 8:55 PM.
<![if !supportEmptyParas]> <![endif]>
Who: All Gideons and Auxiliary who wish to receive a blessing.
<![if !supportEmptyParas]> <![endif]>
Where: Durham Hilton, 3800 Hillsborough Road (Cole Mill Road Exit from I-85).
<![if !supportEmptyParas]> <![endif]>
How: See your Camp President or Faith Fund Chairman for Tickets ($15) or Call Ray Cooksey at 919-847-0521.
<![if !supportEmptyParas]> <![endif]>
Note: Faith Fund goal is $5,000 for International Convention.
More About the Bombicinis
Horacio Bombicini is from Buenos Aries and joined The Gideons in 1984. He has made two EAP assignment preparations. His wife is Maria Teresa who is nicknamed "Kuki" (sounds like "cookie"). They have 2 grown children, Marcelo Horacio (34) and Pabla Alejandro (32). They have a very busy itinerary next week. From Nashville, Tennessee, they fly into the Charlotte airport on July 17, where Horacio has a church service in Oakboro, NC. On the morning of the 18th, they have breakfast with the Albemarle Camp and Horacio gives a Faith Fund report that evening in Lenoir. On the 19th they have breakfast with Area 3 Gideons and a Faith Fund report at 7 pm in Lexington. On the 20th they have breakfast with the High Point camp before coming to the Faith Fund meeting at the Durham Hilton. On Sunday the 21st, he gives a church report at Grove Park Chapel in Durham and leaves that very afternoon for the International Convention in Louisville, Kentucky. Whew!   
<![if !supportEmptyParas]> <![endif]>
WHY DO WE PRAY FOR MORE FUNDS TO BUY MORE SCRIPTURES?
The Faith Fund is used to purchase Scriptures for 163 countries that need some level of financial assistance to purchase Scriptures that cannot raise the funds to buy their own Scriptures. Hundreds of millions of people need a copy of the Word of God. Although God has increased the ministry for each of the past several years, there are many more people to reach. To buy the Word takes money and that is what is lacking in these 163 countries. The Faith Fund is the application of the Scriptural principal of II Corinthians 8:11-15 (…"that now at this time your abundance may supply their lack…").
<![if !supportEmptyParas]> <![endif]>
El Salvador
I come from the smallest country in America, El Salvador. Our deepest thanks to the Gideons in the United States for the New Testaments. They have helped literally hundreds of people in El Salvador to a knowledge of our Lord Jesus.
I would like to give you a testimony of what happened recently in the Social Security Hospital in one of the distributions here. Eight days after a lady had received the New Testament, she was released from the hospital. After she left, one afternoon she looked for a pastor to inquire, as she was very much interested in seeking God. She said to the pastor, "I have read this book and I don't know how to accept Christ." That very afternoon that pastor helped this lady to receive Christ, which she did. We always pray for you to ship more New Testaments to El Salvador each year.
Joseph Carcamo, president San Salvador Camp
(from Returns, 9th Edition, Gideons International)
<![if !supportEmptyParas]> <![endif]>
Whether or not you can attend this Faith Fund Rally or the International Convention, you can still participate by giving generously to the convention Faith Fund goal of $2,300,000 to provide 1,769,200 Scriptures for 163 Extension countries. Send your check by camp members who attend the convention, Give it to Ray Cooksey (919-847-0521), or mail it to our camp treasurer: Richard Justice (919-570-0145), c/o Gideons International, PO Box 33635, Raleigh, NC. Please put our camp's name on your check to ensure that our camp receives credit for your offering. Psalm 119:2—"Blessed are they that keep his testimonies, and that seek him with the whole heart."
<![if !supportEmptyParas]> <![endif]>
Pray for the 103rd International Convention:
Louisville, Kentucky, July-23-28
The assembling of ourselves together for praise, prayer and planning is Scriptural. Gideons come from all over the world to report on the things God has done. Then we, in turn, share these mighty acts of God with the Lord's people in the churches. Whether or not you are able to attend this year, please be in prayer for the convention, for all who will be traveling to and from the convention, and for the offering goal to be met. Also be in prayer for:
The Youth Program

The Translators

Transportation arrangements

The Auxiliary Program
<![if !supportEmptyParas]> <![endif]>
Russian Children:
"I Want to Know More!"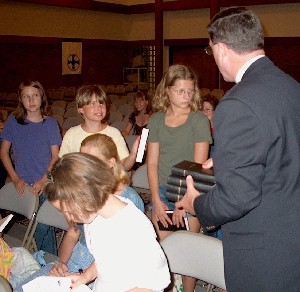 Cliff Merrill gives Russian Bibles to Children from Chernobyl.

The purpose of the Children of Chernobyl Program in Raleigh is to contribute to the spiritual, physical, and emotional needs of Belarusian children affected by the Chernobyl nuclear accident. Each summer selected children from Belarus come to Raleigh to live with host families for six weeks. A main reason for bringing these children to America is to give their bodies a chance to recuperate from the contaminated area in which they live. Presently Soapstone United Methodist, Good Shepherd Lutheran, St. Francis Catholic and Asbury United Methodist are participating congregations. This is Asbury's fifth year in this program. This year 47 children are hosted by families in Raleigh, 17 of those at Asbury. The children arrived June 18 and will be in Raleigh until July 28. Three young Russian-speaking chaperones accompanied them from Minsk in Belarus: Irina, Maryna and Valeryia.
<![if !supportEmptyParas]> <![endif]>
Most of the 47 children had gathered at Asbury Sunday night, June 30, for a special class. The class was special because Lee Warner had made arrangements to present them with brand-new Russian Bibles. These were not Gideon Bibles, but complete hardcover Bibles from Multi-Language Media (www.multilanguage.com), obtained on short notice by Ray Cooksey. They were paid for using money from the pockets of individual Gideons in our camp.  
<![if !supportEmptyParas]> <![endif]>
The highlight of the evening was when Ray and Cliff Merrill, assisted by Irina, Maryna and Valeryia, gave a short presentation on what the Bible was, after which Maryna read a few verses in Russian to them. Then they passed them out to the eager children, most of whom had never owned a Bible. Some of the children were as young as seven years old. Imagine leaving home at age seven and going thousands of miles away for six weeks!
Cliff Merrill presents Russian Bible to Irina. (Click for larger image)

The program begins. (Click for larger image)

Irina and American host, Karl Moss. (Click for larger image)
Children of Chernobyl. (Click for larger image)

Valeryia (center) with children. (Click for larger image)

Maryna (right) with Chernobyl teenager. (Click for larger image)

Ray Cooksey and Irina. (Click for larger image)

Maryna reads from Russian Bible to children. (Click for larger image)
From left: Ray Cooksey, Maryna, Valeryia, Cliff Merrill. (Click for larger image)
<![if !supportEmptyParas]> <![endif]>
My life in Belarus was very difficult. Most of the time my family ate contaminated food. We knew it was bad for us, but there was no food that wasn't contaminated by radiation. In the shop where we usually bought bread and other products, the food was also contaminated. I could not feel the radiation, but I knew that it was there. In my school there was a special machine that tells how much radiation people have. I didn't know anyone that didn't have radiation, but I know many that didn't care about it.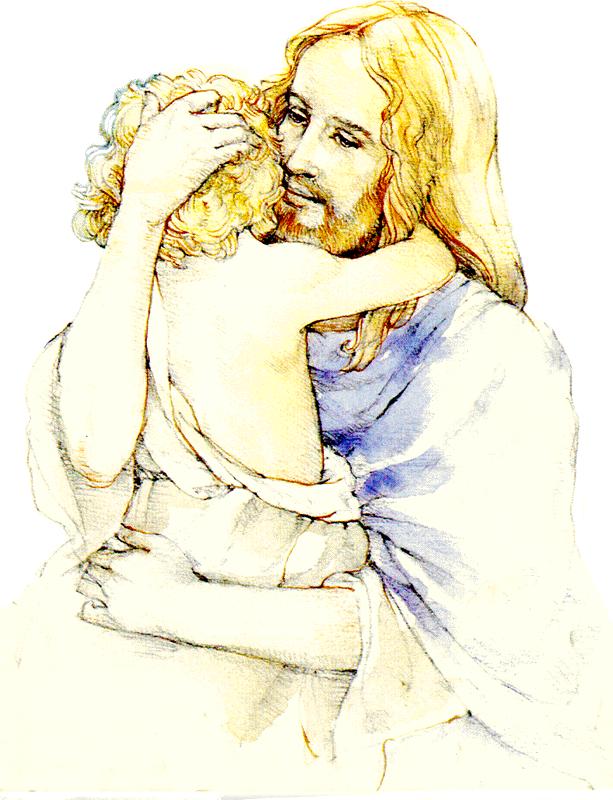 By being part of the Children of Chernobyl Program, I had a chance to get the vitamins and the medicine I needed. My host family took me to the doctors and dentists. I met new people and got new friends. My first trip to the United States made me realize that there are a lot of good people in this country who are always trying to help someone.
I also learned a lot about God. All the kids in the program got Bibles at one of the services. I was really excited when I got mine so that I was reading different chapters and trying to figure out what they were about. It made me want to know more.
—Note to Asbury written last year by Vika, 15 years old.
<![if !supportEmptyParas]> <![endif]>
Camp Meeting July 16:
International Extension (Faith Fund)
Our next camp dinner meeting will be held at Embassy Suites, 4700 Creedmoor Road, at 6:45 p.m. Tuesday, July 16. Don't miss this time of F. I. T. (Fellowship, Inspiration and Training). As our new Faith Fund Chairman, Ray Cooksey will present a very informative program on the International Extension (Faith Fund). For the Auxiliary special feature, Auxiliary President Nadine Kay will present "Window of Opportunity," a slide presentation on the spiritual objectives of the Auxiliary.
If you made a commitment to be at our last meeting but couldn't attend we were still charged for the meal. Please consider offering your meal cost ($16 per person) to the camp fund c/o Gideons International, PO Box 33635, Raleigh, NC 27636.
<![if !supportEmptyParas]> <![endif]>
New members Bob and Pat Grandinetti receive their credentials at the June 18 camp meeting while Nadine Kay looks on.

Bob and Pat Grandinetti. (Click for larger image.)
<![if !supportEmptyParas]> <![endif]>
Camp Cabinet Sets Goals, Calendar
The annual camp planning meeting for the new Gideon year (June 1, 2002-May 31, 2003) was held at President Lee Warner's house on Thursday evening, June 20. Present were Lee Warner, Pat Simpson, Malcolm Hawkins, Richard Justice, Garland Tucker, Bill Swart, Cliff Merrill, Doug Schmidt, Frank Rawley and John Kay. After much discussion, our camp's goals were set (see below chart) and our monthly camp meeting program was carefully planned (see "Camp Calendar"). During the meeting, Ray Cooksey accepted by phone the office of camp Faith Fund chairman. All cabinet officers, both elected and appointed, are now in place (see below). After the meeting, Lee's wife Janet set out some wonderful refreshments. Thanks Janet! Please pray for God's help in our efforts to win others for the Lord Jesus Christ.
<![if !supportEmptyParas]> <![endif]>

2002-2003

Goal

New Members

3

Church Service Receipts

$16,000

— 

Church Services

45

Memorial Bible Receipts

$27,600

— 

MB Slide/Video Presentations

6

Faith Fund Receipts

$75,000

PWTs purchased by Gideons

    

** 1,000

Scripture Distributions

4,800

Auxiliary Scripture Receipts

TBA

Auxiliary Medical Testaments

TBA
<![if !supportEmptyParas]> <![endif]>
**
This goal can only be reached by the combined efforts of every member of this camp. If every Gideon in this camp enthusiastically shares God's Word and gives a PWT to some lost soul at least once a month, (twice at Christmas and Easter), this goal can be not only achieved, but exceeded!
Raleigh North is "Triple Double A+ Camp"
The numbers are in. According to the July Tar Heel Gideon, Fully 24 local camps in North Carolina rang the bell as a "Triple Double A+ camp" in the year just ended and Raleigh North was one of them! That means that our camp attained at least $10,000 in church receipts, at least $10,000 in Faith Fund receipts, at least $10,000 in Memorial Bible receipts, and at least $1,000 in Auxiliary receipts. Praise God and the members of Raleigh North for this tremendous accomplishment. We pray for His continued help in our efforts to send forth His Word around the world.
Raleigh North Camp Officers
Gideons

| OFFICE | NAME | TELEPHONE | E-MAIL |
| --- | --- | --- | --- |
| President | Lee Warner | 846-7726 | leewarnerlaw@aol.com |
| Vice President | Malcolm Hawkins | 848-0478 | MHAWKI@juno.com |
| Secretary | Pat Simpson | 877-0434 | PatSimpsonBooks@cs.com |
| Treasurer | Richard Justice | 570-0145 | rjustgolf@aol.com |
| Chaplain | Garland Tucker | 785-0404 | gstucker@intrex.net |
| Scripture Chairman | John W. D. Kay | 870-9266 | jnkay@bellsouth.net |
| Church Assignment Chairman | Cliff Merrill | 844-1418 | c.merrill@mcdonald-york.com |
| Memorial Bible chairman | Doug Schmidt | 782-5311 | DLSDC82@aol.com |
| Membership Chairman | Bill Swart | 787-2319 | WILLRAL@MSN.com |
| Faith Fund Chairman | Ray Cooksey | 847-0521 | esiofnc@ix.netcom.com |
| Wake County Jail Chairman | Charlie Rabb | 787-1488 | ckrabb@hotmail.com |
| Butner Prison Chairman | Tom Wallace | 782-0903 | |
| State Fair Chairman | Jim Loehman | 847-3009 | JLOEHMAN@nc.rr.com |
| COMMITTEE MEMBERS | | | |
| Church Assignment Committee | Larry Davenport | 841-4610 | larrydvnprt@aol.com |
| Memorial Bible Committee | Frank Rawley | 847-1366 | Rawleywf@aol.com |
Auxiliary

| OFFICE | NAME | TELEPHONE | E-MAIL |
| --- | --- | --- | --- |
| President | Nadine Kay | 870-9266 | jnkay@bellsouth.net |
| Vice President | Nancy Davenport | 841-4610 | larrydvnprt@aol.com |
| Secretary/Treasurer | Emily Dillard | 847-3917 | JohnGideon@mindspring.com |
| Chaplain | Glenda Loehman | 847-3009 | gloehman@nc.rr.com |
| Scripture Secretary | Karen Rabb | 787-1488 | karenrabb@hotmail.com |
| Liaison LMBP | Dot Rawley | 847-1366 | DHRawley@aol.com |
<![if !supportEmptyParas]> <![endif]>
Passing the Baton
After three faithful, dedicated years as Memorial Bible Chairman, Garland Tucker turns over his Memorial Bible materials to Doug Schmidt, who himself just finished three tremendous years as Church Assignment Chairman. Doug says, "The sleeping giant (referring to the Memorial Bible Plan) is now half awake. We're looking forward to waking him up even more this year! As we check our churches, we need to ensure the Memorial Bible racks are maintained. About 30% of the donations I receive reflect the old prices, not the new ones. Now that our camp's Memorial Bible program has been built on the Gideon On-line Community, soon it will be easy for everyone in our camp to tell what churches have Bible racks and when they were last updated. Please check your church and let me know if the status is correct. Please pray for me and the Memorial Bible ministry"

Garland Tucker (left) turns over reins to Doug Schmidt. (Click for larger image.)
Special Memorial Bible Presentation
On Monday, July 8, Jim Knox and Pat Simpson visited bereaved parents Fred and Kim Hathaway at their home and gave them a special Blue Memorial Bible. It was presented as a sample of the more than 200 Memorial Bibles given in memory of their daughter Sarah, age 6, who died tragically on April 26 after falling from the bleachers at Cary High School.
Better Church Relations
by Church Assignment Chairman Cliff Merrill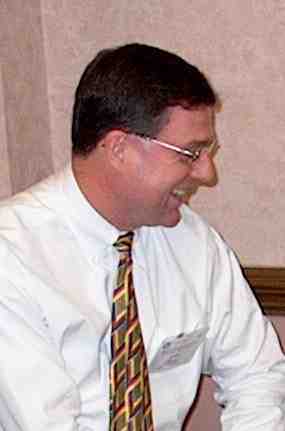 The Comprehensive Church Relations Program was initiated last October. By now, most of us have heard about it but what does it really mean? Why the focus on church relationships? And why do we need to nurture these relationships?
<![if !supportLists]>1. <![endif]>Because churches are our lifeline. We draw membership, prayer and much of our financial support from churches. Two-thirds of all Gideon scripture has been financed by churches.
Because we are an extended missionary arm of the church, going on behalf of church to all levels of society.
Because when we ask for a service, we are asking the pastor to turn over his church to us

—

strangers known only by the reputation of The Gideons. When we assume the pulpit, we are in one of the most powerful, influential positions.
<![if !supportEmptyParas]> <![endif]>
But we are far from reaching our potential!
We speak at only 37% of U.S. churches.
The Memorial Bible video is shown not nearly enough.
Average pastor attendance at banquets is only 20%.
Only 30 of our camp's 89 churches schedule annual reports. The rest schedule intermittently, or not at all.
<![if !supportEmptyParas]> <![endif]>
Program Concept
Using a team concept, the program divides responsibility for churches among active "responsible Gideons." It does not replace the "Year-round Church Service Plan"—it supplements it. This program will activate our membership and result in better, more fruitful relationships with pastors and church leadership. Auxiliary will be contacting pastors' wives in similar ways.
<![if !supportEmptyParas]> <![endif]>
As a secondary benefit, more church members will realize that they have a unique opportunity to reach others for Christ through the Gideons, a 241,000 member missionary force that is self-sustaining. Thus, they will be more committed and will lend their prayer support. In addition, both Gideons and Auxiliary will be equally committed, give more prayer and financial support and find more opportunities for saving lost souls.
<![if !supportEmptyParas]> <![endif]>
In addition to maintaining accurate and timely records to monitor progress and effort, and to establish accountability, each responsible Gideon will develop better overall relations with the pastor and church leadership by:
Inviting the pastor and leaders to a Pastors Appreciation Banquet.
Obtaining opportunities for Memorial Bible video

-

slide presentations.
Maintaining Memorial Bible materials.
Securing prospective members.
Securing church services for speakers.
<![if !supportEmptyParas]> <![endif]>
How do we put this Program in Action?
This program can only be accomplished with lots of effort from our leadership. This means direction from our Camp President with responsibility placed on the Church Assignment Chairman and assistance from the Memorial Bible Chairman and the Membership Chairman. Each team will ideally have an active Gideon, an inactive Gideon, and an Auxiliary member. The key to success is prayer, working on relationship building, utilizing the Memorial Bible video, and securing church services.
<![if !supportEmptyParas]> <![endif]>
During the next several months, I will be giving you more details, training, and information so that you will have opportunities to serve in this program.
<![if !supportEmptyParas]> <![endif]>
What are our Goals?
As Church Assignment chairman for our camp, I have established some rather ambitious goals for the 2002-2003 Gideon year. These goals are and should be aggressive because people rise to the level of expectation:
35 active and 10 new church reports.
3 churches re-opened to us.
7 churches with re-established relations.
40 pastor and wife couples at our next Pastors Appreciation Banquet (March 17, 2003).
Church receipts of $16,000.
On-Line Community activated.
<![if !supportEmptyParas]> <![endif]>
My challenge to you is for each of us to make it work. It will not be easy—it will take time and effort, but pray this through. God has blessed our association and given us a plan—will we follow it? Will you be a Joshua or Caleb? Or shall we wander 40 years?
<![if !supportEmptyParas]> <![endif]>
P.S. Praise God for Garland Tucker, who spoke at Bayleaf Baptist Church on June 23, and for John Kay, who spoke at Victory Baptist church on July 7. John met a lady lawyer there who is very excited about the Gideons and has offered to supply him with a list of all the law offices in Wake County so that we may place Bibles in them.
<![if !supportEmptyParas]> <![endif]>
Jail Ministry
Wake County Jail chairman Charlie Rabb reports that 131 PWTs, 30 Auxiliary PWTs and 48 Spanish PWTs were given out at the jail on Sunday night, June 23. Willing workers were David Auler, Bill Flythe, Tom Wallace, Steve Blackmon, Bill Hudson, J.P. Morris, Frank Rawley, Charlie and Karen Rabb, and Cliff and Liz Merrill. Some of the prisoners indeed gave their lives to the Lord that night. Tom Wallace and Frank Rawley went to the Hammond Road Annex where they prayed with the prisoners and passed out some PWTs and devotional books. But conditions there were difficult and discouraging—Most TV sets were turned up very loudly1 and the air conditioning was so cold that several prisoners wore blankets.
David Auler did double and triple duty because, as the only Spanish speaking Gideon there, he visited the Mexicans and Hispanics on not just one floor, but on floors 9, 8, 7 and 5! There were so many of them that he ran out of Bibles. "I don't get a lot of quality time with any of the fellas," says Dave, "but I try to do as much as I can. I try to get most of the fellas on the different floors to start their own prayer groups and Bible study groups together—and I think it's starting to catch on."
Please pray for Dave as he is scheduled for rotator cuff surgery on Thursday, July 11. He will be out of commission for a while and needs someone to replace him while he recovers and to help him on an ongoing basis. If you know a Spanish-speaking Christian who would also make a good Gideon, please contact Charlie Rabb (787-1488).
By the way, Charlie is going on a church mission trip to Kenya from September 1-13. Pray for him as he takes Gideon New Testaments with him and travels with the church team to a group of islands on Lake Victoria. There they will spread the Gospel to people that have never before been reached for Christ.

Jail Gang (from left): Liz and Cliff Merrill, Karen and Charlie Rabb, J.P. Morris, Bill Hudson, Steve Blackmon, Tom Wallace, Bill Flythe, Dave Auler. (Click for larger image)

Liz Merrill and Karen Rabb amidst bags of Bibles. (Click for larger image)
<![if !supportEmptyParas]> <![endif]>
Butner Prison Ministry:
Men on the Move
Prisoner Bill's wife died last year. Imagine—you're in prison and your wife dies. You can't go to the funeral. You can't go home for any reason. You're locked up and that's just the way it is. But that's one of the things you should have thought about before you got locked up—there's a price for sin that must be paid. Prisoner Bill may have still been bitter. He got into trouble a while ago and was put in the "hole" for four weeks. But he came back to Bible class two weeks ago.  "As the hart panteth after the water brooks, so panteth my soul after thee, O God."—(Psalm 42:1)
Prison Chairman Tom Wallace reports that the Bible study class is now studying the last chapter of Matthew—next on deck is the book of Mark. He says the two-hour class is normally divided into two sections: the "first-hour" and the "second-hour" class, divided in the middle with "move time" when some prisoners leave for medical call with the medics and new prisoners join the group. During the first hour they generally start at 6:30 with three songs, after which Tom or another Gideon reads devotionals. Then comes prayer request time, followed by two more songs. After move time, Bible study begins in the second hour and closes with prayer at 8:30.  If you feel led to this ministry, call Tom Wallace at 919-782-0903. PRAY for this ministry and the prisoners.  
<![if !supportEmptyParas]> <![endif]>
 Camp Databases now Online
As you know, the Gideon Online Community is a web-based Camp Management system. And now Church Listings and Memorial Bible Listings for our camp are online! (Still to come: Scripture Placements.) All 89 of our churches are listed on both databases. Just logon onto www.gideons.org and click on "Church Listing" or "Memorial Bible Program" on the left side of your screen. Information once privy to just the chairmen is now available to every camp member.
<![if !supportEmptyParas]> <![endif]>

Under each church listing, you'll find information such as: church website and e-mail addresses, fax and phone numbers, dates of Gideon services, speaking times (minutes), dates and times of reports, speaker and contact info, offering amounts, etc. Usually, there will be a paragraph or two about the pastor and his wife or church history. This will make it easier for Gideons and Auxiliary to get to know a little about the church and the pastor and thus help establish better relations with the church. You can also link to the church website and find out even more.
<![if !supportEmptyParas]> <![endif]>

Under each Memorial Bible Program listing, you'll find pertinent information on: placement and follow-up dates, assigned Gideons, church display racks, In Memory and In Honor cards, slide/video presentations, Memorial Bible envelopes, etc. Among other things, this will give a Gideon speaker advance Memorial Bible information before he arrives at the church. 
<![if !supportEmptyParas]> <![endif]>
Here are just some of the advantages I see in this system:
<![if !supportLists]>· <![endif]>It's a better and consistent way to record and report church service and Memorial Bible activity.
<![if !supportLists]>· <![endif]>A new chairman doesn't have to reinvent his own record-keeping system.
<![if !supportLists]>· <![endif]>A new chairman isn't stuck with an inherited system for which he has no software.
<![if !supportLists]>· <![endif]>Reports are consistent, even though chairmanship will change.
<![if !supportLists]>· <![endif]>Information can be accessed quickly by any camp member, even when the chairman is away on vacation.
<![if !supportLists]>· <![endif]>You can check for church worship dates, times and locations.
<![if !supportLists]>· <![endif]>There is much detail on the pastor, his wife, and their church.
<![if !supportLists]>· <![endif]>All camp members can learn about all of our camp's churches.
<![if !supportLists]>· <![endif]>When someone is assigned a church, he can learn about that church on the Internet.
<![if !supportLists]>· <![endif]>Auxiliary can learn the names of pastors' wives.
<![if !supportLists]>· <![endif]>Less active members can be better informed.
<![if !supportLists]>· <![endif]>A Gideon can be associated with the church he belongs to (soon to come). This will allow a speaker to identify any Gideons in his assigned church for assistance in obtaining a church service.
<![if !supportEmptyParas]> <![endif]>
How do you think the Online Community will help you and our camp achieve our goals? Please e-mail your comments, questions, suggestions to PatSimpsonBooks@cs.com or call Pat Simpson at 919-877-0434.
<![if !supportEmptyParas]> <![endif]>
My prayer is the same as The Gideons International: That you will be challenged, inspired and motivated by the potential of the Online Community. And that the Online Community will assist you in achieving the sole purpose of winning men, women, boys and girls to the Lord Jesus Christ.
<![if !supportEmptyParas]> <![endif]>
News From Sam and Karen Spilman
Sam and Karen Spilman, until recently Raleigh North Camp members (he was also NC State Secretary), penned this note in response to an e-mail from Bobby Hall:
Thanks for the note! It meant a lot to both Karen and me. The rain situation for Florida has been bleak for the past few years, but June was a month of almost solid rain. Still slightly behind for the year, but June was about 10 inches above normal.
We are part of the North Seminole camp. It is a good camp with about 20 members, Karen and I have participated in several distributions. I am the Faith Fund Chairman as well as the Area Faith Fund Program Assistant.
Please come by if you are ever down this way. Our address and phone numbers at home are as follows:
599 Walden View Drive, Sanford, FL 32771 (407) 330-2909
(e-mail: sam.spilman@pgnmail.com)
MEPS Recruits Need You!
A need for backup volunteers exists at the MEPS (Military Entrance Processing Station). Gideons are needed to present Service Testaments to new recruits and to witness for Christ. Your mission is to offer free copies of God's Word to new recruits while expressing prayers and appreciation for their service to our country. (Read "USA Military Distribution Guidelines" in your Gideon Guide Book.) Working hours are terrific—7:30-8:00 a.m. on weekdays only. Call Carl Nanney at 876-1973.
<![if !supportEmptyParas]> <![endif]>
Join us for Prayer
Join the Gideons and Auxiliary at 7:30 Saturday morning for Scripture reading and prayer at the Crabtree Clarion Hotel (formerly Sheraton Four Points Hotel). Stay for a great time of fellowship and breakfast! Ladies, please call Nadine Kay at 870-9266 if you plan to attend. Also, please come to the monthly meetings with your husband.
<![if !supportEmptyParas]> <![endif]>
Camp Calendar
| | |
| --- | --- |
| Jul 16 | Camp Meeting: International Extension (Faith Fund) |
| Jul 20 | Area Faith Fund Rally, 6:30 p.m., Durham Hilton, $15.00 |
| Jul 19-20 | Promise Keepers Conference—Raleigh ESA (1-800-888-7595) |
| Jul 23-28 | 103rd Gideon International Convention, Louisville, Kentucky |
| Aug 20 | Camp Meeting: International Convention Reports |
| Aug 30-Sep 2 | 45th Annual Labor Day Retreat at Bonclarken, Flat Rock, NC. Contact Jon Schweigert 864-458-7989 or jonREschweigert@aol.com |
| Sep 17 | Camp Meeting: Soul Winning |
| Sep 21-27 | New York City Bible Blitz. Contact Jim Emmons 607-243-3654 or Jim.Emmons@mt.com |
| Oct 5 | Area 8 Auxiliary Luncheon, Burlington Ramada Inn |
| Oct 15 | Camp Meeting: Scripture Distribution |
| Oct 18-27 | Gideon Booth: North Carolina State Fair |
| Nov 19 | Camp Meeting: Memorial Bible Plan |
| Dec 17 | Camp Meeting: Christmas Fellowship |
| Jan 21 | Camp Meeting: Spiritual Objectives |
| Feb 18 | Camp Meeting: One-on-One |
| Mar 11 | Camp Meeting: Church Assignments |
| Mar 17 | Pastors Appreciation Banquet |
| Apr 15 | Camp Meeting: Camp Elections |
| May 1-4 | 56th Gideon State Convention—Winston-Salem |
| May 20 | Camp Meeting: State Convention Reports |
<![if !supportEmptyParas]> <![endif]>
Respectfully submitted,
Pat Simpson, Newsletter Editor
(919-877-0434 or e-mail PatSimpsonBooks@cs.com)
Return to Top of Page