<![if !supportEmptyParas]> <![endif]>
"For the preaching of the cross is to them that perish foolishness;
but unto us which are saved it is the power of God."
(1 Corinthians 1:18)
<![if !supportEmptyParas]> <![endif]>
North Carolina Highway Patrol Marks
Milestone with Gideon Bibles
At a two o'clock ceremony on Friday, Jan. 3, 375 DMV (Department of Motor Vehicle) officers were sworn in to the "Motor Carrier Enforcement Section" of the SHP (State Highway Patrol). The ceremony took place at the Colonial Baptist Church, 6051 Tryon Road, Cary. We Gideons were there. Each officer received a copy of God's Word!
Last summer, Governor Mike Easley announced the transfer of DMV Enforcement to CCPS (Crime Control & Public Safety) as a cost savings measure and to improve the operations of DMV Enforcement. The General Assembly passed House Bill 314 in October to make the move from the Department of Transportation to CCPS effective Jan. 1.
Motor Carrier Enforcement Officers are responsible for maintaining truck weighing stations as well as checking trucks on the highway. In addition they give driving license exams, etc. They were basically deputized to deal with problems on the roads and as a response to terrorist readiness plans.
<![if !supportEmptyParas]> <![endif]>
Representing the Gideons, Ray Cooksey and John Kay were there as special guests of the SHP. Since Gideons are known for supplying Service testaments to cadets during training, the SHP called Gideons International with regard to our providing the Bibles for this ceremony. Ray Cooksey was contacted by Officer Ed Maness, and both of them discussed the needs with John Kay. John got the 125 Bibles and 400 Service testaments to the SHP for the ceremony. (See photos.)
Colonel Richard Holden and Lieutenant Colonel W. M. Autry were the SHP officers that officiated the ceremony and Secretary of State Elaine Marshall administered the oath of office to the various groups of officers.
Colonel Holden charged the officers to strive to maintain integrity, professionalism, and loyalty in their new responsibilities. He also stressed that their priorities should be God, family, and job . . . in that order.
Ray and John Kay had their photo taken with Colonel Holden and Lieutenant Colonel Autry (bottom right photo). Both of these officers as well as others expressed gratitude for our involvement in providing scriptures to the officers. Although he couldn't make it to the ceremony, Charlie Rabb has worked closely with Lieutenant Colonel Autry in the past.
We praise God for this opportunity. Please be sure to pray daily for law enforcement and fire department officers and EMS personnel who now have copies of God's Word and who are relying on us to hold them up before the throne of grace. What a privilege!
<![if !supportEmptyParas]> <![endif]>
Camp Meeting January 21:
Spiritual Objectives
Our next camp dinner meeting will be held at Embassy Suites (across from Crabtree Valley Mall), 4700 Creedmoor Road, at 6:45 p.m. Tuesday, January 21. Don't miss this time of food, fellowship, and inspiration. A promotional video on this year's State Convention will be shown towards the end of the meal. The program, led by Monty Daniels, will focus on Spiritual Objectives. This is an important meeting as each of us is reminded of the need for continual spiritual growth and renewal. Ladies—the Special Feature will be a showing of the Victor Goncharenko videotape from last year's International Convention. Also, please pray for N.C. Auxiliary State President Mrs. Lois Harward as she attends the upcoming Auxiliary President's  conference in Nashville.
Note: It is important for us to give an accurate number to the hotel. We must pay for every meal we guarantee. The hotel prepares meals based upon the number that we give them, and they are prepared to pull together a couple of additional meals if necessary. However, they do not guarantee that the meals will be the same. We try to be good stewards of our resources, therefore if you have confirmed and can not attend we ask that you cover the cost of your meal ($16 per person) with camp treasurer Richard Justice (570-0145).
<![if !supportEmptyParas]> <![endif]>
Camouflaged Service Testaments Deployed:
More on the Way
On Thursday, January 9, Scripture Chairman John Kay received his first 300 copies of the new green and sand-colored camouflaged Service Testaments. The very next day he took 100 of them to the Army Reserve unit on Western Boulevard; the chaplain was delighted to receive them.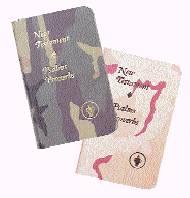 On Monday, January 13, Chaplain Jim Hales of the NC National Guard contacted Bob Grandinetti with an urgent request for 400 military testaments for the NC National Guard unit in our area. Bob contacted Charlie Rabb who contacted John Kay. John called Jim who told him that the guardsmen were being deployed and 400 testaments were needed immediately. So John took the 200 he had and went in search of the National Guard facility. He found it near RDU at the end of National Guard Road.
He asked the MPs at the gate for Chaplain Hales, but they were not quite sure what to do. Just then a SUV full of officers pulled up. One of them was none other than Major General William E. Ingram, Jr. himself, Adjutant General of the entire North Carolina National Guard! John showed the General and a Captain what he had for the men and gave each of them a testament. General Ingram expressed deep gratitude for our getting these for the men and told John to follow his SUV to the base commander's office.
When they got there, John showed General Ingram the desert testaments. He said, "These guys will be delighted. Gimme a box of those! " General Ingram carried the box into the office and John followed with the other box. General Ingram introduced John to the base commander and gave him a testament, too.
Then Chaplain Hales showed up. He was beside himself with delight in what the Lord had done to get 200 testaments to him so quickly. And he was happy to know that we were on track to get the rest by the end of the week. (John had already ordered another 600.)
Please be in prayer as these testaments will be presented to these men at the ceremony just before they leave for their deployment area. And let's be praying for similar distributions that will be occurring across our country that our military men will be protected by God in performing what is necessary these days. We serve a great God. Praise Him!
<![if !supportEmptyParas]> <![endif]>
One-on-One Camp Meeting February 18
Pray for new Gideons!
"…ye have not because ye ask not."
(James 4:2)
Our camp's One-On-One dinner meeting is scheduled for 7:00 p.m. Tuesday, February 18, 2003 at Embassy Suites (across from Crabtree Valley Mall), 4700 Creedmoor Road. (Gideons and Auxiliary please arrive at 6:45 to greet prospective members.) Our speaker will be Jimmie Coggin, Area 7 Director.
Our purpose as an association is to win others for the Lord Jesus Christ. Until the Lord returns, there will always be a harvest, and there will always be a need to pray for laborers. Now is the time to search out prospective members, invite them to a meeting, and encourage them to join the ministry. Please invite a prospective Gideon and let Membership Chairman Bill Swart (787-2319) know right away that he is coming. Bill will send a confirming letter of invitation. (Corsages will be provided for the wives of prospective members who come.)
<![if !supportLists]>· <![endif]>Pray for new members at each weekly prayer meeting.
<![if !supportLists]>· <![endif]>Compile a list of qualified prospects.
<![if !supportLists]>· <![endif]>Contact prospective members and wives.
Hotel Dedication Service
Adapted for

Cambridge Hills of Raleigh

It was a cold gray day outside, but inside Cambridge Hills of Raleigh, a 120-bed assisted living facility located at 4510 Duraleigh Road (near Olde Raleigh), it was warm indeed as 9 Gideons and 3 Auxiliary showed up to share the love of God in their large recreation room. Shortly after 3:15 p.m., on Thursday, January 16, Bobby Hall passed out song sheets and kicked off our Bible dedication service with a song while Dot Rawley played the piano. About 25 elderly residents, most of them in wheelchairs, came down the halls and joined in. Some couldn't hear well and others were nearly blind, but all did their best.

This whole project was kicked off on January 8 when Dot Maunay, a staff worker, called Scripture Chairman John Kay and requested 20 hospital testaments. John did her one better and suggested that we place 120 testaments, one beside each bed. "Not only that," he said, "we could invite the residents to a short Bible dedication, similar to the ones we do in hotels. We could tell them about the Gideons and give testimonies."

Excitedly, Dot handed him over to the activities coordinator, Lea Pike, who said we could take even more time than our usual 14-minute dedication service. John went one step further and suggested that our Auxiliary would be pleased to offer a white medical testament to each of their personnel. Lea was happy about that and said they had 49 including staff and administrator, Kendall Oliver. So John invited Gideons and Auxiliary both to join in the dedication service. He scheduled it during Dot's normal Bible study meeting with the residents.

The 9 Gideons and 3 Auxiliary members who took part in the dedication were Pat and Anne Simpson, Frank and Dot Rawley, Jeanette Daniels, Lee Warner, Bill Swart, Ray Cooksey, Charlie Rabb, Bobby Hall, Jim Singer, and John Kay.  Pray that these scriptures will be used to draw many to the Lord for salvation and daily grace for living. 


P.S.  Lea, the Activities Director, is really interested in having church and Christian groups volunteer in various ways and will be giving us a letter detailing these opportunities. If the Lord is exercising you or your church group about this area of ministry, please call Lea at 781-6605.

<![if !supportEmptyParas]> <![endif]>

Photos clockwise from top left: 1. Residents join in song. 2. The gang's all here. 3. John presents special Hospital testament to Lea Pike, Activities Director. 4. Tim and Lea Pike. 5. Singing spirituals. 6. Lea's mother (front row in white shirt).

Gideon Booth at Providence

Missions Festival 2003 is being held at Providence Baptist Church on 6339 Glenwood Avenue February 13-16. One purpose is give the public an opportunity to see first-hand what God is doing around the world and across the street through this church. Bill Swart and Bill Schone will be setting up a Gideon Missions Festival booth and invite you to help. (Call Bill Swart at 787-2319.) Along with 50 other missions, the booth will be open to the public Saturday evening, Feb. 15 and late Sunday afternoon, Feb. 17. This will be a special time for church members and the public to interact with missionaries and mission agencies (such as the Gideons). For details call the Missions Office at 919-326-3000 (e-mail: www.pray.org).

<![if !supportEmptyParas]> <![endif]>

Mark Your Calendar Now:

Pastors Appreciation Banquet March 17
| | |
| --- | --- |
| | Brother Compton has been a Gideon for 40 years and has also served on two EAPs (Extension Action Programs) to Africa and Spain. |
| | Tank (shown with wife Pat) bought his first motorcycle at the age of 16 and began a life of liquor, drugs, and crime. Learn what happened one night in a motel room as he held a pistol in one hand and a Gideon Bible in the other. |
This year's Pastors Appreciation Banquet will be held at 6:30 p.m. Monday, March 17,

 

at the North Raleigh Hilton (Salon ABC). We are in for a real treat as our speaker is Kyle Compton, former Gideon State President of Virginia. The testimony speaker is Mike "Tank" Kersey, who was featured in the Aug/Sept 2002 issue of
The Gideon
(p. 32). Some of you may remember his testimony at the Louisville Convention last summer.
Don't miss this dynamite Pastors Appreciation Banquet!
<![if !supportEmptyParas]> <![endif]>
Meet Erik Hanvey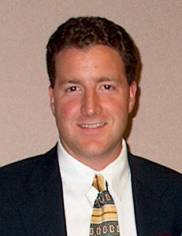 Meet Erik Hanvey, our newest member (December 10, 2002). He and his wife Tiffany are expecting twins sometime in February or mid-March. They already have a little girl, Tilley Anne, who turned two in December. Erik owns a company that does service work and re-merchandising work for Lowe's Home Improvement Warehouse Stores. "They contract us out to go in and set up the displays, put up the signage, and rearrange their product for them." Tiffany is a Raleigh native but Erik is from Hickory, N.C. In 1994 he received a Bachelor's degree in Business Management. He lived in Hickory and Atlanta for 2 years before moving here and has lived in Raleigh for the last six years. They are members of Bayleaf Baptist Church and come highly recommended by everyone who knows them. Erik travels a lot and says that when he forgets his own Bible he uses the Gideon Bible in his hotel room. He really appreciated that and figured he would like to be a part of this ministry. Much to his surprise, Erik learned one day that his father-in-law, Edd K. Roberts, is a Gideon. Not only that, but Edd is a member of this camp! So Edd invited Erik to a meeting and the rest—as the saying goes—is history. Erik sees the Lord using him in the Gideons "anyway He wants to." "The twins," he continues, "will keep us busy, but I would like to help in anyway I'm able, like helping to purchase and give out Bibles and to share God's Word." Welcome Erik and Tiffany!
<![if !supportEmptyParas]> <![endif]>
A Wonderful way to Say "I Love You"
With Living Memorial Bibles
From the recent State Cabinet meeting (January 11) Area 8 Area Director Ray Cooksey reports that North Carolina Memorial Bible Program receipts are up 10% over this same time period a year ago. Simultaneously, the number of donors statewide is up 15%. This may be the result of increased showings of the new Memorial Bible video combined with the rising use of the new Memorial Bible cards. This is all despite the fact that statewide church receipts are down 9%. (Note: In spite of the down economy, scripture receipts are happily on a par with last year. Also, the Auxiliary of North Carolina has provided more Auxiliary funds year-to-date than any other state or state association Auxiliary in the USA!)
Reflecting the above trends, Memorial Bible Plan Chairman Doug Schmidt says that December and January have been quite active for our camp. He encourages us to "keep on using the Memorial Bible Plan, keep on checking your church racks, and keep on showing the video." For only $1.50 you can get a package of 6 Memorial Bible Cards: two "In Memory," two "In Recognition," and two "Thinking of You" cards. For these and other supplies contact Memorial Bible Co-Chairman Frank Rawley at 847-1366.
In Memory:  Donna Larson, 62, Atchison, Kansas, died after a 16-year battle with cancer on Tuesday, January 14, 2003. Donna was the sister of Nadine Kay, our camp's Auxiliary president. Donna's husband (Larry) and son (Lars) and Donna's two brothers (Earl and Cleve) were by her bed when she died and rejoiced in committing her to the Lord Jesus. The funeral was in Atchison at 1:00 p.m. Friday. In Memory cards may be mailed to: Mr. & Mrs. John Kay, 5628 N. Hawthorne Way, Raleigh, NC 27613-6011.
In Memory:  Please pray for N.C. Auxiliary State President Mrs. Lois Harward, whose mother, Inez Blalock, died on Friday, January 3, 2003. The funeral was January 6. Lois says, "Thank you for your prayers and thoughts." In Memory cards may be mailed to: Mrs. Lois Harward, 8340 Cottonville Road, Norwood, NC 28128.
Thinking of You:  Please pray for N.C. State Chaplain Jim Stegall, recovering from open-heart surgery on December 20. Thinking of You cards may be mailed to: Jim Stegall, 208 Falling Tree Lane, Monroe, NC 28112.  
<![if !supportEmptyParas]> <![endif]>
Jail Ministry
It was just three days before Christmas, Sunday night, December 22. Many prisoners at the Wake County jail felt they were without a friend in the world. But Gideons and Auxiliary from our camp visited them with the Good News—Jesus Christ our Savior is born! And nine of them received Jesus as their Lord and Savior that night! Wake County Jail Chairman Charlie Rabb says we gave out 131 PWTs, 15 Auxiliary PWTs, and 38 Spanish Testaments. Camp members who witnessed for the Lord were: Richard Justice, Steve Wilson, Malcolm Hawkins, Tom Wallace, Charlie and Karen Rabb, Monty and Jeannette Daniels, Ray Cooksey, Bill Hudson, Gary Pendleton, J.P. Morris, and Frank Rawley.
Monty Daniels and Malcolm Hawkins worked one of the floors. Monty says he had some long conversations with some of the young prisoners, probably due to them being alone for the holidays. One of the prisoners prayed with Malcolm to receive Christ.
Jeannette Daniels and Karen Rabb visited the women prisoners, but when they got to their area, they discovered it was in "lockdown." No one could go in or out. The guard said they had been fighting and threatening each other, for which the penalty was lockdown for two days. She said that when they came out, if they resumed fighting again the penalty was two more days of lockdown. There were only five ladies that Jeannette and Karen could talk to, but they seemed engrossed in a TV program, and hardly paid attention at all. Undaunted, Jeannette and Karen shared God's Word with them for several minutes. 
Ray Cooksey and J.P. Morris worked on the eighth floor—J.P. led five to the Lord and Ray led three. J.P. said, "They kept holding my hand!" One prisoner—Michael—said he was concerned that his wife and four children may not have electricity or enough food. Many prisoners requested a lot of prayer and even though there were two Gideons for every floor, it was still a long while before the last prayer was prayed. On the sixth floor, Richard Justice prayed with nine men, two of whom want to be baptized, one of them a Catholic. Richard said there is now a Spanish-speaking guard on the floor.
Tom Wallace and Frank Rawley visited the Hammond Road Annex and gave out every piece of literature they had and all but nine of their PWTs. Many of the prisoners, finding themselves in jail and away from home at Christmas time, requested prayer for themselves and their families. Several indicated they had already received Christ as their Savior and one said he became a Christian just last month when a Gideon led him to the Lord!
If you would like to experience the joy of serving Christ in this ministry, call Charlie Rabb at 787-1488.
<![if !supportEmptyParas]> <![endif]>
Butner Prison Ministry:
Communion Served
On Friday, December 27, Tom Wallace and Jim Loehman taught a lesson on the Passover and served communion to about 25 prisoners. This was done with the chaplain's approval who even supplied the bread (wafers) and wine (grape juice). Tom says, "The Passover and Christ's resurrection is something different and very important in their lives that they need to hear."
The Gideon-led Bible study continues to meet Friday nights from 6:30—8:30. John Kay is filling in as teacher for Ray Cooksey, who is still getting his voice back from a recent illness. If you want to be part of this ministry, call Prison Chairman Tom Wallace at 782-0903.
<![if !supportEmptyParas]> <![endif]>
Church Speaking Opportunities
Please keep Co-Church Assignment Chairman Larry Davenport in your prayers as he fills in for Cliff Merrill. As you can see in the chart below, Larry has already scheduled two church services. Call Larry at 841-4610 or e-mail larrydvnprt@aol.com if you want to schedule a Gideon report.
Remember, a successful church service is a vital link in extending a chain of hope around the world. If you can speak, speak. If you can contact a church by telephone, then contact. If you can make a personal call on a pastor, just do it! If you can pray, pray.
Praise for these churches and speakers:

Jan 12

Cary First Baptist

Lee Warner

Pray for these churches and speakers:

Mar 16

North Raleigh Church of the Nazarene

Kyle Compton

May 18

St. Mark's United Methodist Church

TBA
<![if !supportEmptyParas]> <![endif]>
Bible Blitzes Around the USA
Make your plans now to attend the Scripture Blitz in Charlotte March 23-27. From 200-375 Gideons and Auxiliary are needed to distribute over 50,000 Scriptures to open hands. They will try to touch base with all the area hospitals and universities. Auxiliary are needed for hospitals and rest homes. Eric Howe (former British Isles Trustee, from Scotland) will be the leader and International Representative. The January Tar Heel Gideon contains a registration form on page 4. Pray for willing servants, open doors, open hearts, and souls for eternity.
| | | | | |
| --- | --- | --- | --- | --- |
| Date | Place | Contact | Phone | E-mail/"Snail-mail" |
| March 2-7 | San Jose, CA | Jerry Schrimsher | 510-881-0243 | GideonJerry@hotmail.com |
| March 9-12 | Mobile, Alabama | Jim Blanton | 205-455-2426 | PO Box 794, Grove Hill, AL 36451 |
| March 23-27 | Charlotte, NC | Don Rhodes | 704-394-4811 | CharlotteScriptureBlitz@hotmail.com |
| April 7-9 | Albuquerque, NM | R.E. Stinebaugh | 505-275-3170 | RCStine@MSN.com |
<![if !supportEmptyParas]> <![endif]>
DUES RENEWALS
If you haven't paid your dues yet, you will receive a friendly reminder in the mail around January 21. The cost of this notice is $1.35, which has the potential of keeping a lost soul from receiving God's Word! DO IT NOW! Use your renewal slip or send your check marked "Dues Renewal" for $40 ($55 for Gideon and Auxiliary) to: The Gideons International Headquarters, PO Box 140800, Nashville, TN 37214-0800.
<![if !supportEmptyParas]> <![endif]>
Join us for Prayer and Breakfast!
We would love to have you join us on Saturday mornings for Prayer and Breakfast. We meet at the Clarion Hotel (formerly Fourpoints) across from Crabtree Valley Mall at 7:30 a.m. Breakfast (optional) is at 8:00 a.m. We typically meet in the executive meeting room on the 10th floor. Gideons and Auxiliary are always welcome! For more information, call Lee Warner (846-7726) or Nadine Kay (870-9266).
Camp Calendar
| | |
| --- | --- |
| Jan 21 | Camp Meeting: Spiritual Objectives |
| Feb 18 | Camp Meeting: One-on-One. Speaker, Jimmie Coggin, Area 7 Director |
| Mar 11 | Camp Meeting: Church Assignments |
| Mar 17 | Pastors Appreciation Banquet, 6:30pm, Salon ABC, North Raleigh Hilton; Kyle Compton, speaker; Tank Kersey, testimony speaker. |
| Apr 15 | Camp Meeting: Camp Elections |
| May 1-4 | 56th State Gideon Convention—Adams Mark Hotel, Winston-Salem |
| May 20 | Camp Meeting: State Convention Reports |
| Jul 22-27 | 104th International Gideon Convention, Birmingham, Alabama |
<![if !supportEmptyParas]> <![endif]>
Respectfully submitted,
Pat Simpson, Newsletter Editor
(919-877-0434 or e-mail PatSimpsonBooks@cs.com)
<![if !supportEmptyParas]> <![endif]>
This newsletter is published by the Raleigh North Camp of
The Gideons International
P.O. Box 33635
Raleigh NC  27636
Phone: 919:781-0305
WEB: http://members.tripod.com/patsnews
<![if !supportEmptyParas]> <![endif]>
December 2002 Status
Return to Top of Page