(Return to Index Page)
Raleigh North Gideon Newsletter
February 2003
"I must work the works of him that sent me, while it is day:
the night cometh, when no man can work."
(John 9:4)
<![if !vml]>

<![endif]> 
<![if !supportEmptyParas]> <![endif]>
One-on-One Camp Meeting February 18
Bring a Prospective Gideon!
Our camp's One-On-One dinner meeting is scheduled for 7:00 p.m. Tuesday, February 18, 2003 at Embassy Suites (across from Crabtree Valley Mall), 4700 Creedmoor Road. (Gideons and Auxiliary please arrive at 6:45 to greet prospective members.) Area 7 Directors Jimmie and Peggy Coggin will be the speakers.
Our purpose as an association is to win others for the Lord Jesus Christ. Until the Lord returns, there will always be a harvest, and there will always be a need to pray for laborers. Now is the time to search out prospective members, invite them to a meeting, and encourage them to join the ministry. Please invite a prospective Gideon and let Membership Chairman Bill Swart (787-2319) know right away that he is coming. (Corsages will be provided for the wives of prospective members who come.)
Note: We try to be good stewards of our resources, therefore if you have confirmed and can not attend we ask that you cover the cost of your meal ($16 per person) with camp treasurer Richard Justice (570-0145).  
Gideon Booth at Providence
The annual Missions Festival at Providence Baptist Church, 6339 Glenwood Avenue, will be held February 13-16. People will see firsthand what God is doing around the world and across the street. Approximately 30 local ministries and 50 international missionaries will be part of this festival, including The Gideons International (which Providence helps support). Bill Schone, Sunny Schone and Bill Swart will be setting up and manning a Gideon Missions Festival booth on February 14. You can see the booth from 7:30—9:00 p.m. Saturday, Feb. 15, and from 4:30—6:00 p.m. Sunday, Feb. 16. For details call the Missions Office at 919-326-3000 (e-mail: www.pray.org). Sunny will talk about the Gideons on Sunday morning to a class of over over 60 children. Both Bill Schone and Bill Swart will be giving a Gideon report to another Sunday School class. Thank you Providence for this opportunity to talk about what God is doing in the Gideons.
<![if !supportEmptyParas]> <![endif]>
Mark Your Calendar Now:
Pastors Appreciation Banquet is March 17
Don't miss
this year's dynamite Pastors Appreciation Banquet! It will be held at 6:30 p.m. Monday, March 17,

 

at the North Raleigh Hilton (Salon ABC). Tickets are $20 each. We are in for a real treat as our speaker is Kyle Compton, former Gideon State President of Virginia. The testimony speaker is Mike "Tank" Kersey, who was featured in the Aug/Sept 2002 issue of
The Gideon
(p. 32). Some of you may remember his testimony at the Louisville Convention last summer

 
Brother Compton has been a Gideon for 40 years and has also served on two EAPs (Extension Action Programs) to Africa and Spain. Tank bought his first motorcycle at the age of 16 and began a life of liquor, drugs, and crime. Learn what happened one night in a motel
room as he held a pistol in one hand and a Gideon Bible in the other. Special music will be provided by Kenyon Clark and Jeremy Funk, a duet from Forest Hills Baptist Church. Raleigh East Camp's Kathy Gross will give the Auxiliary report.
Meet William Eaton
William Eaton is very happy about becoming one of our camp's two newest Gideons. William is retired from Kennametal, Inc., manufacturer of tungsten carbide cutting tool systems. His wife, Kathy, is an office manager at Fonville-Morisey. Currently residents of Wake Forest, the Eatons have lived in the Raleigh area 23 years. William is from Lancaster, Ohio and Kathy is from Nutley, New Jersey. They have four sons: Chris, Sean, Joshua and Billy; and one daughter, Laura. Two grandchildren (Sean's) live in Charlotte and one granddaughter (Laura's) lives in Raleigh. The Eatons joined Bayleaf Baptist Church about 8 months ago. William says, "We're just getting started!" Both of them also attend Bible Study Fellowship on Monday nights. William is in his 4th year and Kathy is in her 3rd year.
Over the years, William found himself looking in hotel bedroom night stands all over the world for Gideon Bibles during his travels for Kennametal. Recently, he has heard Charlie Rabb and other Gideons talk during Sunday School about visiting our local prisons and jails. William says, "I thought that might be something I'd like to get involved in and try to help as much as I could in some of those and other areas." Bill Hudson, another Gideon and fellow Sunday School class member, invited him to our January camp meeting. William liked what he heard and signed up! He says he would like to be of service wherever God wants him in return for all God has done for him and his family.
<![if !supportEmptyParas]> <![endif]>
Meet John V. Massey
John has been friend and coworker with William Eaton for years. Their careers at Kennametal, Inc. paralleled each other, but they are both now retired—John, after 37 years. He is an industrial engineering graduate but worked in sales and marketing his whole career. John grew up in Birmingham, Alabama. Mary Lou, who hails from near Mobile, Alabama, is a retired microbiologist who worked 7 years for the State of North Carolina. John and Mary Lou have lived here twice. The first time was for 5 years when Kennametal moved its divisional headquarters here in 1980. In 1985 his career took him to company headquarters in Latrobe, Pennsylvania for 5 years, Germany for 4 years, and finally back to Raleigh in 1990. The division moved back to Latrobe in 1998 but John opted to take the "better deal" and retire.
The Masseys have 3 children: a daughter in Latrobe with a little boy and girl; a son in Gulf Shores, Alabama with 2 little girls; and a daughter in Raleigh with 3 little girls. John jokes that between his 7 grandchildren, the oldest is only 4 years old!
Like William and Kathy, John and Mary Lou attend BSF and are members of Bayleaf Baptist Church where they attend Sunday School. In past churches, John has been a Sunday School teacher, deacon, chairman of a board of deacons, and building committee chairman.
And now John and William have joined the Gideons together! John says, "I thought I needed to be doing something else again. I've known about the Gideons all my life, and have gotten to know several of them in my Sunday School class." Six weeks ago, Lee Warner gave a Gideon report to John's class and gave him some Gideon literature to read. Bill Hunt, Charlie Rabb and others were all instrumental in getting him to come to the January meeting, where he signed up.
At the meeting, John heard about several areas of Gideon ministry that he would like to look into. He says, "I'm open to whatever the Good Lord wants me to do."
NC National Guard Units Receive Scriptures Just in Time
On very short notice, Scripture Chairman John Kay asked Gideons International to send a rush order of camouflaged New Testaments for the NC National Guard unit in our area. (He had already given them 200.) Many guardsmen were being deployed on January 19. On Friday morning, January 17, John delivered 200 testaments to the office of Major General William E. Ingram, Jr. Adjutant General of the NC National Guard. Lil, the general's wife, wanted to include a personal note from herself and the General in each New Testament that was to be given to the servicemen on their way out. General Ingram was so grateful to receive the scriptures on such short notice, that he presented John with a medal "For Excellence" (see photo) normally reserved for senior officers.
With the General's permission John joined him and others for prayer. John committed them to the Lord and all those involved in the imminent conflict that God would be their sufficiency in doing what God wants done in the affairs of man right now. He also prayed that God's people would uphold our military in prayer for such a time as this.
| | |
| --- | --- |
| | |
| From left: Mrs. Ingram, John Kay, General Ingram. | General Ingram and his wife Lil write personal notes to servicemen. |
| | |
| Medal "For Excellence presented by the Adjutant General of North Carolina" to John Kay. | Governor Mike Easley (rt. center), his wife and officials attend farewell celebration. |
| | |
| Apache attack helicopter battalion commanders. | Guardsmen at attention. |
<![if !supportEmptyParas]> <![endif]>
NC National Guard Farewell Ceremony:
Banner Scripture Distribution day for our Camp
On Sunday, January 19, the first NC National Guard combat unit mobilized since 9-11—some 328 soldiers—held its farewell ceremony at the Morrisville armory. Lots of dignitaries were present in addition to all the families and staff of base personnel. Logistically, General Ingram decided to not give out the note-filled testaments during the ceremony, but to let the chaplain individually present them to each man before he ships out from Fort Bragg. John Kay presented the chaplain with 400 additional green-camouflaged military testaments to cover all the troops not departing with this deployment, for a grand total of 800 (in one week). Please pray for these commissioning services, for the family support groups that are vitally involved at this time, and for our continuing efforts to meet the needs of the military.
P.S. Chaplain Harry Grubbs, NC National Guard State Chaplain, called John and requested testaments for other National Guard units within the state that are soon to be deployed. John called Jerry Campbell (Gideon State Scripture Secretary) who contacted Chaplain Grubbs and then contacted International to have the camouflaged testaments drop-shipped ASAP to the particular units. All future National Guard shipments in the state will be handled by Chaplain Grubbs and Jerry. Praise God for working this out.
Jail Ministry:
There's Something About Super Bowl Sunday!
On Super Bowl Sunday, January 26, millions of people watched the Tampa Bay Buccaneers whip the tar out of the Oakland Raiders, 48-21. But 11 Gideons and 3 Auxiliary from our camp visited prisoners at Wake County Jail and didn't know who won the Super Bowl until they got home. However, they already knew about a different Winner, Jesus Christ, who won many souls that night!
Wake County Jail Chairman Charlie Rabb says "There's something about Super Bowl Sunday because, just like last year, we had a Super Bowl Holy Spirit night at the jail!" (Dozens were saved during last year's Super Bowl.) Even at the Hammond Road Annex, Ray Cooksey and Richard Justice led 13 prisoners to the Lord! And 18 more souls were won at the main jail. Serving the Lord that night were: Monty & Jeannette Daniels, Bill Hudson, John Dillard, Cliff & Liz Merrill, Charlie & Karen Rabb, Larry Crowder, Ray Cooksey, Steve Blackmon, and John Gaydos. Some Gideons even got to meet Donnie Harrison, our new Wake County Sheriff. Charlie says we gave out 183 PWTs, 38 Auxiliary PWTs and 61 Spanish Testaments.
Larry Crowder prayed with 9 prisoners to receive salvation. Monty Daniels and Bill Hudson led 9 others to the Lord. Monty reports that he was handing out PWTs to youthful offenders on the ninth floor. Two or three came to the window and were very interested in hearing what Monty had to say. He started explaining God's plan of salvation to them from the inside back cover of a PWT. Soon, a group of four had gathered and then another man came. He said, "I want to be saved, too." All five prayed to receive Christ as their Savior! After that, a security guard took Monty to another area cell to cell. The guard  asked each prisoner in turn, "Do you want a Gideon Bible or do you want prayer?" So Monty spoke to at least ten prisoners and prayed with each one individually. Monty said, "They were so appreciative that somebody would think to come and talk to them and to care that much about them, especially on Super Bowl Sunday."
Monty says of the guards at Wake County Jail, "I don't think there are a finer group of people anywhere. They are on a par with any Gideon group. They are always in control and act just like parents to those people—men or women. I am so impressed by how professional they are." We can only say Amen to that and praise the Lord.
P.S. Charlie Rabb reports that recently 28 Service Testaments were made available to Wake County Sheriff cadets with the assistance of  Chaplain Poole.
<![if !supportEmptyParas]> <![endif]>
Butner Prison Ministry
Last Friday evening, February 7, a couple of prisoners set off a fire alarm. As punishment, they were put in "the hole" (solitary confinement). In addition, security suspended "free movement time," and no one was allowed in the halls, except those going to chapel. Prison Chairman Tom Wallace says the crowd was still not as big as usual, probably because the prisoners have to walk 100 yards outside in cold weather to get to the chapel, a standalone building where all religious classes are held (Catholic, Muslim, et al). Our Gideon-led Bible study continues to meet Friday nights from 6:30—8:30. The prisoners are studying Mark 10 (and beyond) with the help of John Kay, who is filling in for the nearly recovered Ray Cooksey. If you want to be part of this ministry, call Tom Wallace at 782-0903.
<![if !supportEmptyParas]> <![endif]>
Auxiliary Report
At the Auxiliary Cabinet meeting on Thursday, February 6, tentative plans were made for the upcoming One-on-One meeting and for table favors at the Pastors Appreciation Banquet. Also discussed were potential nominations for officers in the April election. Other plans call for the March camp meeting's Special Feature to be on the Jail Ministry, where several members will share the experiences they have had distributing copies of God's Word at the jail. It was reported that Rex Hospital's head chaplain, Nancy Osborne, said they were out of Medical Testaments. Consequently, we have provided them with 200 Medical Testaments. 
<![if !supportEmptyParas]> <![endif]>
Bible Dedication at Raleigh Rehabilitation and Healthcare Center
Following the example of our camp's well-received Bible Dedication Service at Cambridge Hills, we did another one on January 27—this time at the Raleigh Rehabilitation and Healthcare Center (formerly Hillhaven Convalescent Center) on 616 Wade Avenue. Taking part in the dedication were (see bottom left photo, l-r): John & Nadine Kay, Frank & Dot Rawley, Bill Swart, Lee Warner, Linda & Ray Cooksey, Pat & Anne Simpson. They led 25-30 residents in singing 2 hymns and told them about the Gideons and the Word of God. They also provided 150 Hospital Testaments, one for each bedside table, and 170 Medical testaments for the staff members. Our thanks to Chandra Warren, Activities Coordinator; Karen Williams, Activity Director; and Felton Wooten, Building Administrator for their help and appreciation. Pray that the residents will be encouraged to seek the Lord as they read His Word and enjoy His presence.
| | |
| --- | --- |
| | |
| Residents gather for song and prayer. | John Kay (l) and Nadine Kay (r) present Bibles to Felton Wooten (building administrator) & Chandra Warren (activities coordinator). |
| | |
| Dot plays while Gideons & Auxiliary sing "Glory to His Name." | Gideons & Auxiliary at Raleigh Rehab Bible Dedication. |
| | |
| Everyone sings "My Redeemer." | (l-r) John Kay, Karen Williams (activity director), Chandra Warren, Nadine Kay. |
<![if !supportEmptyParas]> <![endif]>
Other Scripture Distributions
<![if !supportLists]>· <![endif]>Jan 17—Motel 6, 3921 Arrow Drive. John Kay (left) and Frank Rawley give Hotel Bible to Theresa, the clerk at Motel 6. Eleven Bibles were replaced that day. Theresa decided to receive Jesus a couple of years ago in that very same reception area during a previous Gideon visit.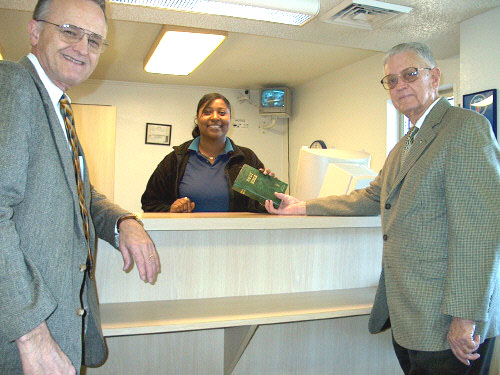 <![if !supportLists]>· <![endif]>January 29, 31—Correctional Institute for Women, Chaplain James Hales. 50 used Bibles, 50 Auxiliary PWTs, 25 Spanish PWTs and 10 Spanish-English New Testaments.
<![if !supportLists]>· <![endif]>February 7—North Raleigh Hilton. 50 Hotel Bibles.
<![if !supportLists]>· <![endif]>February 7—Army Reserve unit, Chaplain Daniel Sun. 100 camouflaged Service Testaments   for a battalion of reserves leaving Saturday, February 8.
<![if !supportLists]>· <![endif]>Through February 12—The Heritage of Raleigh (independent living). 34 Bibles, 36 Hospital Testaments, 20 Medical Testaments.
Church Speaking Opportunities  
Charlie Rabb spoke at the new Bayleaf Baptist Church North Campus on Sunday, February 2. Will Graham (Billy Graham's grandson—Franklin Graham's son), age 28, is the preacher there. Please keep Co-Church Assignment Chairman Larry Davenport in your prayers as he lines up new services. He has called 8 pastors already this week. Call him at 841-4610 or e-mail larrydvnprt@aol.com if you want to schedule a Gideon report.
Praise for these churches and speakers:

Feb 2

Bayleaf Baptist Church North Campus

Charlie Rabb

Pray for these churches and speakers:

Mar 16

North Raleigh Church of the Nazarene

Kyle Compton

May 18

St. Mark's United Methodist Church

TBA
<![if !supportEmptyParas]> <![endif]>
A Wonderful way to Say "I Love You"
With Living Memorial Bibles
EASTER CARDS ARE AVAILABLE -- ORDER NOW!
With Easter coming on April 20, now is the time to order your Easter cards. Celebrate the resurrection of our Lord by sending a gift that can change a life. The cost is 5 for $1.00, and they can be ordered by copying the form below, or after March 1, 2003, printing it from the web site at www.gideons.org. You can send one or more Bibles to a friend, a pastor, or even a Memorial Bible Program donor, and help provide Scriptures in your camp area and around the world. These are the same cards that were introduced last spring. This year, you will want to bless someone with a special gift of Scriptures during the most joyous of all celebrations. Order now so you can send your Easter cards on time!
- - - - - - - - - - - - - - - - - - - - - - - - - - - - - - - - - - - - - - - - - - - - - - - - - - - - - - - - - - - - - - - - - - - - -
EASTER CARD ORDER FORM
Number of                                Amount                                    Method of
Packs ($1/pk of 5)                      Enclosed                                  Payment
__________                                         $_______________                          ______ Check _____ Credit Card
Send to:                                                                                  Credit Card Expiration Date______________________
________________________________________
________________________________________   Credit Card Number_________________________________________
________________________________________
________________________________________    Cardholder's Signature_______________________________________
MAIL TO: The Gideons International, 2900 Lebanon Road, Nashville, TN 37214
- - - - - - - - - - - - - - - - - - - - - - - - - - - - - - - - - - - - - - - - - - - - - - - - - - - - - - - - - - - - - - - - - - - - -
 Memorial Bible Plan Chairman Doug Schmidt (782-5311) encourages us to "use the Memorial Bible Plan, exchange outdated church racks for ones with current prices, and show the video." Remember, for only $1.50 you can get a package of 6 assorted Memorial Bible cards from Memorial Bible Co-Chairman Frank Rawley (847-1366).
Charlotte Scripture Blitz:
You are Needed 
Make your plans now to attend the Scripture Blitz in Charlotte March 23-27. From 200-375 Gideons and Auxiliary are needed to distribute over 50,000 Scriptures to open hands. They will try to touch base with all the area hospitals and universities. Auxiliary are needed for hospitals and rest homes. Eric Howe (former British Isles Trustee, from Scotland) will be the leader and International Representative. The January Tar Heel Gideon contains a registration form on page 4. Pray for willing servants, open doors, open hearts, and souls for eternity. Contact Don Rhodes at 704-394-4811.
Bible Blitzes Around the USA
| | | | | |
| --- | --- | --- | --- | --- |
| Date | Place | Contact | Phone | E-mail/"Snail-mail" |
| March 2-7 | San Jose, CA | Jerry Schrimsher | 510-881-0243 | GideonJerry@hotmail.com |
| March 9-12 | Mobile, Alabama | Jim Blanton | 205-455-2426 | PO Box 794, Grove Hill, AL 36451 |
| March 23-27 | Charlotte, NC | Don Rhodes | 704-394-4811 | CharlotteScriptureBlitz@hotmail.com |
| April 7-9 | Albuquerque, NM | R.E. Stinebaugh | 505-275-3170 | RCStine@MSN.com |
<![if !supportEmptyParas]> <![endif]>
DUES RENEWALS
Haven't paid your dues yet? PLEASE DO IT NOW! You are a much valued member of this ministry. Use your renewal slip or send your check marked "Dues Renewal" for $40 ($55 for Gideon and Auxiliary) to: The Gideons International Headquarters, PO Box 140800, Nashville, TN 37214-0800.
Join us for Prayer and Breakfast!
We would love to have you join us on Saturday mornings for Prayer and Breakfast. We meet at the Clarion Hotel (formerly Fourpoints) across from Crabtree Valley Mall at 7:30 a.m. Breakfast (optional) is at 8:00 a.m. We typically meet in the executive meeting room on the 10th floor. Gideons and Auxiliary are always welcome! For more information, call Lee Warner (846-7726) or Nadine Kay (870-9266).
Camp Calendar
| | |
| --- | --- |
| Feb 18 (7:00pm) | Camp Meeting: One-on-One. Speaker, Jimmie Coggin, Area 7 Director |
| Mar 11 (6:45pm) | Camp Meeting: Church Assignments |
| Mar 17 (6:30pm) | Pastors Appreciation Banquet, Salon ABC, North Raleigh Hilton; Kyle Compton, speaker; Tank Kersey, testimony speaker. |
| Mar 21-22 | NC Camp President's meeting |
| Apr 15 (6:45pm) | Camp Meeting: Camp Elections |
| May 1-4 | 56th State Gideon Convention—Adams Mark Hotel, Winston-Salem |
| May 20 (6:45pm) | Camp Meeting: State Convention Reports |
| Jul 22-27 | 104th International Gideon Convention, Birmingham, Alabama |
Respectfully submitted,
Pat Simpson, Newsletter Editor
(919-877-0434 or e-mail PatSimpsonBooks@cs.com)
<![if !supportEmptyParas]> <![endif]>
This newsletter is published by the Raleigh North Camp of
The Gideons International
P.O. Box 33635
Raleigh NC  27636
Phone: 919:781-0305
January 2003 Status
<![if !supportEmptyParas]> <![endif]>
<![if !supportEmptyParas]> <![endif]>
Return to Top of Page