<![if !supportEmptyParas]> <![endif]>
<![if !supportEmptyParas]> <![endif]>
"Jesus saith unto him I am the way, the truth, and the life:
no man cometh unto the Father, but by me."
(John 14:6—Gideon Scripture Memory Course no. 27)
<![if !supportEmptyParas]> <![endif]>
Reaching Our Potential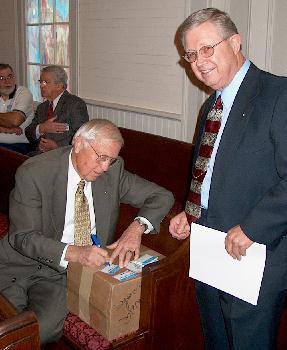 State President Bill Mike
makes name labels for the attendees
(shown here with Jim O'Brien).
"If you're an inactive Gideon, we'll send you an In Memory card. If you're an active Gideon, the Lord has plenty for you to do!"
<![if !supportEmptyParas]> <![endif]>
These words by State Church Assignment Coordinator Lester Shelton pretty much summed up the theme of the Regional Training Seminar held at Berea Baptist Church in Durham, 9:00-noon on Saturday, February 9. There were well over 100 attendees from Area 8 camps and beyond as State President Bill Mike kicked off this fourth in a series of five seminars held all over the state. Present were 7 Gideons and 2 Auxiliary from our camp.
<![if !supportEmptyParas]> <![endif]>
Mr. Mike said, "North Carolina has long been the number one state as far as funds supplied to place Scriptures. But I welcome any other state to pass us only if we have reached our potential. We have not reached our potential yet and that is what today is all about, reaching our potential."
<![if !supportEmptyParas]> <![endif]>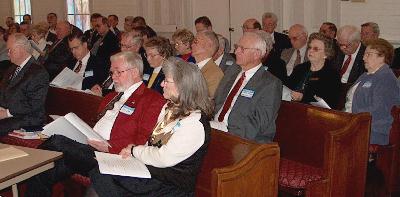 Gideons and Auxiliary
from all over the area
listen attentively.
Recently, revolutionary changes have been made to both the Memorial Bible and Church Assignment programs. During this comprehensive training seminar, a new emphasis was placed on both programs. The basic idea was to impact local camp performance so that more funds will be supplied to place more Scriptures so that more lost souls will be won to our Lord Jesus Christ.
<![if !supportEmptyParas]> <![endif]>
Lester Shelton expanded on the Church Assignment changes and State Memorial Bible Coordinator Phil Williams explained the Memorial Bible revisions. At 10:00 a.m., the seminar broke into two


Everyone

enjoys a delicious lunch,

courtesy of the wonderful ladies

of Berea Baptist Church.

separate sessions for in-depth study of each area. The meetings ended at noon with a wonderful hot lunch for all, supplied by the kind and selfless women of the church. You will be hearing much more about these two programs in the future. Pray that the Lord will bless our newfound efforts.
<![if !supportEmptyParas]> <![endif]>
Nearly Half are Saved at New Hammond Road Jail! 
On Monday, January 14, Wake County opened its new 248-bed addition to the Hammond Road jail. The new beds, plus the 176 already there and 480 at the downtown jail, made the county jail's capacity 904 people. On that Monday, the jail population was 786.
<![if !supportEmptyParas]> <![endif]>
Two weeks later, on Sunday, January 27, our camp visited this newly-renovated jail for the first time. There were 142 "residents" in the facility that night. Before Tom Wallace, J.P. Morris, Garland Tucker and Richard Justice entered the jail they prayed for the Holy Spirit to go before them and speak to the hearts of those He would have them speak to. God did indeed answer that prayer mightily—and 66 prisoners prayed to receive Christ! Acting Jail Chairman Cliff Merrill later said, "As it was told to me, J.P. led the way at Hammond Road!" What an exciting evening! There was truly a HOLY Ghost Revival! Sixty-six lost souls were saved—nearly HALF the jail's population! Furthermore, those residents had been in the system for a while. Men from all six dorms "swarmed" to receive Jesus as their Savior. The Gideons stuck together as a group, occasionally taking one or two men aside for prayer and leading them to Christ.
<![if !supportEmptyParas]> <![endif]>
Meanwhile, at the downtown jail, Charlie Rabb, Malcolm Hawkins, Frank Rawley, Monty Daniels, Steve Blackmon, Ray Cooksey and Cliff Merrill ministered to the residents. Here, prayer was in great demand. Malcolm encountered group after group of men wanting prayer, and spent 45 minutes just at one pod on the eighth floor! In need of paper to expand his prayer list, he used the binder from a sleeve of testaments and filled both sides! The requests are too many for this newsletter but please pray for the needs of those men: Dwayne, Brian, Gary, Danny, Carl, Chris, Giles, Donnell, James and Lester. All of them have problems and all of them need Jesus.
<![if !supportEmptyParas]> <![endif]>
Charlie Rabb encountered a group of 20 men who gathered together to pray with and for him. This group interrupted their Bible study to pray with the Gideons. Monty Daniels said, "I had just walked into the area when a prisoner named Adam asked if I would pray the sinner's prayer with him. He was waiting for me. I didn't have to ask him—he was ready." I said, "You need to read this Bible everyday as the devil will come after you now." He said, "I know that." Please pray for Adam.
<![if !supportEmptyParas]> <![endif]>
Cliff said, "Prayer was requested everywhere we went. Some residents would call us back to pray even more. I returned downstairs to get additional copies of God's Promises and Daily Bread. By evening's end, all 300 Daily Breads and 80 God's Promises were gone!
<![if !supportEmptyParas]> <![endif]>
Dot Rawley was denied access to the ladies that evening. However, she did manage to give out several PWTs through personal witnessing in the lobby and outside areas. Satan may provide obstacles, but other doors are opened. That evening, a total of 229 PWTs, 4 Ladies' PWTs and 54 Spanish testaments were placed.
<![if !supportEmptyParas]> <![endif]>
Six regular Gideon participants were unavailable to attend that night. As you can see, with the Hammond Road opening, more opportunities exist for participation.
<![if !supportEmptyParas]> <![endif]>
Cliff said, "I had the opportunity to fellowship with the Wake South Camp on Tuesday (1/15) and shared the great news. They share witnessing and distribution responsibilities with our camp for this facility on the second Sunday each month. This is a key ministry for them and they were very excited. The harvest reaped by a few is the result of many Gideons and Auxiliary through their prayers and placement of scripture. This is the key to membership in our Association."
<![if !supportEmptyParas]> <![endif]>
Pray for a Spanish-speaking Gideon to join our camp. This is an urgent need for one in our jail ministry.
<![if !supportEmptyParas]> <![endif]>
One-on-One Camp Meeting February 19:
Invite a new Gideon!
Our camp's One-on-One New Member Meeting is scheduled for 7:00 p.m. (not the usual time of 6:45 p.m.), Tuesday, February 19 at Embassy Suites, 4700 Creedmoor Road.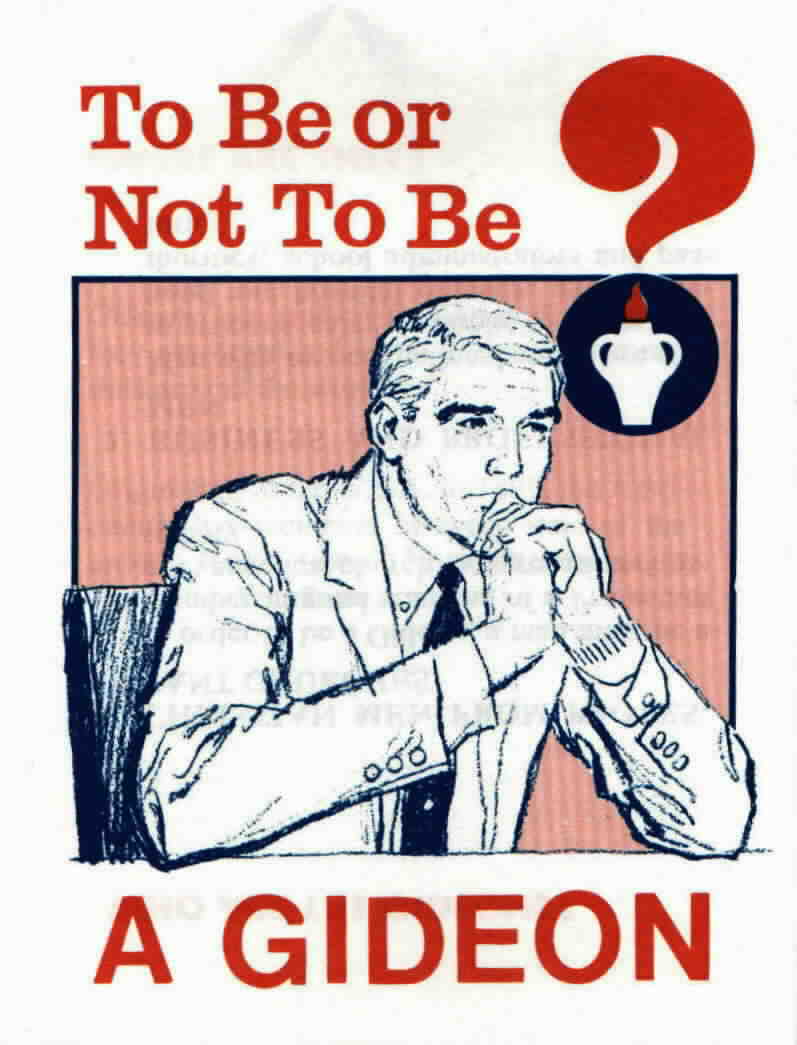 Please note the time change! Camp members should arrive between 6:30 and 6:45. Guests should arrive by 7:00 p.m., at which time the meal will be served. Don't miss this time of food, fellowship and inspiration. Our speakers will be Mike Steiner (Gideon State Vice-president) and Juanita Vickers (Area 8 Auxiliary Memorial Bible Program Assistant).
<![if !supportEmptyParas]> <![endif]>
We anticipate 6 couples and 1 single along with 2 wives as our guests. Let us welcome them wholeheartedly and pray that the Lord will bless this camp with several new committed members. This is very exciting! Praise God for this wonderful opportunity. Our fields are white already to harvest...the opportunities for service are exciting....and the Lord of the Harvest is sending laborers! It is not too late to invite someone—let Membership Chairman Cliff Merrill (844-1418) know right away and he will do the rest. "If you don't know someone who could be a Gideon, you're running with the wrong crowd!" (Bonnie Smith)
<![if !supportEmptyParas]> <![endif]>
Remember, membership opportunities abound everyday. Invite prospects anytime, any month to attend a meeting and to join. February just happens to be our special dinner meeting this year!
<![if !supportEmptyParas]> <![endif]>
If you made a commitment to be at our last meeting but couldn't attend we were still charged for the meal. Please consider offering your meal cost ($15 per person) to the camp fund c/o Gideons International, PO Box 33635, Raleigh, NC 27636.
<![if !supportEmptyParas]> <![endif]>
Counselors Needed in Burlington
Counselors are needed on March 25 as the Burlington camp kicks off its New Member Plan with a dinner. As counselor, you will sit at a table with 1-3 prospects and lead them through a membership flip chart presentation. Prior to the dinner, you will receive all materials and training in what to say, what to do, and how to do it at the table during the meeting. Contact Ray at 919-847-0521.
<![if !supportEmptyParas]> <![endif]>
Continue to pray for Richard Justice and Juanita Vickers, new member training leaders for the Roxboro camp. Richard is busy training the 11 new members.
<![if !supportEmptyParas]> <![endif]>
Auxiliary Describe their Ministry
at January Camp Meeting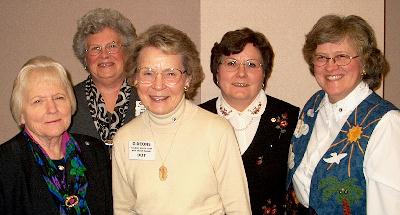 Left to right: Chaplain Glenda Loehman, President Nadine Kay, Scripture Chairwoman Dot Rawley, Secretary/Treasurer Emily Dillard and Vice-president Linda Cooksey.
At our camp meeting January 15, the officers of the Auxiliary presented an outstanding program outlining their function and their ministry. Fifteen ladies and twenty Gideons showed up to enjoy the food and fellowship and to hear what the Auxiliary had to say. For the first time ever, the Auxiliary was in charge of the Gideon program. They discussed their purpose, what they do and what's new in the Auxiliary. At the end of the program, they presented an In Honor card to camp president Richard Justice that said:
"In appreciation for the support, encouragement and prayers the Gideons in the Raleigh North camp provides to the Auxiliary, we have given 5 Bibles in your honor. We thank you for all you do." 
<![if !supportEmptyParas]> <![endif]>
Say "I Love You" on Valentines Day
With Living Memorial Bibles


The new "Thinking of You" cards are now available. Give a Bible in honor of him or her on Valentine's Day! Contact Memorial Bible Chairman Garland Tucker at 785-0404.
<![if !supportEmptyParas]> <![endif]>
Church Assignments
Church Assignment Chairman Doug Schmidt has already received several responses from local churches indicating they would like to schedule a Gideon report in their church (see chart below). Gideon speakers from all over the state will be attending the State Convention here in May. Pray that we select the right speakers for the right churches. Our convention goal is 100 local area church services on Rally Day, Sunday, May 5. If you would like to schedule a Gideon report, contact Doug at home (782-5311) or work (781-0304). Pray for "inactive" churches to respond positively.
<![if !supportEmptyParas]> <![endif]>
Doug reports year-to-date church receipts of $6,151 as of February 6. Our camp goal is $14,000. Please pray that the new Comprehensive Church Relations initiative will show us more ways to build stronger relationships with pastors.
<![if !supportEmptyParas]> <![endif]>
Church Speaking Opportunities
Praise for these churches and speakers:

 Jan 27           Six Forks Baptist Church

Richard Justice

Pray for these churches and speakers:

Feb 24          Creedmoor Road Baptist

TBA

Mar 17          N. Raleigh United Methodist

TBA

Mar 24          Friendship Baptist

TBA

Apr 28          St. Timothy Episcopal

TBA

May 5           Emmanuel Baptist

TBA

May 5           Calvary Presbyterian

TBA

May 19         Wesley Memorial UMC

TBA

<![if !supportMisalignedColumns]>
<![endif]>
<![if !supportEmptyParas]> <![endif]>
<![if !supportEmptyParas]> <![endif]>
<![if !supportEmptyParas]> <![endif]>
<![if !supportEmptyParas]> <![endif]>
<![if !supportEmptyParas]> <![endif]>
<![if !supportEmptyParas]> <![endif]>
<![if !supportEmptyParas]> <![endif]>
<![if !supportEmptyParas]> <![endif]>
<![if !supportEmptyParas]> <![endif]>
<![if !supportEmptyParas]> <![endif]>
<![if !supportEmptyParas]> <![endif]>
<![if !supportEmptyParas]> <![endif]>
<![if !supportEmptyParas]> <![endif]>
Continue to Pray for Victor Goncharenko
International Division Director Don Gleaves was recently in eastern Europe and was able to see Eastern Europe Field Representative Victor Goncharenko. Victor, as was reported in last month's newsletter, was gravely injured in an auto accident in Belorussia. Our camp voted to donate 20 Bibles in honor of Victor during our January meeting.
<![if !supportEmptyParas]> <![endif]>
Brother Don reports that "He is progressing physically but is still suffering from the trauma and shock of the accident. He has good days and bad. Nonetheless, the doctors are pleased with his recovery from surgery on the legs and they are releasing him to a step down unit in another hospital today (1/14). We expect him to remain there for another 10 days to two weeks and then hopefully he can be released to return to St. Petersburg for additional rehabilitation. Ludmilla, his wife and Irene, his daughter, remain with him in Finland. Thank you so much for your prayers. Please continue."
<![if !supportEmptyParas]> <![endif]>
At last report, Victor continues to improve and is responding to his rehabilitation. It would be best to send any correspondence to Victor in care of Mark Rodgers, Assistant to the International Division Director, Nashville. Mark can then forward it on to Victor. 
Faith Fund Update
Good news on our Faith Fund! The Raleigh North Camp is nearing our goal. The Gideon International Faith Fund deficit has decreased from 3.5 million to 600,000 dollars. Don't stop now—the "blue box special" is still on and contributions to the Faith Fund will still be appreciated. Thanks for a good job fellow Gideons. Now let's make it a greattttttt job! Blessings on you all.
Frank Rawley, Faith Fund Chairman
The 100 Day Countdown began January 17. Resolve to save one dollar a day for 100 days until April 26. Then give it to the State Convention Faith Fund (goal $225,000).
<![if !supportEmptyParas]> <![endif]>
Complete your Registration Form
and Mail it Today.
By now you should have received a registration form for the Gideons State Convention, which takes place this year right here in Raleigh May 2-5. Even though you may not be staying at the Raleigh North Hilton, you still need to fill out the form and return it now. Registrar Jim Loehman (847-3009) says, "Pastors and Fellowship Banquet seats are already filling up fast. Get a good seat and sign up now."
<![if !supportEmptyParas]> <![endif]>
Local State Convention Chairman John Kay and Bob Bennett recently completed an excellent 9-minute promotional video about the convention. Lucky attendees of the January 26 Saturday morning prayer morning were the first to see it. All agreed it was very professional and very good. Copies have been sent to every camp president in the state for local viewing.
<![if !supportEmptyParas]> <![endif]>
John and Nadine Kay Missing!
What ever happened to our local State Convention Chairpersons John and Nadine Kay? They turned up missing on January 26 and no one here has seen them since.
Ryazan, Russia
Turns out they have gone to Russia. Mystery solved!
On Saturday, January 26, the Kays left for Russia as part of Operation Carelift 2002 Winter Project, sponsored by the Josh McDowell Ministry Group. (For more info, log on to www.josh.org.) They went to Ryazan, a city of 500,000 about 120 miles southeast of Moscow, and came back on February 9.
<![if !supportEmptyParas]> <![endif]>
In Ryazan, their goals were to share the love of Christ (including the plan of salvation) and to distribute humanitarian aid (clothes, medicines, scriptures, books and gifts) to children and elderly people in such places as orphanages, hospitals, care homes and reformatories. Their 325 fellow missionaries spread out through Russia, Ukraine, Belarus, and Siberia and delivered over 8,000 care packages to numerous cities.
<![if !supportEmptyParas]> <![endif]>
John and Nadine have been sending e-mails home about their very exciting experiences and adventures. Some of you may have already read about overloaded flights, cold weather, breakfast with Josh McDowell, the school for hearing impaired children, the boarding school for mentally retarded kids, soccer on ice, "social orphans," prison for girls, cold weather and more cold weather.
<![if !supportEmptyParas]> <![endif]>
But the Lord has been paving the way for them, allowing them to share the Gospel of Jesus Christ at many opportunities. In spite of illness, having to sleep on creaky straw-mattress beds, and eating plenty of soup and cabbage salad for lunch and supper, they have also had the honor of leading people to Christ and meeting many true warriors of God, some of whom spent years in prison for the Gospel. Welcome back, John and Nadine!
Pay Your Dues

Did you resolve this year to pay your dues before another hour goes by? Did you indeed pay your dues for this year? If not, please do it now. A third notice will be sent on March 28. The cost of printing and mailing this notice to you can be avoided and used to print and ship Bibles instead.

Pay your dues. You'll feel better for it. Extra notices cost money, Bibles and souls!
 
<![if !supportEmptyParas]> <![endif]>
Butner Prison Ministry
Ray Cooksey reports that on Friday, January 11, the Butner Bible class had the largest attendance that he can remember, about 35-40 inmates. The class has just begun studying the book of Matthew as this ministry continues to grow. Please pray for our Gideons that regularly teach the class: Ray Cooksey, John Dillard, John Kay, Jim Loehman, Ron McAdams and Tom Wallace. Also pray that the new warden and new chaplains will be open to the Gideon ministry. If you feel led to this ministry, call Tom Wallace at 919-782-0903. PRAY for this ministry and the prisoners.
<![if !supportEmptyParas]> <![endif]>
MEPS Recruits Need You!
A need for backup volunteers exists at the MEPS (Military Entrance Processing Station). Gideons are needed to present Service Testaments to new recruits and to witness for Christ. Your mission is to offer free copies of God's Word to new recruits while expressing prayers and appreciation for their service to our country. (Read "U.S.A. Military Distribution Guidelines" in your Gideon Guide Book.) Working hours are terrific—7:30-8:00 a.m. on weekdays only. Call Carl Nanney at 876-1973.
<![if !supportEmptyParas]> <![endif]>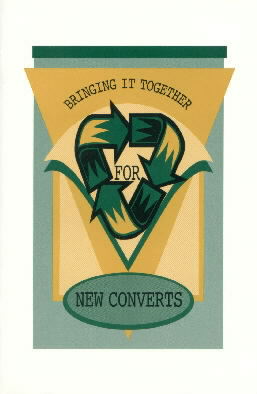 Bringing it Together for New Converts


That's the title of a booklet recently written by Gene Kessler, Outreach Director at Friendship Baptist Church, and sponsored by Jim O'Brien, State Membership Coordinator and member of Wake County East Camp. It was written for brand-new converts such as prisoners or military inductees who want to know more about their newfound faith. The booklet is also "just right" as part of a church visitation package. The cost of the booklet is only $3.00 (to recover production costs) and can be ordered from Jim at home (919-577-2080), cell phone (919-612-5292) or e-mail (jnobrien@mindspring.com).
<![if !supportEmptyParas]> <![endif]>
Heavenly Notes
Missions Festival 2002 is being held at Providence Baptist Church February 15-17. Bill Swart and Bill Schone will be setting up a Gideon Mission Expo booth and invite you to help. Along with 50 other missions, the booth will be open to the public 7:30-9:00 p.m. Saturday, Feb. 16, and 4:30-6:00 p.m. Sunday, Feb. 17.

This will be a special time for church members and the public to interact with missionaries and mission agencies (such as the Gideons). For details call the Missions Office

at 919-326-3000.
On January 14, Frank and Dot Rawley, on behalf of the Auxiliary, provided 50 Hospital testaments and and 50 white medical testaments to Integrated Health Services (IHS), a convalescent home on 3830 Blue Ridge Road.
<![if !supportEmptyParas]> <![endif]>
Saturday Morning Prayer
Join the Gideons and Auxiliary at 7:30 Saturday morning at the Sheraton Four Points Hotel in Crabtree for Scripture reading and prayer. Stay for a great time of fellowship and breakfast! Ladies, please call Nadine Kay at 870-9266 if you plan to attend. Also, please come to the monthly meetings with your husband.
<![if !supportEmptyParas]> <![endif]>
Camp Calendar
Feb 15-17

Gideon Missions Expo Booth, Providence Baptist Church

Feb 19:

<![if !supportEmptyParas]> <![endif]>

Camp meeting—One-on-One Meeting. Speakers: NC Gideon Vice-

president Mike Steiner and Area 8 Auxiliary MBPA Juanita Vickers. 

Mar 2:

<![if !supportEmptyParas]> <![endif]>

State Convention planning meeting—10-12 noon, N. Ral. Church of the Nazarene

Mar 19:

Camp meeting—State Convention planning

Apr 6:

<![if !supportEmptyParas]> <![endif]>

State Convention planning meeting—10-12 noon, N. Ral. Church of the Nazarene

Apr 16:

Camp meeting—Camp elections

Apr 21-27

Bible Blitz—Chicago. Contact Ivan Dremann at 815-379-2380

May 2-5:

State Convention—Raleigh

May 21:

Camp meeting—State Convention returns

Jul 23-28:

103rd Gideon International Convention, Louisville, Kentucky
Respectfully submitted,
Pat Simpson, Newsletter Editor
(919-877-0434 or e-mail PatSimpsonBooks@cs.com)