(Return to Index Page)
Raleigh North Gideon Newsletter
April 2003
"For whosoever shall call upon the name of the Lord shall be saved."
(Romans 10:13)
<![if !supportEmptyParas]> <![endif]>
Meet Your 2003-2004 Camp Officers!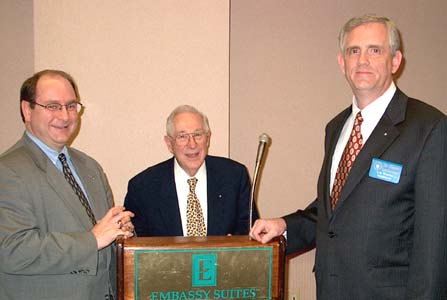 Russ Davis shares a light moment with Malcolm Hawkins (l) and Lee Warner (r).
Our annual camp elections were held at the April 15 camp meeting. They were conducted by Russ Davis, Vice-President of the Raleigh West Camp. Both chaplains were absent but had already agreed to serve. Please pray for God's guidance as your 2003-2004 officers seek to carry out The Gideons' objective: to win others for the Lord Jesus Christ.
Pray that God will fill all the appointed positions. Two of our appointed officers have served three years or more: John Kay, 4 years as Scripture chairman; and Tom Wallace as Prison Chairman. The terms of all officers elected or appointed should be limited to three successive terms.
<![if !supportEmptyParas]> <![endif]>
| | |
| --- | --- |
| | |
| Meet our four Auxiliary officers (From left: Dot Rawley, Chaplain; Emily Dillard, Secretary/Treasurer; Jeannette Daniels, President; Nancy Davenport, Vice-President). | All five Gideon officers were reelected. (From left: Garland Tucker, Chaplain; Malcolm Hawkins, Vice-President; Lee Warner, President; Pat Simpson, Secretary; Richard Justice, Treasurer) |
<![if !supportEmptyParas]> <![endif]>
Meet Jonathan Koch
Meet our newest member, Jonathan Koch, who became a Gideon on March 6, 2003. Jonathan and his wife, Courtney, have lived in Apex for about the last five years. He is from Marshall, Michigan and she is from Grand Rapids. Jonathan is vice-president of Inveresk Research, a clinical research company located on Lake Crabtree in Cary. Courtney is a graduate student at NC State, studying counseling and special education. She'll get her Masters degree in about two weeks.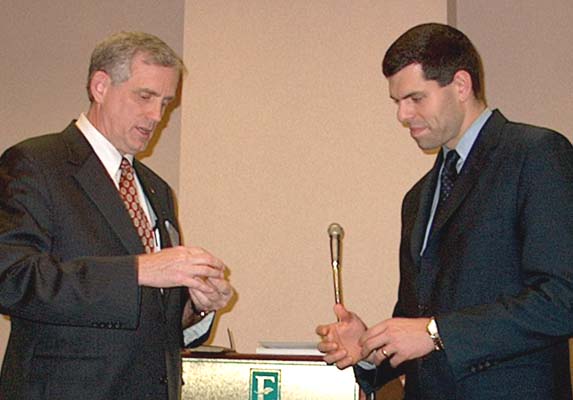 Lee Warner, left, gets ready to pin Gideon emblem
on new member Jonathan Koch.
They are members of North Raleigh Chapel, where Jonathan helps out with the youth group. He recently traveled to Belize as part of a nine-day mission trip with other men of his church. They helped local church members renovate part of their rundown chapel. He says that the work they did was "certainly rewarding and a blessing."
Gideon and fellow church member Jim Doherty got him interested in joining the Gideons. Jonathan talked and prayed with Jim a number of times about the Gideons and, he says, "It seemed like a wonderful ministry and a wonderful opportunity." He doesn't know yet where the Lord will use him in this ministry but he feels "quite comfortable" with campus ministry (outreach, Scripture distribution, etc.). "It wasn't so long ago that I was in college and certainly I wasn't saved then. It would have been such a blessing to have God's word at the time." Welcome to the Gideons Jonathan!
<![if !supportEmptyParas]> <![endif]>
Camp Meeting May 20:
State Convention Returns
Our next camp dinner meeting is scheduled for 6:45 p.m. Tuesday, May 20, 2003 at Embassy Suites (across from Crabtree Valley Mall), 4700 Creedmoor Road. Don't miss this time of food, fellowship, and inspiration. Both the program and the Auxiliary Special Feature will focus on returns from the State Convention.
Note: We try to be good stewards of our resources, therefore if you have confirmed and can not attend we ask that you cover the cost of your meal ($16 per person) with camp treasurer Richard Justice (570-0145).  
<![if !supportEmptyParas]> <![endif]>
State Convention Starts May 1st—
Register Before you go!
It's too late to get the guaranteed hotel rate, but not too late to register BEFORE you go to the 56th Annual Gideon State Convention. Even if you are going just for one day, it is very important to PLEASE REGISTER AHEAD OF TIME! This ensures that your name tag and welcome packet will be ready for you when you arrive. It also helps the Convention Committee plan for the right number of luncheon and banquet meals. And you won't have to stand in line with unregistered last-minute arrivals! This year's convention will be held May 1-4 at the Adams Mark  Hotel in Winston-Salem, N.C. The theme is "Walk Worthy," (Ephesians 4:2). State elections will be on Saturday, May 3, and the Pastors Banquet will be held on Friday night, May 2. New Gideons are especially welcome! Look for a registration form in your March Tar Heel Gideon or contact Ron Hayes at 336-922-2503 (e-mail: rhayes@balinet.com).
While you're at it, look in the April Gideon magazine for a registration form for the 104th Gideons International Convention. This year, you can also register online. Just go to www.Gideons.org and logon. This year's convention will be held July 22-27 at the Sheraton Hotel in Birmingham, Alabama. Take your family. Take your grandchildren. And it's a shorter drive than last year's convention in Louisville, Kentucky!
<![if !supportEmptyParas]> <![endif]>
"Countdown 100" Faith Fund Offering
Your February and March Tar Heel Gideons contained a blue "Countdown 100" envelope. Had you deposited $1.30 per day in the envelope beginning January 26, in 100 days you would have enough to purchase 100 Scriptures to place in outreached hands in over 160 countries. Maybe you haven't started yet but time is running out! The convention starts in two weeks (May 1). Please give or send your Faith Fund Please Countdown 100 now to Camp President Lee Warner (846-7726) before he leaves for the convention. If you've lost the envelope, don't worry—he has more!
<![if !supportEmptyParas]> <![endif]>
God's Answer to Prayer at WakeMed
Dot Rawley reports that the Lord recently answered prayer by allowing Gideon Bibles and Auxiliary Medical Testaments into WakeMed hospital, after a break of several years. Our camp assisted Raleigh East camp in this effort. It turns out that Beth Black, who is the wife of Bob Black (a member of our camp), is a volunteer chaplain at WakeMed. Dot says, "About a year ago that we contacted Beth about getting Bibles into their 'heart inn' for families—28 rooms where families can stay overnight close to their loved ones who are patients. Recovering heart patients can also use it as sort of a halfway house before they return home."
After many months of prayer about this, Beth found herself in a meeting one day attended by all the "right people." At the Lord's urging, she asked them for permission to place Bibles in the nightstand drawers of these rooms. They said, "Yes! We want them!" Auxiliary President Nadine Kay then asked Dot if Beth would also make Medical New Testaments available to everyone in the entire hospital work force who wanted them. Beth wholeheartedly agreed and so, on February 24, 2003, Scripture Chairman John Kay delivered 28 full-size blue hotel Bibles and 100 Medical Testaments to Dot's home. Then Dot's husband Frank delivered them to Beth's home.
This was a joint effort by both camps but from now on Shirley Evans, Raleigh East Auxiliary President, will be Beth Black's contact. Dot says, "To God alone be all the glory! Praise the Lord for answering prayers!"
<![if !supportEmptyParas]> <![endif]>
Visit to Raleigh City Police Cadets Planned
As most of you know (or should know), Charlie Rabb and much prayer have been instrumental in getting us permission to place Service Testaments with NC State Highway Patrol graduating cadets and, as reported in last month's newsletter, with Wake County Sheriff deputy cadets. And now Charlie reports that we may soon visit the Raleigh City Police cadets. Charlie says, "This means we will cover all three law enforcement agencies in our camp territory—a 'trifecta,' if you will!"
Charlie got everybody he knows to pray for the city cadets, including the entire leadership of his BSF (Bible Study Fellowsip) class. Eventually he was able to contact Raleigh Police Chief Jane Perlov to see if things could be worked out. "I promised we would give the cadets Service Testaments exactly the same way we give them to the other cadets," said Charlie. "We ask them if they want a Bible. If they do, we give them one. If they don't, we move on. No preaching. No reading Scripture. No praying. We just give them a Bible."
Chief Perlov seemed very agreeable to this. She said she would contact the head of the cadet school and get back to Charlie soon. At this date plans are underway for a time and date to make this distribution. Please pray for the success of this undertaking.
<![if !supportEmptyParas]> <![endif]>
Pastors Appreciation Banquet:
Monday, March 17
This year's superb Pastors Appreciation Banquet was held on Monday evening, March 17, at the North Raleigh Hilton. Our speaker was Kyle Compton, former Gideon State President of Virginia. The testimony speaker was Mike "Tank" Kersey, a former biker from Archdale, North Carolina.who was featured in the Aug/Sept 2002 issue of The Gideon (p. 32). Some of you may remember his testimony from the Louisville Convention last summer.
Special music was provided by Jeremy Funk (singer) and Kenyon Clark (piano), a duet from Forest Hills Baptist Church. Jeremy is an R&D Chemist for The Dow Chemical Company. Kenyon was part of the original Kingsboys quartet, which criss-crossed the country for ten years (1982-1992) in a Silver Eagle bus singing to thousands of Gospel music lovers. 
Moderator Cliff Merrill kicked off our slate of speakers by introducing us to Kathy Gross, Secretary-Treasurer of the Raleigh East Camp. Kathy gave us an up-to-date report on what God has been doing through the Auxiliary. She reminded us of the purpose of the Auxiliary—to assist the Gideons in accomplishing their single objective: "To win others for the Lord Jesus Christ." She reminded us of the three functions of the Auxiliary: prayer, witnessing and service.
Testimony speaker Mike "Tank" Kersey bought his first motorcycle at the age of 16 and began a life of liquor, drugs, and crime. He married his wife, Pat, when they were both 17 years old. They had two children over the next 6 years and tried to straighten out their lives, but things kept getting worse and worse. While Pat stayed home to raise the children, Tank spent years traveling all over the USA lying, cheating and stealing. He had pockets full of money, but no peace in his soul.
Then one night in a Missouri motel room he held a pistol in his hand and contemplated killing a man over a deal that had gone bad. As he sat on the bed and pondered what to do, he thought about how his life was falling apart because of drugs. It made sense to him that he should just take his own life instead.
"But my eyes were drawn to a Gideon Bible on the bedside table," he said. "I picked it up and started reading about a man named Jesus. It wasn't long before I got down on my knees, crying, and asked the Lord to save me. And He did save me and He forgave me of all my sins!"
Soon, Pat also gave her heart to the Lord. They began a ministry in a local church and Tank even became a choir director. But one day, he felt the Lord was calling him to go back to the bikers, this time as an evangelist. He started a ministry called "His Laboring Few: Biker Ministry of Jesus Christ." Tank says, "Now I serve God through a ministry to bikers, and have seen much fruit in this often-ignored mission field. I thank God for that Bible in that motel room. It was there when I needed it most." You can see his "revival tent" at biker meets (such as Myrtle Beach) where free food and the Word of God is given out.
<![if !supportEmptyParas]> <![endif]>
Kyle Compton at the podium.
Kathy Gross gives Auxiliary report.
"His Laboring Few"
From left: Kyle and Hazel Compton,
Pat and Mike "Tank" Kersey
Wake County Jail Chaplain Bettye Poole (left)
shows off her teapot favor to Liz Merrill and Nadine Kay.
Special music was provided by
Jeremy Funk (singer) and Kenyon Clark (piano).
<![if !supportEmptyParas]> <![endif]>
Main speaker Brother Compton has been a Gideon for 40 years and is past Gideon State President of Virginia. He has also served on two EAPs (Extension Action Programs) to Africa and Spain. He has held various positions on the Virginia State Cabinet and is currently serving as camp Membership Program Assistant. A retired Division Manager with Robertshaw Controls Company in Independence, Virginia, brother Compton and wife Hazel make their home in Galax, Virginia. They have four children, all grown with families.
Brother Compton told the story of a Buddhist trainee who was sick and went to a cabin to die. A neighboring 13-year-old girl cared for him and brought a little Gideon Bible with her every day. She would say, "Sir, you need to read this Bible!" After several days he relented and let her begin to read it aloud. But she learned that he was dying of TB and said, "Sir, you don't have time to read all of this," and went straight to the book of Matthew where she read to him about the birth of Jesus. He converted from Buddha and lived in Christ!
Brother Compton asked the ushers to take up the Faith fund offering. Our Faith Fund Focus country was Malawi. Camp Treasurer Richard Justice later reported that $5,930.61 was given, which far exceeded our goal of $5,000! A total of 103 meals were paid for, 41 of which were for Gideons and Auxiliary members.
<![if !supportEmptyParas]> <![endif]>
Jail Ministry:
Like Father, Like Son
John Gaydos and Steve Wilson had a wonderful experience during their visit to the Wake County Jail on Sunday night, March 23. John says they had to spend an extra hour on their floor because the Holy Spirit was moving so mightily amongst the men. They witnessed six men come to the Lord and they believe that most of them were truly sincere because they were crying and rejoicing. Praise the Lord for a wonderful night. So many men came forward that they ran out of most materials. And they had some great prayer time and discussions with the men.
John reports this sad but touching episode: One of the men said his son was also in jail in the other section. He asked John and Steve to go over there and call out his son's name and pray for him! Think of it—father and son in the same jail at the same time! He said his son would not respond or come forward to the Gideons unless we called out his name. So we went over to the son's section and called out his name and indeed he did come forward. He left his card game and was willing to accept prayer and seemed to be somewhat touched by the request of his father. But afterwards he returned to his card game and did not participate in the discussion and prayer with the other men.
Most of the men there will do anything they can to heal a broken relationship with their wife, their kids, their family, etc. They always ask us to pray for their court dates or to be released, but the most common thing is to pray for relationships with their wives and children. We tell them the first thing they need to do is restore their relationship with the Lord.
Gideons and Auxiliary that night gave out 145 PWTs, 34 Spanish New Testaments and 37 Auxiliary PWTs. Visiting the main jail were: Charlie & Karen Rabb, Cliff & Liz Merrill, Bill Flythe, Steve Blackmon, Bill Hudson, John Massey, John Gaydos, and Steve Wilson. Richard Justice and Tom Wallace visited the Hammond Road Annex, where they led 11 more people to the Lord. Tom says, "That's the most we've had at Hammond Road in many months."
P.S.  Our prison ministry has become even more important with the absence of Bettye Poole, who was jail chaplain for several years. She was let go in February 28 due to budget cuts. Sadly, there is no longer a chaplain position in the Wake County Jail system.
<![if !supportEmptyParas]> <![endif]>
Butner Prison Ministry
Our Gideon-led Bible study continues to meet Friday nights from 6:30—8:30. If you want to be part of this ministry, call Prison Chairman Tom Wallace at 782-0903. Tom reports that on Friday night, April 18, Tom and John Dillard plan to show "The True Easter Story," a 45-minute video filmed in the Holy Land and presented by historian and evangelist Ray Vanderlaan. Tom also plans to bring a dogwood blossom and explain the story of the dogwood ("the Easter tree") as it relates to Christ.
There will be a Volunteer Recognition Dinner at the Federal Correction Training Center to honor all prison volunteers, including every security-qualified volunteer from our camp, along with a spouse or a guest. It will be held from 6:00—8:00 p.m. on Tuesday, April 29. Among the activities planned that night will be food, fellowship, music and a Volunteer-of-the-Year award.
<![if !supportEmptyParas]> <![endif]>
Repair Work
Found while surfing the Internet:
It's a startling statistic: One out of every 32 adults in America last year was either behind bars, or on probation, or on parole. That amounts to 6.6 million people—up 150,000 or 2.3 percent from the year before. Average annual growth in that category between 1995 and 2001 was 3.6 percent.
…Not a single person talked about the righteous living that keeps people out of jail in the first place. No one talked about the fact that Gideon Bibles are permissible in prisons, but not in schools. Nobody mentioned what might happen if in those Bibles, folks started reading seriously lines that promised: "Blessed is the man who walks not in the counsel of the wicked, nor stands in the way of sinners, nor sits in the seat of scoffers."
Sadly, vast segments of American society are devoted these days to repair work. It seems a lot less popular to apply yourself to building things right in the first place.
(found at http://www.worldmag.com/world/world_ad.asp?which=BelzAd)
<![if !supportEmptyParas]> <![endif]>
Scripture Placements
Charlotte Blitzed!
Ray and Linda Cooksey were part of the recent 4-day Charlotte Scripture Blitz, which took place March 23-26. Ray says many hotels were covered as well as the Central Piedmont Community College, where 3,500 Scriptures were placed and more than nine salvations took place. Over 27,000 Scriptures were distributed in the 4-day blitz.
<![if !supportEmptyParas]> <![endif]>
Camouflaged Testaments Praised by National Guard
The March issue of the Tarheel Guardsman contains an article titled "Gideons Donate Bibles to National Guard Soldiers and Airmen." In it, Capt. Robert Carver, NCNG PAO, praises Scripture Chairman John Kay's donation on January 17 of hundreds of camouflaged Gideon New Testaments from our camp to the men and women of the North Carolina National Guard. (See the February camp newsletter.) The National Guard has provided Bibles to the troops since The Gideon organization began supplying them in 1941. There is also a photo of Maj. Gen. William E. Ingram, Jr. looking on as his wife, Lil, inscribes one of the donated Bibles. (Thanks to Gary Pendleton for passing this on to John Kay.)
The April Gideon Information Bulletin reports that through February, more than 631,000 Service Testaments have been shipped this fiscal year. Pray for the men and women of our armed forces in these difficult times. 
<![if !supportEmptyParas]> <![endif]>
About Military Scriptures
The following note was sent to NC Gideon State President Mike Steiner from William R. Walters, Human Resources Manager at Gideons International Headquarters.
It was in response to many questions about Military Scriptures for our service folks.
Mike passed it on to us for our information:
Dear Mike:
Your email about Bibles/New Testaments has come to me as I am in charge of Scriptures for the military all over the world. I'm happy to advise that The Gideons International has provided over 650,000 copies of God's Word to our military since June 1 [2002]. I have personally been involved in having New Testaments shipped to most military bases in the USA as well as many countries around the world. These orders range from 100 to 10,000 copies. Just two weeks ago we shipped an order of 5,000 to Turkey.
The Gideons International has been providing God's Word to the military chaplains since 1941 free of charge. The first 50,000 Testaments had been completely distributed to servicemen by April, 1941, some eight months before the bombing at Pearl Harbor.
All a military chaplain has to do to get free Bibles/New Testaments from The Gideons International is to contact us. We praise God that since June 1, we have not had to deny a single order for Scriptures for the military because of a lack of funds. This is because of the faithful financial support of churches and individual Christians like you. The Testament we give to the military costs $1.30 each. God is providing His Word to our troops!
The following is our "form dear chaplain" letter giving the guidelines:
<![if !supportEmptyParas]> <![endif]>
Dear Chaplain, Assistant Chaplain or Military Personnel:
We acknowledge with thanks receipt of your request for Scriptures to be distributed to U.S. military personnel.
It is our policy that Scripture requests must be received from the military chaplain. The following guidelines should answer any questions that you may have concerning the approved use of Gideon Scriptures provided to military chaplains.
The Gideons are glad to supply, free of charge, a vest pocket size New Testament with Psalms and Proverbs (Green Camouflage or Desert Camouflage for US Army and Marine Corps Personnel; Dark Blue for Navy, Air Force Coast Guard and MEPS), to every member of the U.S.A. Armed Forces and to patients at U.S. Veterans Administration hospitals. The Testaments are to be presented by Gideons or by the Military Chaplain assigned to such units. Chaplains may order these Testaments either through the local Gideons or the Nashville Gideon Headquarters Office. No provision is made for presenting Testaments to families or dependents of service personnel or to Nationals in other countries.
Complete Bibles are available to Chaplains for placement in day rooms, libraries, and guardhouses on military bases and military chapels. The Gideons do not have a program to supply Bibles for quarters, barracks, Bachelor Officer's quarters (BOQ's) or military guesthouses, either permanent or temporary. The complete Bible is not given to individual servicemen or their dependents.
Hospital Testaments with Psalms (or complete Bibles when specifically requested) are available at the bedside in base hospitals or in U.S. Veterans Administration hospitals. Nurse Testaments may also be provided for presentation to the nurses working at such hospitals. Whenever possible these Nurse Testaments should be presented to the nurses by members of the Auxiliary (wives) of The Gideons International, although the presentation may be made by the Chaplain in charge, if necessary.
We enjoy a very fine relationship with Military Chaplains throughout the world. If you need Scriptures to be used in accordance with these guidelines, please contact us and tell us how they are to be used and how many of each kind you need (Green Camo, Desert Camo, and /or Dark Blue. We have the King James or New King James Versions.
Sincerely yours in Christ,
William R. Walters, Human Resources Manager
Tuesday, April 01, 2003
<![if !supportEmptyParas]> <![endif]>
Church Speaking Opportunities  
Church Assignment Co-Chairmen Cliff Merrill and Larry Davenport continue to make contacts and arrange services. Keep praying for their success! 
Praise for these churches and speakers:

Mar 16

North Raleigh Church of the Nazarene

Kyle Compton

Mar 16

Six Forks Baptist

Richard Justice

Mar 23

Creedmoor Road Baptist (25-min.)

Charlie Rabb

Apr 9

North Ridge Bible Chapel

Ray Cooksey

Pray for these churches and speakers:

Apr 27

Emmanuel Baptist Church

Cliff Merrill

May 18

St. Mark's United Methodist Church

TBA

May 18

Ridgecrest Baptist

TBA

Jul 27

Westminster Presbyterian

TBA
<![if !supportEmptyParas]> <![endif]>
A Wonderful way to Say "I Love You"
With Living Memorial Bibles
Memorial Bible Plan Chairman Doug Schmidt (782-5311) says, "We thank God for encouraging so many people to use the plan but we are still about $3,000 short of our goal of $27,600 for the fiscal year (ends May 31). Please use the Memorial Bible Plan, exchange outdated church racks for ones with current prices, and show the video.
Thinking of You:  Congratulations to Erik and Tiffany Hanvey, parents of a healthy beautiful set of twins, born on March 14, 2003. Ava Franklin Anne was born at 9:40 pm and Whitfield Katie May at 9:41 pm.  Ava weighed 5 lbs., 7 oz and Whit weighed 4 lbs, 15 oz. The parents got to take them home when they left the hospital. The twins already have a big sister, two years old. Edd K. Roberts, also a member of this camp, is Tiffany's father. He now has two new granddaughters to spoil! Thinking of You cards may be mailed to: Erik & Tiffany Hanvey, 8713 Paddlewheel Drive, Raleigh, NC 27615.
<![if !supportEmptyParas]> <![endif]>
Gideon Takes Bite out of Crime
From The News & Observer, April 14, 2003, written by Ryan Teague Beckwith and Sarah Avery.
David Martin, 75, Raleigh real estate developer and longtime member of the Raleigh West camp, tried to take a bite out of crime and ended up getting bitten. Now it's the treatment he received from Wake County health officials that has him sore. He was at Big Lots on Western Boulevard Saturday afternoon when he heard a woman yelling that a man had stolen her purse.
He saw a man running with the purse and lit out after him. With the help of two other men, Martin subdued the man in the parking lot. During the scuffle, the man bit Martin on the upper right arm, drawing blood.
"I mean, he just clamped down like a bulldog and wouldn't let go," Martin said.
Martin, a middleweight boxing champion in the Coast Guard in 1946, said he hit the man on the jaw and, with the help of the other men, got his arm free.
Police arrived and arrested Horace Lee Jones, 50, of 3037 Woods Place in Raleigh. He was charged with felony larceny and simple assault. He was being held Sunday night in the Wake County jail on $6,000 bail.
Paramedics treated Martin's wound at the site but suggested he try to have Jones tested for hepatitis B, a disease transmitted by infected blood that causes liver damage.
It was then that Martin said he got stung by health officials.
Doctors recommend that people who may have been exposed to hepatitis B get a vaccination and a shot of chilled hepatitis antibodies within three days while the other person is tested for the virus.
Martin said he contacted Wake County health officials, who told him they could not compel Jones to give blood since the victim of the bite wound was not a police officer or other emergency worker.
Dr. Peter J. Morris, medical director of Wake County Human Services, declined to discuss the specifics of the case "for confidentiality reasons," but he said that the policy is to encourage voluntary testing first and seek a court order if anyone -- police, paramedic or not -- is at risk.
Martin maintains that is not what happened.
With the help of his son-in-law, Assistant U.S. Attorney Eric Evenson, Martin said he contacted two county commissioners and the county health director and got their permission to have the tests done, but health officials wanted Martin to be tested, too.
"They almost turned the whole thing on its head," Evenson said. "It was almost as if the victim of the biting was the one who had to be tested more so than the one who did the biting."
Martin said the experience left him with a bad taste in his mouth.
"Any citizen of North Carolina shouldn't be treated this way," he said. "I was just being public-spirited. What this is telling people is not to get involved."
Sunday night, officials said Jones was willing and blood had been drawn.
<![if !supportEmptyParas]> <![endif]>
Join us for Prayer and Breakfast!
We would love to have you join us on Saturday mornings for Prayer and Breakfast. We meet at the Clarion Hotel (formerly Fourpoints) across from Crabtree Valley Mall at 7:30 a.m. Breakfast (optional) is at 8:00 a.m. We typically meet in the executive meeting room on the 10th floor. Gideons and Auxiliary are always welcome! For more information, call Lee Warner (846-7726) or Nadine Kay (870-9266). 
Camp Calendar
May 1-4

56th State Gideon Convention—Adams Mark Hotel, Winston-Salem

May 20

(6:45pm)

Camp Meeting: State Convention Reports

Jun 14

The Gideons International Day of Prayer

Jul 22-27

104th International Gideon Convention, Birmingham, Alabama

Aug 29-Sep 1

Bonclarken Zone 10 Annual Labor Day Retreat; Paige Patterson, main speaker. (Contact Jon Schweigert at 864-458-7989 or e-mail: jonREschweigert@aol.com)
<![if !supportEmptyParas]> <![endif]>
Respectfully submitted,
Pat Simpson, Newsletter Editor
(919-877-0434 or e-mail PatSimpsonBooks@cs.com)
<![if !supportEmptyParas]> <![endif]>
This newsletter is published by the Raleigh North Camp of
The Gideons International
P.O. Box 33635
Raleigh NC  27636
Phone: 919:781-0305
WEB: http://members.tripod.com/patsnews
March 2003 Status:
<![if !supportEmptyParas]> <![endif]>
Return to Top of Page