Sam Spilman left 25 Bibles with new covers for Frank Rawley to take to the jail. Dot Rawley distributed 36 Spanish/English New Testaments and Hospital New Testaments at the Raleigh Rehabilitation and Healthcare Center.


Bill Swart on Fire
Bill Swart has been distributing Service Testaments at fire stations and EMT stations. He visited fire stations 6, 9, 15, Six Forks Volunteer and Bayleaf Volunteer. He also visited the EMT station near Effie Green School on Six Forks Road. So far he has given out a total of 37 Service Testaments. Bill says he witnessed at each station and was able to point out the plan of salvation. At one station, he says, the captain jumped right in and began telling his mates how important the Bible was. Bill says, "He got in more words than I did!"
Recently, Bill bought 100 PWTs and began distributing them himself to members of his Sunday School class at Providence Baptist Church. They had been learning about the importance of personal evangelism and Bill wanted to show them how we Gideons do it. At the church's men's breakfast last Tuesday, April 2, he gave a Gideon talk and passed out 56 testaments. The response was very positive. Bill told them, "If I can do it, you can do it. Anyone can witness. If you are able to give one of these away as a result of witnessing, I'll get you another!"
An Offer you Can't Refuse
Confused? Don't know how to logon to our camp's website? Don't know the difference between a gigabyte or a pillow fight? DON'T GET MAD, GET JIM! Jim Loehman will teach you from scratch, if need be. He will help you determine your requirements and will even go with you to the store, help you pick out a computer (you supply the money), and teach you how to get on the Internet and read the camp newsletter. All this for free! Such a deal! Don't pass this one up!
<![if !supportEmptyParas]> <![endif]>
100-Day Countdown Ends Soon
The 100 Day Countdown, which began January 17, ends April 26. By then, you have hopefully saved one dollar a day for the Faith Fund, making a total of $100. Please return it to our Camp President by April 30th so he can remit it towards the State Convention Faith Fund goal of $225,000. Thank for more money for more Scriptures to win more souls for Jesus.
<![if !supportEmptyParas]> <![endif]>
Say "I Love You"
With Living Memorial Bibles
What with high school and college graduations and Mothers Day coming up soon, now is the time to get your supply of In Recognition, Thinking of You and In Memory cards. Order them online (www.gideons.org), from a merchandise order blank, or contact Memorial Bible Chairman Garland Tucker at 785-0404.
In Memory:  Daniel P. Harris, 86 went to be with the Lord on March 20, 2002. He was bedridden for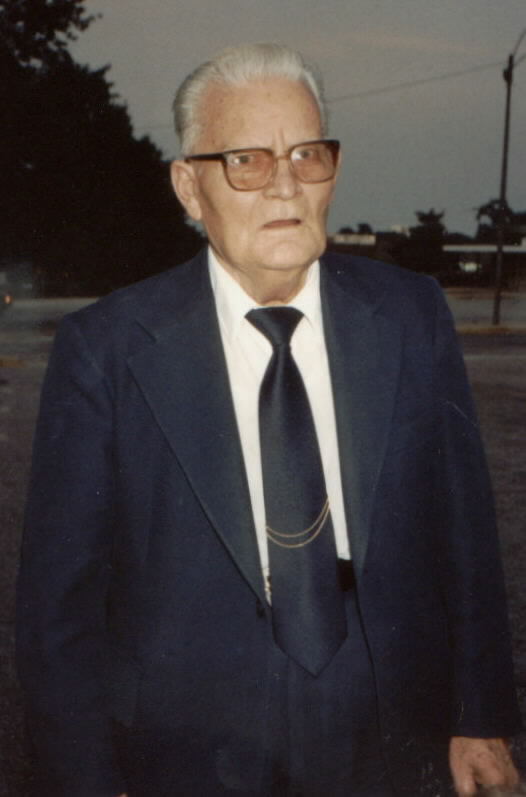 the last 8-10 years and is preceded in death by his wife of 44 years, Virginia Harris. Dan was an active member of Longview United Methodist Church and Gideons International. He was employed with the Department of Community Colleges for 31 years and was a retired Lieutenant Colonel in the US Air Force.
Those that knew Dan loved him. He was in the Raleigh East Camp for many years and was a very faithful Gideon who always took care of Bible distributions. Gold Hotel Bibles were his trademark because that was his favorite color. It seemed that the hotels under his charge had nothing but gold Bibles for many years. Dan and Virginia would spend nearly every Sunday going to retirement homes and talking to the people about Jesus. Those who knew him will miss him terribly. But we know he has gone to a better place with Virginia and Jesus. 
The family invites you to leave a memory or message in the Guest Book by going to www.montlawn.com and clicking on Remembrance Registry. Or send In Memory donations to the Gideons.
In Recognition: 
Sam and Karen Spilman, who are moving to Florida April 27, 2002 as a result of his job promotion. Our State Cabinet will be minus one heck of a good State Secretary. And our camp will sorely miss these two faithful members whom we have come to love. I worked with Sam as newsletter co-editor during last year's International Convention in Charlotte and as co-publicity chairman on this year's State Convention. I have told more than one person (including his mother!) that I have grown to love and respect Sam almost as a son. When I asked him if he could share some final words of wisdom to the camp before his departure, Sam sent the following:
<![if !supportEmptyParas]> <![endif]>
"I have thoroughly enjoyed being a part of the Raleigh North Camp. It is a model guidebook camp with a strong Auxiliary and is an example for others.
<![if !supportEmptyParas]> <![endif]>
"In addition to following the guidebook and God's leading, I think the real strength of the camp comes from letting each member feel needed and letting them use their talents in the area that God has directed. Involving others instead of one person controlling all has been a key to success.
<![if !supportEmptyParas]> <![endif]>
"Being that the camp is strong, I would challenge the members to make
sure that they help other camps succeed. Examples of this include Pat
helping in the Raleigh West New Member Plan (NMP), Richard helping the Roxboro camp, and Ray serving as the Area Director for Area 8. We should want to help all camps become strong!
<![if !supportEmptyParas]> <![endif]>
"Karen and I will miss the fellowship and love that we have experienced in the camp. We will pray for you; please pray for us."

Sam Spilman, P.E.
Director, Distribution Engineering & Operations
3300 Exchange Place; NP4D
Lake Mary, FL 32746
Bell: (407) 942-9481 VNet: 280-2481
e-mail: sam.spilman@pgnmail.com
<![if !supportEmptyParas]> <![endif]>
Church Assignments
Learned at the March camp meeting: Under the new Comprehensive Church Relations Program, the camp president, in coordination with the church assignment chairman, assigns each church to a particular Gideon (church representative), or a two-man team. The function of the Church Representative is to:
<![if !supportLists]>1. <![endif]>Develop a relationship with the pastors and congregations assigned to him.
<![if !supportLists]>2. <![endif]>Secure attendance from the church for the Pastors Appreciation Banquet.
<![if !supportLists]>3. <![endif]>Secure the Church Service.
<![if !supportLists]>4. <![endif]>Promote the Memorial Bible Program.
<![if !supportLists]>5. <![endif]>Secure Membership Recommendations.
<![if !supportEmptyParas]> <![endif]>
Church Speaking Opportunities
Church Assignment Chairman Doug Schmidt would like to encourage any of our speakers (prospective and otherwise) to order an excellent new book entitled Church Speaker Development. It is available free from Gideons International (form 213). You can order it online (www.gideons.org) or from a merchandise order blank.
<![if !supportEmptyParas]> <![endif]>
Praise for these churches and speakers:

Mar 17

North Raleigh UMC

Cliff Merrill

Mar 24

Friendship Baptist

Roger Turner

Pray for these churches and speakers:

Apr 7

Ridgecrest Baptist

Richard Justice

Apr 28

St. Mark's United Methodist

Charlie Rabb

Apr 28

St. Timothy Episcopal

Garland Tucker

Apr 28

Woodland Baptist

Cliff Merrill

May 5

Emmanuel Baptist

TBA

May 5

Calvary Presbyterian

TBA

May 5

Crabtree Valley Baptist

TBA

May 5

New Light Church of God

TBA

May 5

North Haven Church

TBA

May 5

Mt. Olivet Baptist

TBA

May 5

Falls Baptist

TBA

May 5

Grove Park Chapel

TBA

May 5

Westminster Presbyterian

TBA

May 8

North Raleigh Chapel

Jim Knox

May 12

Mt. Vernon Baptist

Tom Hopper

May 26

Wesley Memorial UMC

Ray Cooksey

July 7

Victory Baptist

TBA
Our convention goal for the 4-camp Raleigh area is 100 local area church services on Rally Day, Sunday, May 5. If you would like to schedule a Gideon report, contact Church Assignment Chairman Doug Schmidt at home (782-5311) or work (781-0304). Pray for "inactive" churches to respond positively.
Garland Tucker recently received $500 from a church with less than 12 people.
Ray Cooksey spoke at a church in Hope Mills (Fayetteville West) on Palm Sunday, March 24. When it was prayer time a young lady in the choir stood up and said, "I want to thank the Lord for the Gideons. Just a few years ago, when I was in college, I saw these men handing out little Bibles on campus. I thought to myself how silly that was, but I got one. A couple of days later I went out drinking with my boy friend and we had a fight. About three o'clock in the morning, I was in need of some spiritual help. I rummaged through my backpack and found that little Bible. I started reading it and it answered my spiritual concerns. Two years later, I gave my heart to the Lord because of that little Bible."
Ray said, "She gave a much better report than I did!"
<![if !supportEmptyParas]> <![endif]>
Jail Ministry
Special night for the Auxiliary: It was Palm Sunday, March 24, time for our camp's monthly visit to Wake County Jail. For the first time in three months, the Auxiliary was able to visit the women residents. Exciting news—new Auxiliary member, Liz Merrill, made her first visit to the jail. She really enjoyed the visit, jumped right in and is looking forward to returning! Her husband Cliff (acting Wake County Jail Chairman) says, "I am very proud of Liz and encouraged by her participation in the Auxiliary and the jail ministry. She now understands why I enjoy it so much!"
<![if !supportEmptyParas]> <![endif]>
The 21-day man: Charlie Rabb was still on the street outside the jail when he met a man who appeared very distraught. Charlie grabbed a PWT (Personal Worker's New Testament), walked up to him and said, "Can I help you?"
The man said, "What do you mean?"
Charlie said, "You just look like you need someone to talk to."
It turns out the man was getting ready to enter jail for the first time in his life. It was Sunday evening, the beginning of his 21-day work-release sentence. For the next 21 days, he would work outside during the day but spend his nights in jail. He was very troubled and didn't know where to turn.
Charlie asked him, "Do you know Jesus Christ as your Savior?"
"No," was the answer. Charlie took out his PWT and went over God's plan of salvation with him. Then he placed God's Word in the man's hands.
"They're not going to let me take that in there," the man said, now in tears.
"Oh, they'll let you take it in," said Charlie.
The man said he would read it and study it and think about what Charlie said to him. As Charlie was getting on the elevator with Cliff Merrill to visit prisoners, he looked down the hallway and saw the man one more time. He was waiting for an officer to take him to his cell. The man raised that little Bible up at him as if to say, "It's going to be all right, now."
Later, Charlie and Cliff visited a Bible study group and juveniles on the eighth and ninth floors. But all that night, Charlie prayed for that 21-day man.
<![if !supportEmptyParas]> <![endif]>
The rest of the story: Besides Dot and Liz, the Gideons were represented by (photo, l - r): Monty Daniels, John Dillard, J.P. Morris, Cliff Merrill, Charlie Rabb, Ray Cooksey, Tom Wallace, Steve Blackmon and Richard Justice.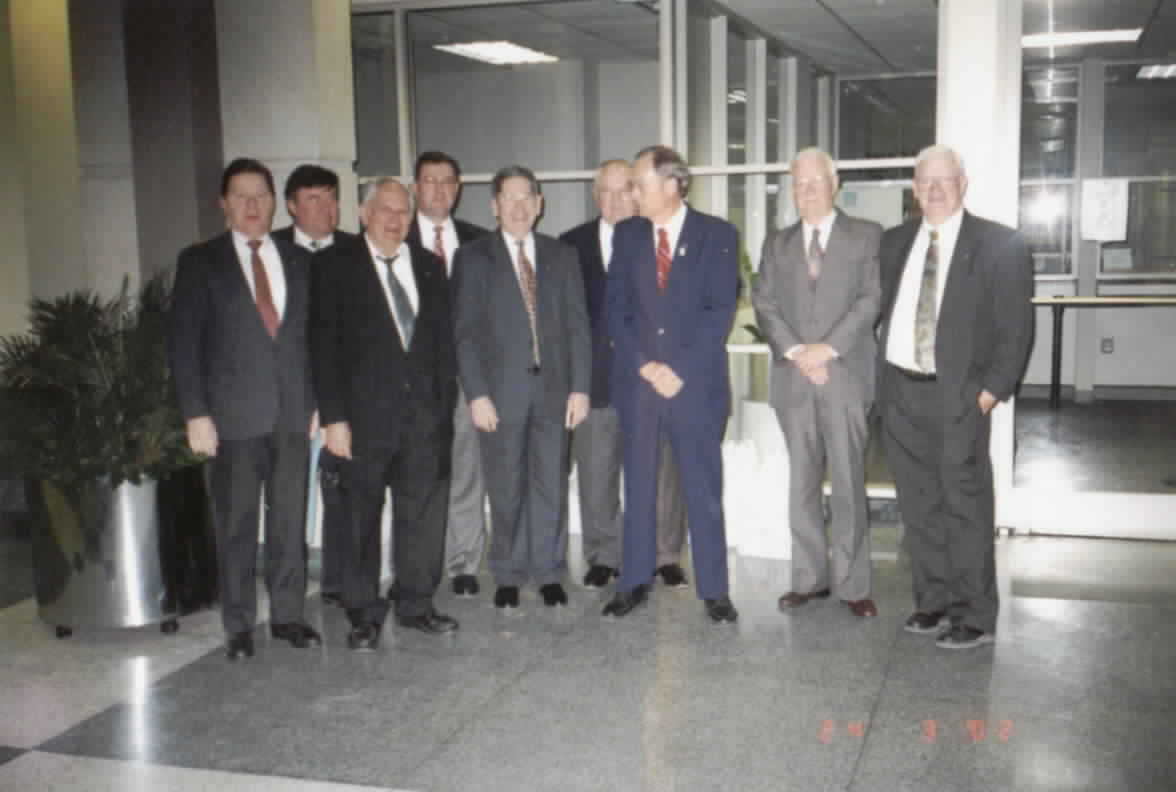 Gideons at the jail.
They split up and visited both the main jail downtown and the Hammond Road Annex. A grand total of 170 PWTs, 38 Auxiliary PWTs and 54 Spanish New Testaments were placed. Best of all, 15 residents gave their hearts to Jesus! J.P. Morris led several to Christ.
The residents wanted many prayers that evening, both group and individually. Several residents inquired about our next return, hoping that we would be back the next week. They were mindful of the upcoming Easter weekend! Cliff says, "Thanks for your help and may God Bless you for your service to HIM."
<![if !supportEmptyParas]> <![endif]>
Butner Prison Ministry
Dwight is leaving Butner Prison within a week or two. He has been a very faithful singer and good witness. Prison Chairman Tom Wallace says, "I'll always remember him as a big, burly, gigantic-looking fellow with big eyes and deformed hands with big stubby short fingers. He's having trouble securing a place to live when he gets out and the prison won't release him without an address. The Lord will look after him, I'm sure—he's just a great friend to all of us. It's been a pleasure knowing him. He always greets you with a hug and is a very devout, good Christian man. Dwight is one of the three or four that leads the singing and has been there for the three years we Gideons have been there. We are happy for him because he's leaving but we're sad because we'll miss him."
Tom says, "What he is in prison for we don't want to know. We don't ask those kind of personal questions. It's none of our business and we don't want to know because it would break up the friendship we've got going. You get to make friends sometimes and you can get attached to people like Dwight, especially if they are professed Christians. Your best friends are your Christian friends, wherever they are."  
If you feel led to this ministry, call Tom Wallace at 919-782-0903. PRAY for this ministry and the prisoners.
<![if !supportEmptyParas]> <![endif]>
Please Pay your Dues Today
No money given for Scriptures is ever used for other expenses. That's why your dues are so important. All the administrative expenses—State and International, Gideon Magazine, the International Convention—are paid strictly from your dues. If your dues are not paid, you will be dropped from the membership roll as of May 31. Don't delay—mail them today! 
<![if !supportEmptyParas]> <![endif]>
MEPS Recruits Need You!
A need for backup volunteers exists at the MEPS (Military Entrance Processing Station). Gideons are needed to present Service Testaments to new recruits and to witness for Christ. Your mission is to offer free copies of God's Word to new recruits while expressing prayers and appreciation for their service to our country. (Read "USA Military Distribution Guidelines" in your Gideon Guide Book.) Working hours are terrific—7:30-8:00 a.m. on weekdays only. Call Carl Nanney at 876-1973.
<![if !supportEmptyParas]> <![endif]>
Heavenly Notes
<![if !supportLists]>1. <![endif]>Our Auxiliary held a Cabinet meeting on March 26, during which they made plans for the next few months. They are scheduling a "Getting to Know You" special feature at the May camp meeting where two new members tell how they became believers and Auxiliary members.
<![if !supportLists]>2. <![endif]>Pray for Richard Justice and Juanita Vickers, new member training leaders for the Roxboro camp. They are about to wrap it up in May after camp elections.
<![if !supportEmptyParas]> <![endif]>
<![if !supportLists]>3. <![endif]>Praise for the New Member Plan in Burlington which produced 14 new Gideons. Training has already begun. Pray for many of their wives to join the Auxiliary.  
<![if !supportEmptyParas]> <![endif]>
<![if !supportLists]>4. <![endif]>Continue to pray for Eastern Europe Field Representative Victor Goncharenko, recovering in Russia after a serious car accident, and making progress in physical therapy. Our camp voted to send 20 In Honor Bibles in his name at our Jan 15 camp meeting.
<![if !supportEmptyParas]> <![endif]>
Around the Town
The Maximum Man Conference deals with real-life issues by presenting a clear picture of Jesus Christ as Creator, Savior and Lord. His power in us is life changing. The conference is a non-denominational conference sponsored by the Ministry to Men Foundation, Inc. of Memphis, Tennessee and the local Raleigh Board of Council. The conference is scheduled for April 19-20, 2002, 6:00-9:15 p.m. on Friday and 8:00 a.m.-3:00 p.m. Saturday at Bay Leaf Baptist Church. For information, call 919-847-4477 or 888-604-7728.  
<![if !supportEmptyParas]> <![endif]>
The daughter of Billy and Ruth Bell Graham, Raleigh's own Anne Graham Lotz launched Just Give Me Jesus in the year 2000, a series of life-changing revivals for women held in arenas throughout the USA. Now it's coming to Raleigh at the Raleigh Entertainment and Sports Arena. The program begins on Friday evening, April 26, at 7:00 p.m. The doors will open at 5:30 p.m. On Saturday morning, April 27, the doors open at 7:00 a.m., and the program begins at 8:30 a.m. For more information, call (919) 787-6634 or visit http://www.annegrahamlotz.com/ on the Internet.
<![if !supportEmptyParas]> <![endif]>
Join us for Prayer
Join the Gideons and Auxiliary at 7:30 Saturday morning for Scripture reading and prayer at the Crabtree Valley Clarion Hotel (formerly Sheraton Four Points Hotel). Stay for a great time of fellowship and breakfast! Ladies, please call Nadine Kay at 870-9266 if you plan to attend. Also, please come to the monthly meetings with your husband.
Camp Calendar
| | |
| --- | --- |
| Apr 16: | Camp meeting—Camp elections |
| Apr 21-27 | Bible Blitz—Chicago. Contact Ivan Dremann at 815-379-2380 |
| May 2-5: | State Convention—North Raleigh Hilton, Raleigh |
| May 21: | Camp meeting—State Convention returns |
| Jul 23-28: | 103rd Gideon International Convention, Louisville, Kentucky |
Respectfully submitted,
Pat Simpson, Newsletter Editor
(919-877-0434 or e-mail PatSimpsonBooks@cs.com)

CountZ.com
---
<![if !supportEmptyParas]> <![endif]>
Message to all members of Raleigh North Camp
and surrounding camps:
<![if !supportEmptyParas]> <![endif]>
Let's make this a  
<![if !vml]> <![endif]><![if !supportEmptyParas]> <![endif]>
<![if !supportEmptyParas]> <![endif]>
<![if !supportEmptyParas]> <![endif]>
<![if !supportEmptyParas]> <![endif]>
<![if !supportEmptyParas]> <![endif]>
at the State Convention. 
<![if !supportEmptyParas]> <![endif]>
Read All About It . . .
<![if !supportEmptyParas]> <![endif]>
The Gideons International
55th Annual North Carolina State Convention
May 2-5, 2002
North Raleigh Hilton Hotel, Raleigh, NC
"… for such a time as this … "  Esther 4:14b
(Reprinted from April 2002 Tar Heel Gideon)
<![if !supportEmptyParas]> <![endif]>
The North Carolina State Convention is more like a family reunion than a convention. This is where the Gideon family comes back together, where pictures of grandchildren are shown, where old friends slap each other on the back again. This is where "first-timer" Gideons and Auxiliary meet new brothers and sisters in Christ and make lifelong friends. This is where young people create memories together that last forever—with new friends from some other part of the state or from just next door. So bring your children and grandchildren to the North Carolina State Convention at the Raleigh North Hilton Hotel in Raleigh, N.C. An incredible time has been planned for you and your whole family—a time of praising our Lord Jesus Christ. Please complete your registration form and mail it in today. If you have misplaced it call:
<![if !supportEmptyParas]> <![endif]>
Jim Loehman at 919-847-3009.
He will be glad to send you one. The convention will be a special time for spiritual renewal, fellowship and singing, training and hearing testimonies from around the world. Here are just some of the convention's programs:
Dr. Ralph Richardson, Chancellor of Fayetteville's Carolina Bible College, will be the Bible Hour Speaker.
Dr. Randy Davenport, past Gideons International President, will present two training sessions: Better Church Relations and Program Assistants: Valuable Camp Resource.
Lester Shelton, State Church Assignment Coordinator, will give details on the new Church Assignment Program revisions.
<![if !supportLists]>· <![endif]>Phil Williams, State Memorial Bible Coordinator, will put in plain words the significance of the new Memorial Bible Program revisions.
<![if !supportEmptyParas]> <![endif]>
<![if !supportLists]>· <![endif]>Roger Knight will give a very special report on his EAP journey to Mexico last November. Roger is past Camp President of Haywood West.
<![if !supportEmptyParas]> <![endif]>
<![if !supportLists]>· <![endif]>How should a Model One-on-One Program really be carried out? Come and hear State Membership Coordinator Jim O'Brien and find out!
<![if !supportEmptyParas]> <![endif]>
<![if !supportLists]>· <![endif]>Doing Scripture Distributions by the Guidebook is very important. State Scripture Coordinator Patrick Nelson will tell you how!
<![if !supportEmptyParas]> <![endif]>
<![if !supportLists]>· <![endif]>Fred & Anna Lee Jenkins, Gideon and Auxiliary Scripture Program Assistants from Area 5, will share the Blessings of a Training Leader.
<![if !supportEmptyParas]> <![endif]>
<![if !supportLists]>· <![endif]>Wake County South's Tom Trochum & Elizabeth City's Wayne Winslow will team up and share their Soul Winning experiences.
<![if !supportEmptyParas]> <![endif]>
Representing the International Extension Ministry, Ken Speakman, Director of Support Services for The Gideons International, will give the message at the Pastors Banquet and the Fellowship Dinner.  
<![if !supportEmptyParas]> <![endif]>
You'll feel the power of God in testimonies from Jeanine Norkaitis of Knoxville, Tennessee at the Kick-off Luncheon; Elliot Osowitt of West Jefferson, N.C. at the Pastors Banquet; and Elka Cheshire of Martinsville, Virginia at the Fellowship Banquet. Gary B. Deese, USA Zone 10 Trustee from Greensboro Northwest, will be the Kick-Off Luncheon Keynote Speaker. The International Auxiliary Cabinet Representative is Mrs. Chris C. Creel (Cindy) of Laurel, Mississippi.
Gideon and Auxiliary representatives from International will provide information about what God is doing through this Ministry around the world, and will equip us to serve effectively in our local camp.
<![if !supportEmptyParas]> <![endif]>
Send in your registration today or call Jim Loehman at 919-847-3009! Don't put it off! And remember, banquet seating is based on how soon your registration arrives.